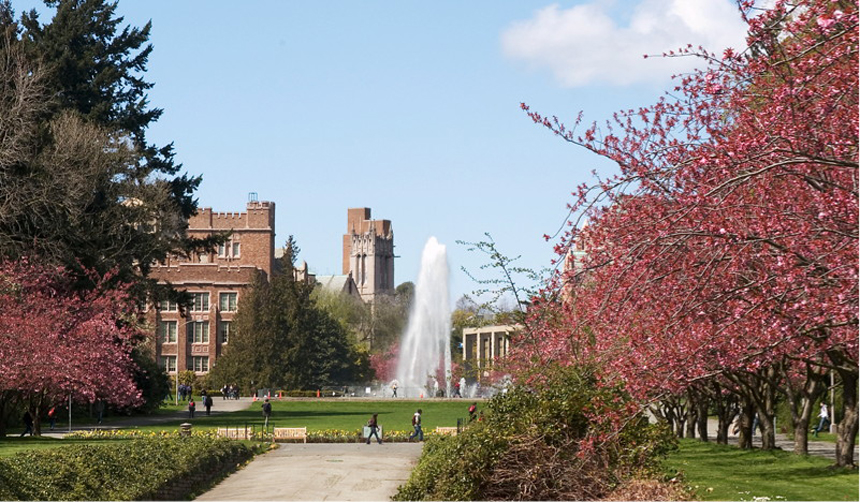 University of Washington
Founded in 1861 by a private gift of 10 acres in what is now the heart of downtown Seattle, the University of Washington is one of the oldest public universities on the West Coast. The "UW" is deeply committed to upholding the responsibility that comes with that legacy. The University of Washington educates a diverse student body to become responsible global citizens and future leaders through a challenging learning environment informed by cutting-edge scholarship.
At the UW, students do more than take notes. They're actively creating one of the most vibrant intellectual communities in the country. We have over 250 degree options, more than 70 languages to study, 500 student organizations to join and over 7,000 undergraduate research opportunities. More than 4,000 faculty — many who are renowned leaders in their field — are giving students an in depth learning experience in and out of the classroom.
The University Honors Program, a division of Undergraduate Academic Affairs, demonstrates the University of Washington's values by providing a special learning context for high-achieving students interested in interdisciplinary, experiential and integrated learning. Students can participate in the program while pursuing almost every undergraduate degree offered by the UW. Bringing selected faculty into close contact with dedicated students in the atmosphere of small, challenging classes allows the Honors Program to combine the intimacy and a sense of community of a small, liberal arts college with the strengths of an excellent public research university. The Honors Program offers intellectual and cultural diversity and world-class faculty and facilities. In short, we offer affordable excellence located within Seattle's cosmopolitan setting.
Tel: 206-543-2100
Website: http://www.washington.edu/