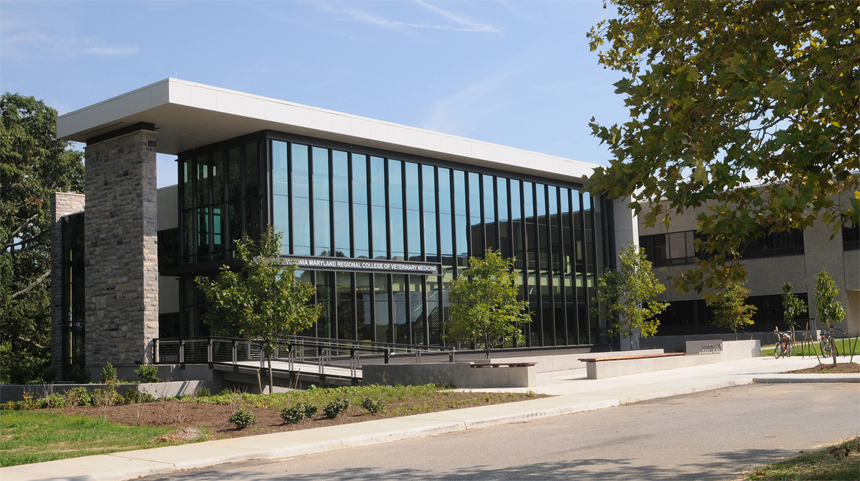 Virginia-Maryland College of Veterinary Medicine
The Virginia-Maryland College of Veterinary Medicine (VMCVM) is a two-state, three-campus professional school operated by the land-grant universities of Virginia Tech in Blacksburg and the University of Maryland at College Park. Its flagship facilities, based at Virginia Tech, include the Veterinary Teaching Hospital, which treats more than 40,000 animals annually. Other campuses include the Marion duPont Scott Equine Medical Center in Leesburg, Va., and the Avrum Gudelsky Veterinary Center at College Park, home of the Center for Public and Corporate Veterinary Medicine. The college annually enrolls approximately 500 Doctor of Veterinary Medicine and graduate students, is a leading biomedical and clinical research center, and provides professional continuing education services for veterinarians practicing throughout the two states. Virginia Tech, the most comprehensive university in Virginia, is dedicated to quality, innovation, and results to the commonwealth, the nation, and the world.
The college conducts a broad spectrum of basic/molecular and translational/applied research that is strongly focused on human health and well-being, and animal health and productivity. In its MS and PhD degree curricula, and research operations, VMCVM operates as a single multidisciplinary program – Biomedical and Veterinary Sciences (BMVS) – under the direction of the office of the Senior Associate Dean of Research and Graduate Studies.
The VMCVM doctoral program leads to a PhD degree with a combined total of 90 credit hours of course work, research and dissertation. The PhD can be completed in four years.
The MS degree comprises a combined total of 30 credit hours of course work, research and thesis, and can be completed in two years. The dual degree program leads to both DVM and PhD degrees in six years. These studies allow candidates to pursue research opportunities in biomedical and/or clinical sciences.
Tel: (540) 231-4992
Website: http://www.vetmed.vt.edu/