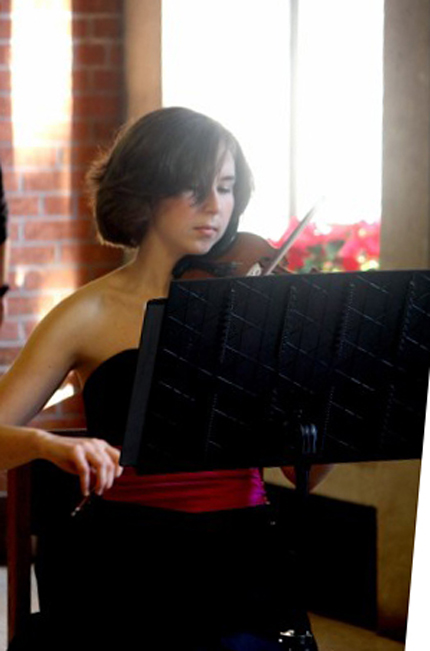 Andrea Berkemeier is involved with the Society of Women Engineering.
Andrea Berkemeier, homegrown in Jackson, Michigan, is a class of 2014 Stamps Scholar at the University of Michigan where she is majoring in biomedical engineering and minoring in music.  Of her five siblings and large extended family, Andrea is proud to be the first to attend the University of Michigan.
On Campus, Andrea is very involved with the Society of Women Engineers (SWE).  As a sophomore she and a co-officer organized and directed a week long residential camp at UM for 42 high school students interested in engineering. The following year she focused her efforts on engaging new members in society and university level service as well as personalizing recruiting strategies for incoming freshmen women to the College of Engineering. Now as a senior, she is honored to serve as President where she is committed to developing SWE's impact not just on campus but also in the global community.  Just after her term of service began, she used a portion of her Stamps Enhancement funds to participate in SWE's first international service trip where she and 10 other SWE members planned and lead a science camp for school children in Walchandnagar, India.  She recently returned (November 2013) from representing SWE as part of a College of Engineering delegation to Mumbai, India.
Although her love of math and science influenced her choice of majors, Andrea's love of the arts influenced her decision to minor in music.  During her time at UM, she has sung in the Women's Glee Club and played violin with the campus orchestra.  In between her hours at her summer engineering internships during her freshman and sophomore years, she managed a small teaching studio and performed with Baroque Again, a swankified string quartet that features composers ranging from Bach to Eric Clapton. Even when she was away from her violin during the summer of 2013 when she used the other portion of her Stamps Enhancement Funds to study Polish language and literature at the Jagiellonian University in Krakow, she managed to find a few violin workshops to keep her fingers nimble.
Beyond her studies Andrea enjoys being involved at St. Mary's Student Parish, at which she teaches children catechism lessons and contributes violin to the music ministry.  She has also been involved with multiple alternative spring breaks with UM's Stamps Scholar Society as well as serving as the International Center Liaison in 2011 and the Mentorship Chair in 2012.  In her free time she enjoys biking, writing letters, hand-crafting jewelry, and experimenting in the kitchen.