At 5 a.m., I woke up to the sound of soft waves hitting the side of our small 30' ship. The gentle sway of the ocean that had rocked me to sleep now rocked me and my fellow Stamps sailors awake—just in time to appreciate the sunrise on our last day of sailing in Maine.
As I sat up in my sleeping bag, I felt compelled to use the last photo on my waterproof, disposable camera to capture this moment. And I'm so glad I did, because just look at the result: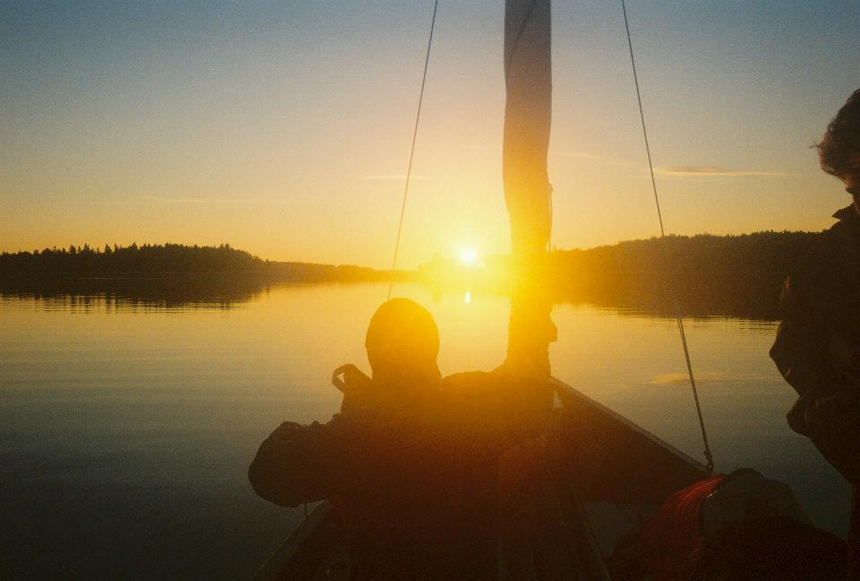 (Thank goodness I didn't cover the lens with my thumb on this one.)
This photo epitomizes everything that the Stamps Family Charitable Foundation is for me: opportunity, perseverance, teamwork, and, quite literally, new horizons. Within just one year's time, Stamps has brought me over so many new horizons, and for that I am incredibly grateful.
This month, I am celebrating my first anniversary as a Stamps Leadership Scholar. Just one year ago, I was a high school student, sitting in my tenth period journalism class, anxiously checking emails (per usual), when I received an email telling me that I would be a Stamps Scholar at the University of Illinois. As I read through the email, the significance of the opportunities that lay ahead of me hit me all at once, resulting in some crazy laugh-crying on my part. My friend Lia was there, ready to take a "selfie" of the moment to commemorate what was probably the most wonderful email I will receive in my life.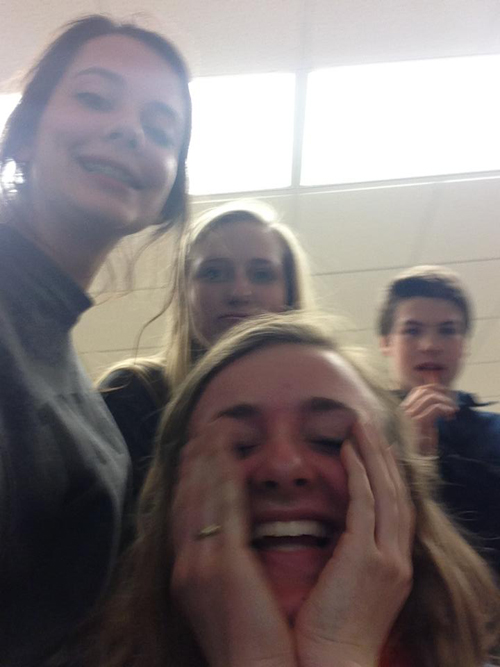 (Big thanks to Lia Kass for perfectly timed selfies in my highschool newsroom.)
Over the next few months, as I prepared to leave high school and move on to bigger and better things at the University of Illinois at Urbana-Champaign, I grew more and more excited for everything that lay ahead of me. Already, I was getting excited to embark on a freshman Outward Bound trip with fellow Stamps Scholars, register for all the journalism and political science classes my heart desired, and move to a flourishing college campus.
The ScholarSHIP
Although I knew that the Stamps scholarship would provide many great experiences, I don't think I fully realized the gravity of this scholarship until I stepped onto a small 30' boat on the coast of Maine.  I went into that Outward Bound trip with more reservations than I could count; I didn't know the people who were going, I am usually prone to motion sickness, and I didn't have the slightest notion about how to sail, camp, fish, or anything outdoorsy. And as much as I wanted to cry during that first day on the "First Mate", when the crew and I rowed 13 nautical miles down the coast of Maine, I believe that trip to be the most influential week of my life thus far. Through the struggles of manning a small, open sailboat with no prior knowledge, I was able to find a true sense of courage, confidence, and calm. As a team, my friends Marlee, Brady, Nishad, Ben, Tyler, Ryan and I would maneuver the boat around lobster pots, past uncooperative winds, and through dangerously shallow waters. But the chaos that we faced each day was matched by moments almost too beautiful to capture; porpoises gliding along side the boat, sparkling night skies, and the roaring laughter of seven new friends all stuck together in a unique situation.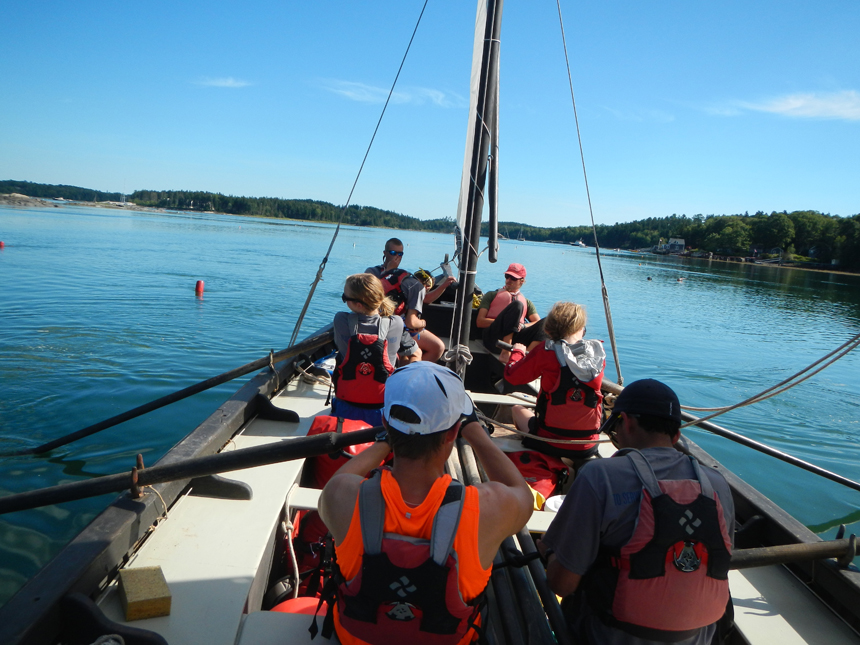 (The "First Mate" was the real name of the boat, but we like to think of it as the "ScholarSHIP.")
On to College
Less than two weeks after returning from Maine, I was packing up and heading down to my next Stamps horizon: the University of Illinois.
I can't believe how incredibly quickly time has gone by since I got here. Although, at the same time, it makes sense that time has passed so quickly because there hasn't been one hour of boredom since I arrived here. There are always more Daily Illini (the student newspaper) articles to be written, more Illini Fighting Hunger meal packaging events to be organized, or more living-learning community leadership meetings to attend. This kind of busyness has allowed me to grow as a writer, communicator, and leader and that is something I truly look forward to experiencing over the next 3 years.
One Winter Night
And of course, an enormous part of that growth has been due to the Stamps Scholarship.
Along with other Stamps Scholars here at Illinois, I was able to participate in a fundraising and awareness-raising event known as One Winter Night, in which participants sleep in boxes on the streets of Champaign to raise awareness for the 500+ Champaign residents who are homeless.
This was an amazing way to step into someone else's shoes for one night and really see what they see, and feel what they feel. The beginning of the night was full of fun —talking with other Scholars and box neighbors, drinking hot chocolate delivered to us by kindly nuns, and constructing our makeshift home on the streets of Champaign. However, as the night wore on, I began to really understand why we were there. Even though I had had two full meals that day, had a warm winter coat on and was wrapped in multiple emergency blankets, sleeping on my back in that freezing cold box was nearly impossible. I might have slept a total of 40 minutes the entire night, and that was with the everyday amenities that homeless residents don't even have.
By the next morning, I was exhausted, but my eyes were opened to the hardships that the homeless undergo every night, which made me even more inspired to help end poverty and all of its factors: hunger, homelessness, lack of access to education and health services, etc.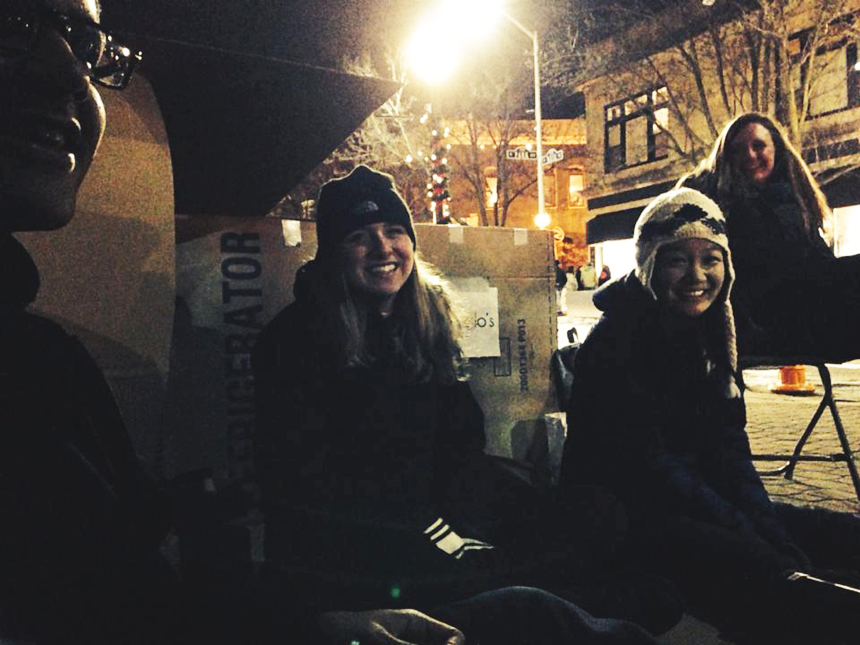 (I really do love bonding with my fellow Stamps Scholars.)
Belgium and France
Not long after One Winter Night, I prepared for another new horizon with Stamps—one much farther than Champaign-Urbana or Maine.  With the help of Stamps enrichment funds, I was about to embark on a College of Media honors study abroad trip to Belgium and France.
Other than a family trip to Vancouver, I had never been out of the country before, so this was my first real exposure to cultures this diverse from my own.
Apart from being filled with buildings more glorious than my wildest imagination, food so delicious I wanted to cry of happiness while eating it, and subway stations that smell like croissants and waffles, Belgium and France were also hugely interesting to me as a Political Science and Journalism student.
Because Belgium is divided into two nations—the Flemish north and the French south—politics in Belgium are unique. I was able to learn more about the ways in which politicians and media deal with these different nations and, therefore, the divide in public opinion. It was also amazing just to sit down with Belgian students and professors and learn about their lifestyle and culture. One of the joys that I found most in travelling is the amount of new friends to be made along the way.
Back in the U.S., I find myself yearning to be back in the cities of Bruges, Antwerp, Brussels, Leuven and Paris—with all of their rich histories, unique cultures, fabulous dining selections, and welcoming people.
This trip was such an amazing way to get a taste of what is to come. With the assistance of the Stamps scholarship, I look forward to studying in even more countries next spring semester. Just like the Stamps Outward Bound trip, this was truly experiential learning—seeing firsthand what politics, media and cultures are like in a country so different from our own.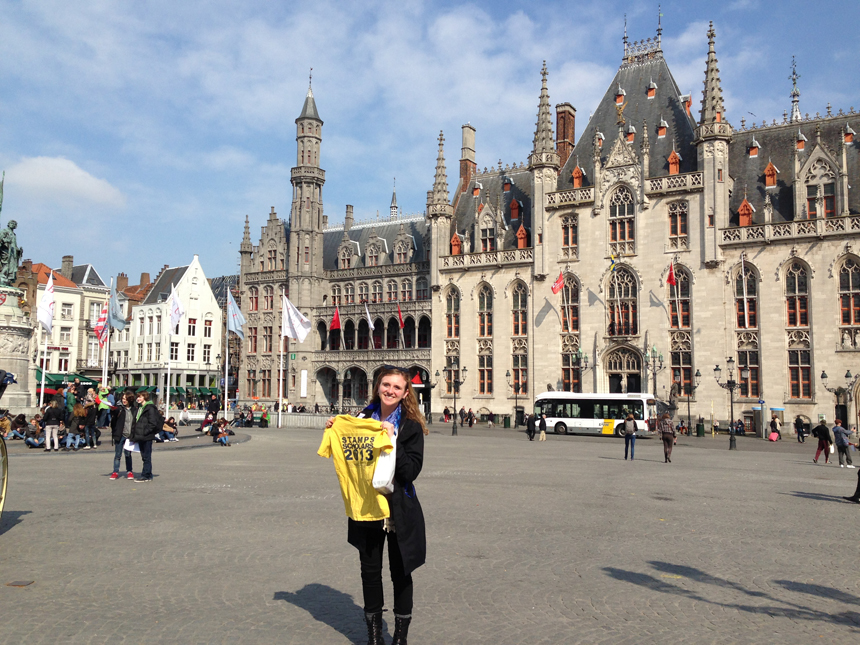 (Representing the Stamps Family Charitable Foundation in Bruges)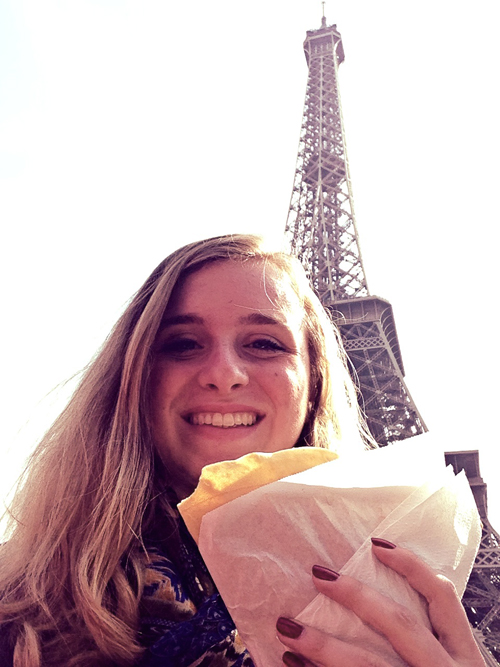 (Loving every moment that I can possibly spend with Nutella crepes in Paris)
Naval Academy Conference
Now, only two weeks after returning from Belgium, I am headed home from the Naval Academy Foreign Affairs Conference, in which the keynote speaker of the event was former president Bill Clinton. I applied to go to the conference as a Stamps representative back in March, and I was able to use some enrichment funds on this trip as well.
Clinton and a variety of other foreign affairs experts from the U.S. and around the world gave fantastic speeches about the state of current affairs, specifically in regard to the impact information technology has today. My small group, "Connecting Africa", focused on the ways in which information technology should be incorporated into African development. It was inspiring to converse with such a diverse group of delegates—from Quebec, Mauritania, Italy, and various regions of the United States. This diversity allowed us to develop many theories about ways in which IT may be incorporated—whether that be improvements in education, democracy, ending terrorism, etc. Leaving this conference, I know that I am definitely interested in researching more about African development and pursuing development projects there.
I was also able to meet up with a few other Stamps Scholars (from Georgia Tech and the Naval Academy) during my visit. It is always a pleasure to share my experiences with the Stamps program with other Scholars and it amazes me how easily we are able to connect instantly. I am so thankful for the opportunities I had to expand my world-view, approach issues from a variety of angles, and to meet and make friends with students from around the world.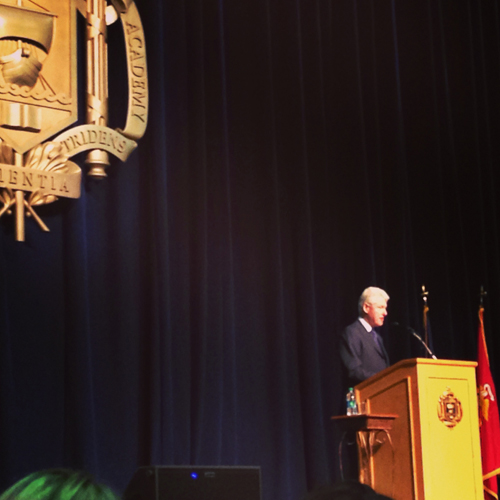 (How often does one get a second row seat at a presidential speech?)
Washington D.C.
After everything that I just described, it is almost hard to believe that one organization could do even more for me—but they have. The Stamps Leadership Scholarship has already helped me serve the community, build leadership skills, study new lands and new ideas, and meet so many wonderful people along the way. This summer, Stamps will also help me with my professional goals.
I am moving to Washington D.C. over the summer to work at the Brookings Institution, a very influential think tank located in Dupont Circle. Here I will work as a communications intern with some of the brightest minds in political research.
What I have really learned in this past year is that the further I step out of my comfort zone, the more rewarding the experience; whether that be living on a boat or traveling to another country. Living and working in D.C. this summer will definitely be another one of those life-changing experiences for me—and I owe it entirely to the Stamps enrichment funds—which will be supporting me while I am there.
With Stamps, it is not only the financial support that allows me this opportunity—it is the confidence that they have instilled in me since the very first day on that boat.
I can't help but think back to that sunrise on our last day aboard the first mate and the voice that was going through my head at the time, "there are many horizons to come. There are many places to see, people to meet, and opportunities to grow. And the Stamps Family Charitable Foundation is taking you there."
I can't wait to see the sun rise on D.C. and on everywhere else that Stamps takes me.