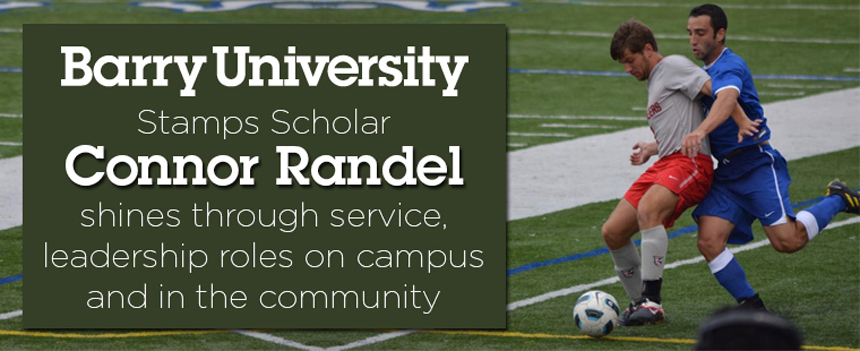 Connor Randel Shines on Campus and in the Community.
Barry University's Stamps Scholars are recognized as the best, the brightest and the most promising future leaders. With various leadership roles on campus and in the community, rising senior and student-athlete Connor Randel is proving to be just that.
As a Stamps Scholar within Barry's Stamps Leadership Scholars Program, which provides recipients with full tuition and room and board over four years, plus funds for study abroad, undergraduate research and other learning experiences, Randel is responsible for fulfilling GPA, leadership training and community-service requirements. Since he joined Barry's Stamps program as a freshman, Randel has not only fulfilled his requirements but has gone over and beyond what is required, earning academic recognition on Barry's Dean's List and President's List and membership to several honor societies, serving as the fund manager and head of community service for Barry's Student Managed Investment Fund, and serving as president of Barry's Student-Athlete Advisory Committee.
"The Stamps family's generous offer of a full-ride was a no-brainer," Randel said. "They offered me the chance to further my education without being strapped by debt for the rest of my life. This gift is something I will never be able to fully pay back to the Stamps family, but I will try through my successes and community involvement. I think the best approach I can take is a pay-it-forward mentality, and you better believe I will one day pay it forward!"
Randel, who is double majoring in finance and accounting, has earned recognition on Barry's Dean's List five times as an undergraduate, earning a minimum 3.5 GPA, and has placed on the President's List, earning a 4.0 GPA, three times. He's also been named a member of the Financial Management Association National Honor Society, the Delta Epsilon Sigma Honor Society, a national scholastic honor society recognizing students, faculty and alumni of colleges and universities with a Catholic tradition, and the International Honor Society Beta Gamma Sigma, which recognizes excellence in business. In addition, in 2012, he was named as one of 16 Sunshine State Conference men's and women's student-athletes on the Capital One Academic All-District Team.
As an undergraduate in Barry's Andreas School of Business, Randel became involved with the Student Managed Investment Fund (SMIF), a student-founded and student-run investment research and management organization. As a fund manager for the SMIF, Randel manages a team of six students who perform equity research and present recommendations for various equities to be included in the SMIF portfolio.
"This hands-on experience will be a huge benefit to me in my career after graduation," said Randel, who plans to one day become a Certified Public Accountant (CPA).
As the head of community service for the SMIF, Randel operates a financial literacy class at William H. Turner Technical Arts High School, in which he and members of SMIF make monthly visits to the high school to teach students about finance.
In addition to serving the local community through his role in the SMIF, Randel has also participated in Barry's Volunteer Income Tax Assistance (VITA) program, an IRS-funded tax preparation service for low- to moderate-income individuals.
Randel has also been a member of Barry's men's soccer team since his freshman year. Although he was injured during the 2013 season and was unable to play, he continued to represent his teammates as the president of Barry's Student-Athlete Advisory Committee (SAAC), a committee comprised of student-athlete representatives that provides insight into the student-athlete experience and takes an active interest in the rules, regulations and policies that affect student-athletes' lives on Barry's campus.
In his role as SAAC's president, Randel worked alongside Barry Athletics and the Make-A-Wish-Foundation this spring to respond to the wish of a boy from the Miami area battling a life-threatening medical condition who wished to visit one of Silicon Valley's leading technological companies. In February, Barry University granted the boy's wish during a special reveal event during its homecoming basketball games.
"I and my fellow committee members had a once in a lifetime opportunity to give a guy his wish," Randel said. "It was an experience I will cherish for the rest of my life."
Last spring, Randel traveled with other Barry Stamps Scholars to the University of Michigan to join Stamps Scholars from around the country for the 2013 Stamps Scholar National Convention.
"It was really cool meeting so many brilliant students from all over the place," Randel said. "It was an unreal feeling knowing America's and the world's future was at the convention. These were the brightest and hardest-working students from many of the top universities in the nation."
For more information about Barry's Stamps Leadership Scholars Program, visit www.barry.edu/stamps
For more information about undergraduate programs offered by Barry's Andreas School of Business, visit https://www.barry.edu/business-undergraduate/
This article was originally written and shared by Barry University. To see the original version go here: http://www.barry.edu/stamps/news/article.html?id=24739