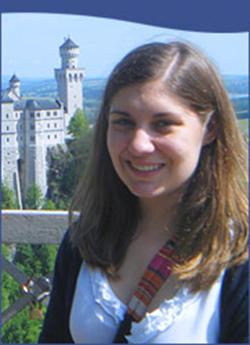 Digging into the Past: Stamps Scholar Eichelberger Explores Ireland's Past.

Senior Tamara Eichelberger spent the summer of 2014 abroad in Ireland to further her studies in Sociology-Anthropology. There, in the Emerald Isle, the senior used part of her Stamps stipend to participate in a four week archaeology dig.
"I became interested in osteology and bioarchaeology after taking a forensic anthropology class at my school last semester," Eichelberger said in an interview with Stamps. "There are not many opportunities to participate in bioarchaeology in the U.S., however, and I really wanted the experience before I started applying to graduate schools. With the help of the Stamps Leadership Scholarship, I was able to attend the archaeological field school at the Blackfriary Site in Trim, Ireland."
Eichelberger said the trip was a once-in-a-lifetime experience. She learned about the excavation of a burial and gained more archaeological experience and, she said, it made her realize that she wants to continue studying osteology or bioarchaeology at graduate school in the future.
At E-town she minors in history and German and stays involved in numerous on-campus activities such as becoming a peer mentor, giving tutoring sessions for writing and giving tours to prospective students as an admissions office tour guide. Eichelberger is also president of the Alpha Lambda Delta chapter and a member of the school's dance club, Emotion.
Being a Stamps Scholar has opened up many other opportunities for her to take her learning outside the classroom. This is possible thanks to donor generosity because the College matches this scholarship 100% with annual fund donations. She has traveled to Phoenix, Ariz. for the National Collegiate Honors Council Conference in 2011 and also to Champaign, Ill. for a Stamps Scholars Leadership Conference in 2012
Original article posted by Elizabethtown College and can be found here:
http://www2.etown.edu/report-of-giving/stories_eichelberger.asp