Featured below is a recent Q & A with Stamps Leadership Scholar Cory Zeller from Mercer University. He shares his passion for helping others, especially within the LGBT community.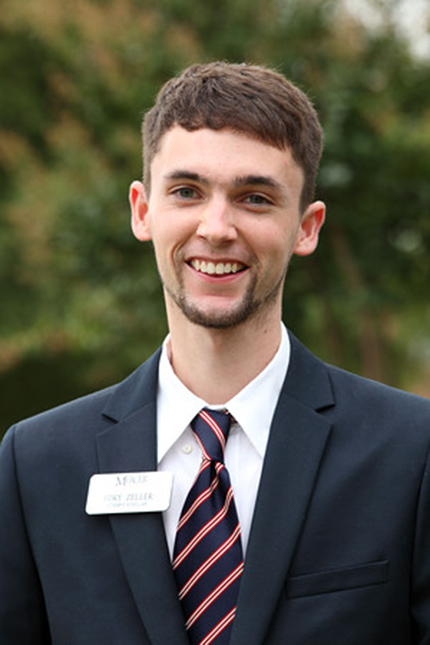 Where are you from and what high school did you attend?
I'm from Lawrenceville, Georgia, a suburb of Atlanta. I attended Dacula High School in the city of Dacula, Georgia.
How did the Stamps Scholarship influence your college decision process? Why did you choose to attend Mercer?
Receiving the Stamps Scholarship was an incredible milestone that allowed me to explore the world and make a major impact on the community in which I live, work, and play. When I was notified of my acceptance to the program, I immediately disregarded all of my other college acceptances and enrolled as a student at Mercer University. Being a Stamps Leadership Scholar is a once in a lifetime opportunity that I would have never sacrificed by attending another university! I also chose to attend Mercer University for its small class sizes, historic campus, and its prestigious Mercer On Mission (MOM) program that allows students to travel the world during their summer vacations and assist those who are in need. Mercer is a one of a kind university that is quickly becoming the top private institution in the south.
What is your field(s) of study, and what drew you to this field(s)?
I am currently a Women's and Gender Studies student studying on a pre-nursing track. I chose this field of study after traveling the world with the assistance of a yearly stipend provided by the Stamps Family Charitable Foundation. As an active member of the LGBT community, I had the opportunity to follow my dreams and travel abroad to study aspects of sexuality, as well as public health in sub-Saharan Africa. After spending a summer traveling through Uganda and working with members of the Peace Corps to educate secondary students on the importance of proper sanitation and contraception use to prevent the spread of HIV/AIDS, I discovered my true passion for helping others in a medical setting. I plan to continue my education following my collegiate experience and earn a Master of Science (MSN) in Nursing to become a Nurse Practitioner. My ultimate goal is to join the prestigious Doctors Without Borders program and travel internationally to assist with the prevention of disease transmission within high-risk communities.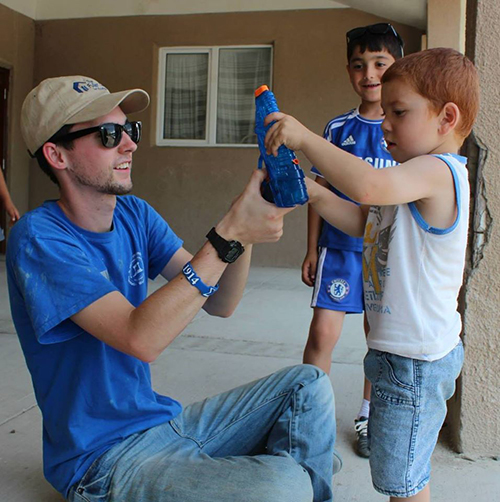 How would you describe the Stamps Scholars community at Mercer?The Stamps Scholars community at Mercer University is thriving! We are currently in the third year of having Scholars on campus, and all us are very close to one another. We have worked to develop a student organization called The Stamps Society that provides volunteerism and fellowship opportunities for Stamps Scholars, both young and old. We also have monthly colloquiums held on campus that allow individual Scholars to discuss undergraduate research and service opportunities within a professional setting. This is a great way to better understand how individual Stamps Scholars are assisting the community in which they live. As a Stamps Scholar, I also had the opportunity to travel with my fellow scholars to the Stamps Scholars National Convention (SSNC) in Ann Arbor, Michigan in 2013. This was an incredibly exciting opportunity that allowed me to bond with Stamps Scholars from my university, as well as others. The Mercer University Stamps Scholars also collaborated with the scholars at Morehouse College to attend a sermon presented by former president Jimmy Carter at his church in Plains, GA. These are just a few examples of how the Stamps Scholars at Mercer University have worked tirelessly to create a sense of community on a local, regional, and national level.
What are your hobbies/passions?
I have a total obsession with international tourism and volunteerism! I travel often and love to make contributions within communities to make them a better place. During my three short years at Mercer, I have made it my goal to impact the community in which I live through volunteerism and community outreach. I continue to answer this call to action by volunteering on a weekly basis with organizations such as Big Brothers Big Sisters, The United Way of Central Georgia, The Fuller Center for Housing, and Habitat for Humanity. Internationally, I have worked with the World Health Organization, the United States Peace Corps, and the North Kigezi and Kinkiizi Diocese. All of these opportunities have been an essential aspect of my collegiate career. I strongly believe that students should attend college to not only learn about themselves, but to also learn about the community in which they live. I am also heavily involved with leadership opportunities and serve as the president and co-founder of Phi Beta Sigma Fraternity, Inc. on the Mercer University campus. Being a member of a Greek organization has expanded my opportunities on a local, regional, and national level. I truly enjoy networking and volunteering alongside my fraternity brothers to make a positive impact in the community.
How did you use your scholarship related enrichment funds? If you have not used them yet, how do you plan to use them?
I have used my enrichment finds to study and volunteer abroad on a yearly basis. Since becoming a Stamps Scholar, I have traveled to a variety of countries including Uganda, Rwanda, Turkey, Italy, Armenia, Georgia, Poland, the Dominican Republic, and the United Arab Emirates. All of these opportunities opened my eyes to the incredible diversity that exits around the world. I have spent several summers working on health-related projects in developing countries and earning credit toward my undergraduate education. Without the generous assistance from the Stamps Family Charitable Foundation, none of these incredible experiences would have occurred. I am so blessed to be a Stamps Scholar and to have had such eye-opening opportunities. For those Stamps Scholars who have yet to use their enrichment funds, I encourage you to travel the world and leave your mark.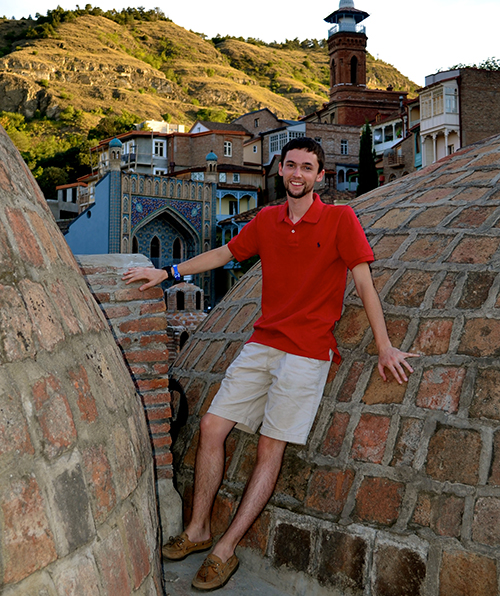 Describe your undergraduate research project. What are your goals?
My undergraduate research project is titled "Finding Common Ground: Student Access to LGBT Resources in Bibb County School District High Schools." The purpose of this project was to analyze the current status of the Bibb County School District and review the resources that are available to students who identify as lesbian, gay, bisexual, and/or transgender (LGBT). The project required a lengthy research process that included structured interviews, focus groups, surveys, and literary reviews. Following the completion of my research, I came to the conclusion that much more can be done to provide support for LGBT students within this school district. Sexuality is not listed as a protected identity within the district's code of conduct, and no gay-straight alliances (GSAs) or any other organizations exist to support diversity within local high schools. Likewise, students who were interviewed believed that much more could be done to protect these students, who are often the subject of severe bullying and other forms of harassment. I intend to present my research findings to the Bibb County School Board and advocate for an improved campus climate within high schools. My research has been accepted at the prestigious National Conference for Undergraduate Research (NCUR) in Spokane, Washington as well as the Breakthroughs in Engagement, Arts, and Research (BEAR) Conference in Macon, Georgia this spring. I hope to publish my research and make it available to civil and human rights organizations across the nation.
In what ways has being a Stamps Leadership Scholar impacted your life?
The Stamps Scholarship has impacted my life in a multitude of ways. It has introduced me to lifelong friends, opened my eyes to the beauty of the world, and provided me with leadership and networking opportunities that will forever impact my life and future career. I am honored to be a Stamps Leadership Scholar and exist within a group of highly motivated students who are the future of our nation and our world. Without the Stamps Family Charitable Foundation's support, my life would not be the same!
What has been your most memorable college experience?
My most memorable college experience was going gorilla trekking in the Bwindi National Park in the southern region of Uganda. We hiked through the jungle for nearly 10 hours until we finally reached a family of mountain gorillas in the wild—a significant portion of the nearly 700 gorillas that are left living in the wild today. My group was able to interact with the gorillas and communicate with a young gorilla that was eager to play games and interact with strangers. One person of the group was charged by a silverback gorilla, which was both frightening and exhilarating! On this same trip, I also had the opportunity to go hiking with the Pygmy people—one of the last native tribes in Africa that continues to live in seclusion. They were incredibly gracious and selfless people who made us feel at home and gave us an in depth view of their history and the way that they thrive in a culture that is resistant to modern technology. Both of these experiences had a significant impact on my life. It was an unforgettable summer.
What do you plan to do after graduation?
Following graduation, I plan to enroll in the Clinical Nurse Leader Program at Georgia Regents University located in Augusta, Georgia. This program will allow me to pursue a Master of Science in Nursing (MSN) degree that will allow me to specialize in organizational leadership and clinical medicine. I hope to then become a nurse practitioner within a large metropolitan area and work in a Health Professional Shortage Area (HPSA) where there is a grave need for nurse practitioners. Eventually, I would like to purse a PhD in nursing and conduct international research regarding healthcare access for those with alternative sexualities.
What are your short and long-term goals, both professionally and not?
My short-term goals include graduating from Mercer University and gaining valuable clinical experience as a nursing student. While in nursing school, I hope to embark on a study abroad program that will allow me to analyze health systems in developing countries around the world. I also plan on applying for the prestigious Nurse Corps Scholarship Program, which would give me many unique opportunities as a nursing student. My long-term goals include becoming a nurse practitioner and joining an international research organization that would allow me to travel the world and make an impact in the lives of others. Nursing is a field of great need, and I am excited to obtain my education and make an impact on the health and safety of the world.
How has the Stamps Scholarship helped you reach these goals?
The Stamps Scholarship has helped me reach these goals by providing me with opportunities to network with individuals within the field of medicine and travel the world to discover my true passion in life. If I had not had the opportunity to travel to post-Soviet Europe and sub-Saharan Africa, I would have never discovered my love for nursing and research. The Stamps Leadership Scholarship has also taught me the importance of hard work. I know that I can do anything I put my mind to, and determination is essential to becoming the person I want to be. Overall, being a Stamps Leadership Scholar has changed my life. I am forever grateful for this experience.
Here's a video of Cory discussing his undergraduate research project: