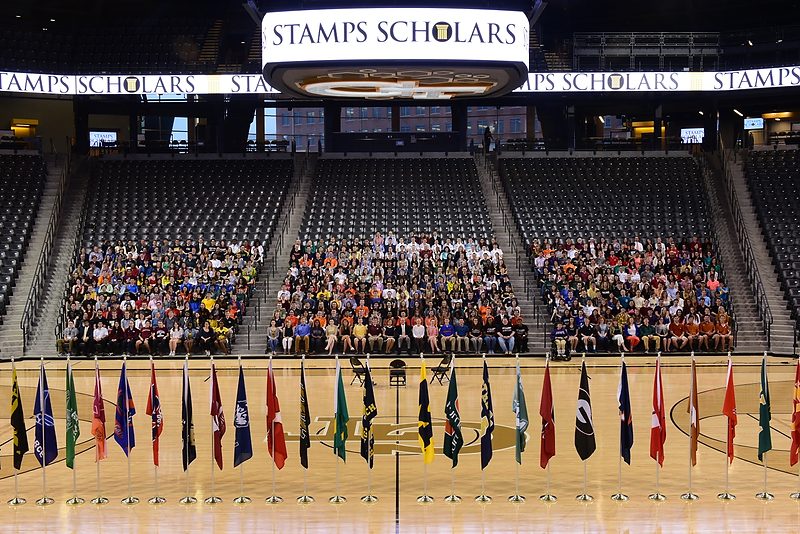 April 20, 2015– The Stamps Family Charitable Foundation held its third national convention at the Georgia Institute of Technology in Atlanta, Georgia April 10-12. Nearly 500 Stamps Scholars, along with their administrators from 41 universities across the country, were in attendance. With the help of several Stamps Scholar alumni, the convention was carefully crafted by Georgia Tech's team of planners, resulting in a weekend fueled by excitement, passion, and a desire to create positive change in the world.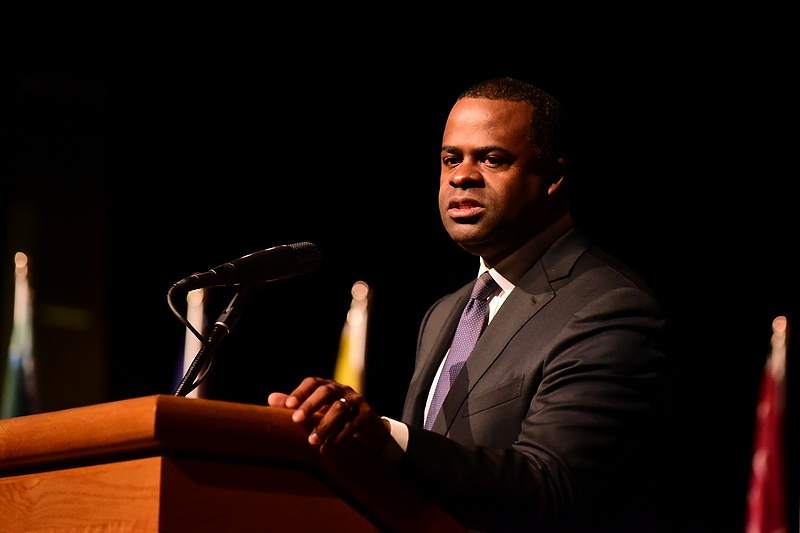 In his opening address, Atlanta mayor Kasim Reed set the tone when he called on these bright minds to actively make a difference in their communities. This idea echoed throughout the weekend as students were given the opportunity to connect and collaborate with like-minded individuals through professionally focused threads, such as International Affairs, Politics and Law, Engineering and Innovation, and Visual and Performance Arts. These threads acted as platforms through which Scholars were able to gain experiential and discursive insights into their fields of study.
Students interested in journalism had the opportunity to visit the CNN Center and speak at length with CNN's own Tom Foreman. Those interested in education met with the presidents from the Georgia Institute of Technology, the University of Georgia, and Mercer University, where they discussed the hurdles facing today's education system. Science and Engineering students discussed the meaning of "innovation" and heard presentations from their fellow Scholars who have created their own startup companies. Students with a passion for outdoor exploration had the opportunity to go whitewater rafting down the Ocoee River or caving.
For many students, being able to connect with their fellow Scholars was a highlight of the weekend.
"Hearing about the passions of these Scholars reignites my own commitment and drive to build, succeed, and serve," said University of Georgia Stamps Scholar Rand Pope. "Beyond inspiring me, they're simply great fun to interact with."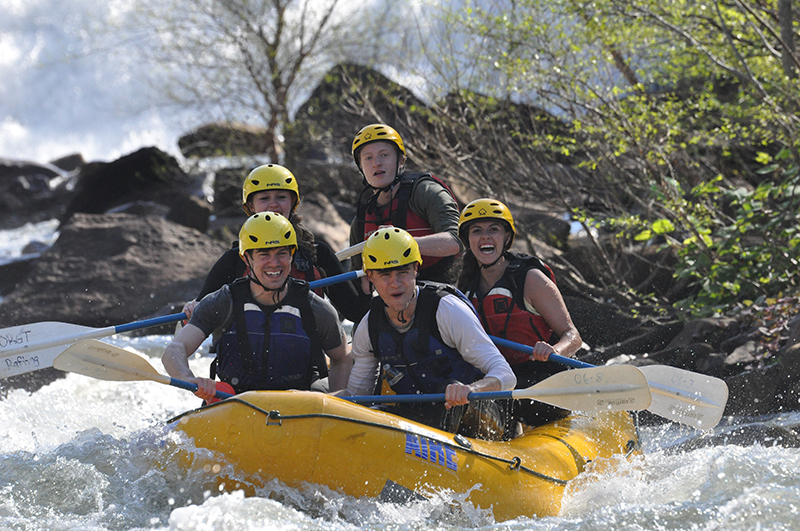 photo by Jake Andersen

Among the many opportunities for Scholars to connect was an exposition held in the McCamish Pavilion on Friday evening. Hundreds of students listened as a handful of Scholars presented TED-style talks on themes such as finding courage within oneself to succeed. Students then participated in an exposition in which Scholars gave poster presentations on the research and experiences they have been afforded through the Stamps Foundation.
Of course, the weekend would not have been complete without words from the founders of the Stamps Family Charitable Foundation, Roe and Penny Stamps. While the Scholars heard from their benefactors several times throughout the weekend, perhaps the most significant was when CNN's Tom Foreman interviewed Roe and Penny. Students were then able to ask their own questions of the couple.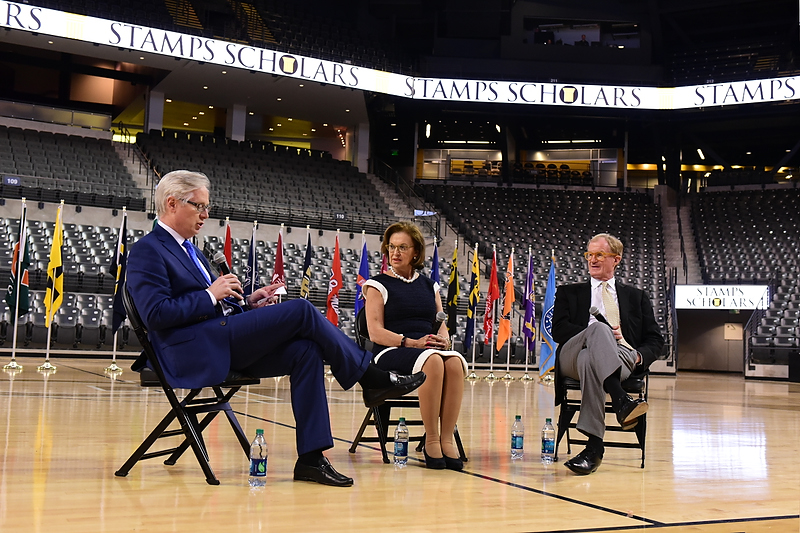 During this time, Roe and Penny spoke on an array of topics, including their reasons for creating the Stamps Family Charitable Foundation, their long, happy partnership, and some of the keys to success. Two lessons they shared with the Scholars: choose your partner wisely, and handle each tough decision in life with scrutiny and care.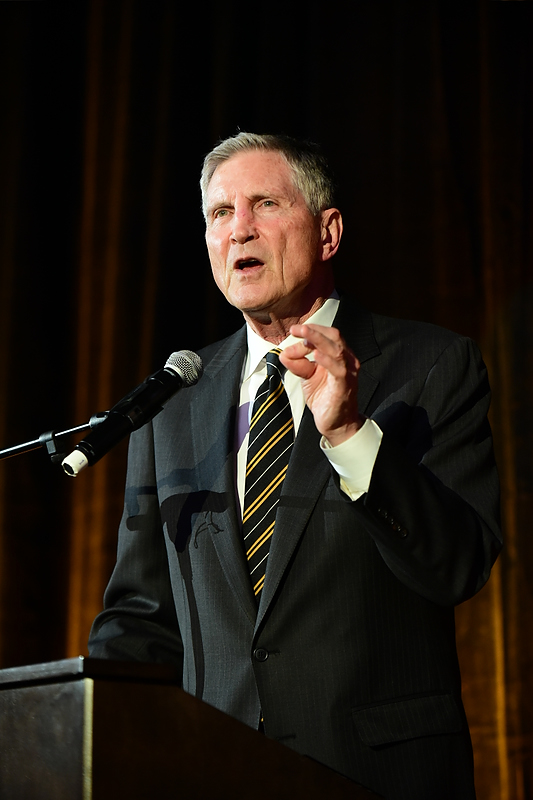 Saturday evening, Stamps Scholars had the unique opportunity to dine on the court of Georgia Tech's McCamish Pavilion and hear a keynote speech from former Georgia Tech football coach Bill Curry. Most notable for his long NFL career and several Super Bowl rings, Curry held the undivided attention of hundreds of Scholars and administrators as he encouraged them to live with courage and kindness and to "throw their resources into the effort, even when it is not guaranteed that it will be successful." Referencing his young grandchildren, he asked Scholars to take on the mindset of children not yet affected by the hatreds and prejudices of others.
"You will change people's lives because you are movers and shakers," said Curry. "You can and will change our culture, and indeed, you may very well change the world."
As Scholars prepared for their departures on Sunday morning, they were met with a few words of wisdom from Harvard Business School professor Bill George. The former Medtronic CEO's message: to lead is to serve. While recognizing the importance of hard work and dedication to one's cause, he asked the Scholars, "Are you building a career, or are you building a life?"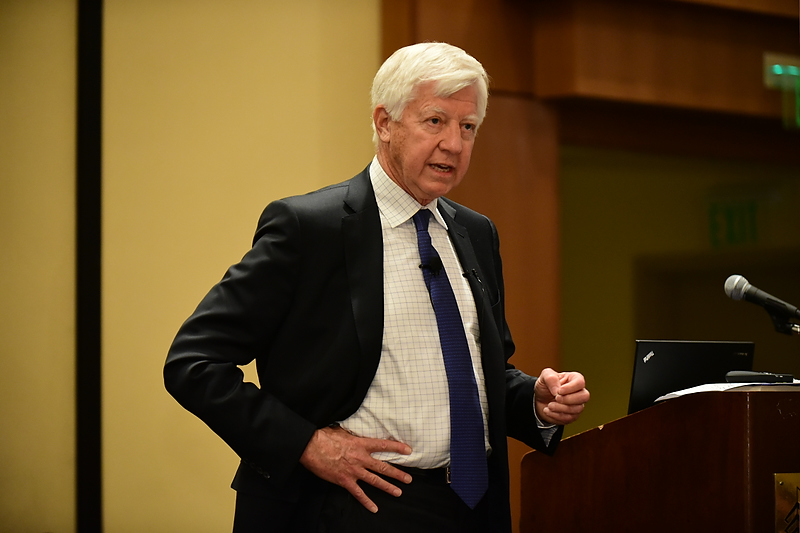 George encouraged the students to not only find their "true north" – their truest calling – but also to consider how they can use their gifts to help improve the lives of others. This, as he said, is what being a leader is all about.
Roe and Penny Stamps followed their true north in 2006 when they launched their merit-based scholarship program, presenting awards to students of their alma maters, the Georgia Institute of Technology and the University of Michigan, respectively.
Driven by a desire to help bright, ambitious students accomplish their goals and make a difference in the lives of others, they have since expanded their scholarship program to include over 40 institutions across the United States. Since the first awards were given in 2000, Stamps Scholars have gone on to achieve exceptional recognition. Among the Stamps Scholar alumni, several have received Rhodes Scholarships, Fulbright Fellowships, and Barry Goldwater awards. The Foundation itself was recently named a recipient of the 2015 CASE Distinguished Service Award, which honors people and organizations that have done exceptional service work in the field of education.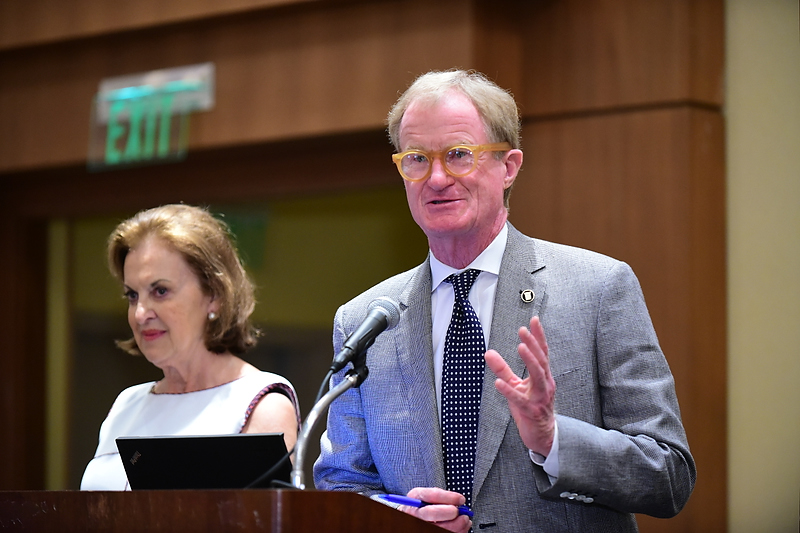 While Penny and Roe understand the importance of personal achievement, they hope the scholarship will encourage students to collaborate on some of the great issues facing their time. As Roe Stamps stated in his closing remarks, "This wouldn't work if it weren't for the love and admiration that you all bring to each other. As a team, we're so much stronger than any of us as individuals."
********************************************************************
Photos: Unless otherwise noted, all photos by Gary Meek
Contact:
Connelly Crowe
Communications Director
Stamps Family Charitable Foundation, Inc.
connelly@stampsfoundation.org
706-254-7011
Website:
www.stampsfoundation.org
Twitter/Instagram:
@stampsscholars     #stampsscholars