Featured below is a Q & A interview with recent Barry Goldwater recipient Kaydren Orcutt. She shares her passion for studying chemistry in an effort to help global communities.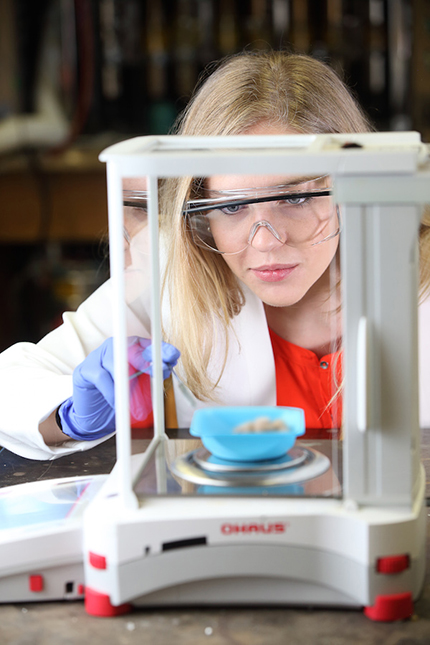 Where are you from and what high school did you attend?
I'm from Mt. Pleasant, South Carolina. I went to Academic Magnet High School, a magnet school for Charleston County.
How did the Stamps Leadership Scholarship influence your college decision process? Why did you choose to go to Mercer?
I chose Mercer because I loved the environment! The students help each other, and the professors all genuinely care about us. There are so many ways to succeed here, either through academics, research, or service. The Stamps Leadership Scholarship is allowing me to take advantage of all the opportunities Mercer has to offer.
What is your field(s) of study, and what drew you to this field(s)?
I am a double major in chemistry and Spanish. I am always amazed by how chemistry can help solve the world's problems. My current research does have an environmental impact, and I'd like to continue with this kind of research throughout my life. Through my academic majors, I can take science further and find more solutions to problems to better the global community. I hope to take my knowledge of chemistry and help find solutions to environmental issues in South America.
How would you describe the Stamps Scholars community at Mercer?The Stamps Scholars community at Mercer is fantastic! Each Scholar brings something new and interesting to the table, but we all also have common life goals. We  want to help people, and Mercer is fantastic about helping the community. We meet regularly to share our ideas and passions, and we have events set aside to give back to the community. Many of us have either gone on, or will go on, Mercer On Mission trips together, where we help other communities abroad.
What are your hobbies/passions?
I enjoy writing, poetry or stories, and art. I think  one of the most relaxing activities, especially after a week of difficult classes and tests, is to set up my easel and just express myself. While art may not be a major for me, I still try to find the time to draw and paint. I've even gotten into sculpting, thanks to some of my friends here at Mercer.
How did you use your scholarship related enrichment funds? If you have not used them yet, how do you plan to use them?
I will actually be using my enrichment funds this summer to study abroad in Seville, Spain. I'll be able to take classes for my major, increase my fluency in the language, and learn more about a new culture, one that is vitally important to the language. The enrichment funds are helping me to participate in a program like this, where otherwise, I would not have gotten the chance. This is actually going to be my first time on a plane! So, I definitely have the Stamps Foundation to thank for all these new opportunities.
Congratulations on winning a Barry Goldwater award! Please tell us about the award and how this will help you accomplish your future goals.
The Barry Goldwater Scholarship is an incredible opportunity! It's one of the top scholarships for undergraduate STEM majors and a great honor to receive. This scholarship is validation for all the work I've done so far. The scholarship will help me to get into better internships, better research experiences, and eventually a great graduate school for chemistry. The application process itself has improved my writing and communication skills, as I needed to concisely explain my research, not just to other analytical chemists, but to other scientists, engineers, mathematicians, and to the general public as well.
I'm sure there are other Stamps Scholars interested in receiving the Goldwater award; please describe the application process.
The Goldwater application actually starts as an internal process. The student interested can go to the Goldwater scholarship website and find the name of their faculty representative. After discussing the internal criteria, the student can apply to be nominated by their university. If nominated, the student can then start the national application. Be warned, it is a lot, but the experience is so worth it!
What advice can you share with other Scholars interested in applying for the Goldwater? How should they best prepare themselves to be competitive for this prestigious award?
It takes a lot of work, but it's very rewarding! Make sure you have a  good relationship with your professors, both your classroom teachers and your research advisor. These professors will help you with the application, write your letters of recommendation, and give you useful advice for the application.
Describe in depth your research project. What do you hope to accomplish?
My research focuses on finding safer ways to clean up oil spills. Current methods of remediation, while they can clean up oil, can also persist in the environment and are toxic to the wildlife. My research is on biosurfactants, which are bacterially produced soaps that can help clean up the oil spilled, but without any toxic side effects. We've identified a strain of bacteria with great potential and are now in the process of identifying the biosurfactant that the bacteria is producing. Once we have studied how well the biosurfactant helps clean up oil and identified the biosurfactant compounds, we can do some tests using actual crude oil. By the end of the project, we'll have discovered a new method of oil cleanup, one that works really well, and is safe for the environment.
In what ways has the Stamps Leadership Scholarship impacted your life?
The Stamps Leadership Scholarship has provided me a way to attend Mercer University. Without attending Mercer, I would never have done the research I'm doing now, which I love, as the research is unique to Dr. Kloepper's group here at Mercer. Without such an opportunity, I would not have discovered how chemistry can help the world around us, or how passionate I was about this kind of chemistry. Also, I would not have had the opportunity to apply and win the Goldwater without the opportunities provided to me by Mercer University and the Stamps Foundation.
What has been your most memorable college experience?
My most memorable college experience was probably presenting my research to Mercer's Board of Trustees. It was a wonderful opportunity, and I got to see just how much the trustees care about the students. Presenting was great practice for any future talks I will give, and I really enjoyed the questions from the audience. Former President Jimmy Carter had some fantastic questions that I had not thought of and definitely inspired me to do a bit more digging into the literature for information on our bacterial strain.
What do you plan to do after graduation?
After graduating from undergrad, I hope to go to graduate school for analytical chemistry and to continue research on projects that have a global focus. I want to be able to help solve the world's problems, one chemical experiment at a time.
What are your short and long-term goals, both professionally and not?In the short term, I plan to attend graduate school for analytical chemistry. In the long term, I would like to use both my chemistry degree and my Spanish skills to conduct environmental research in Spanish-speaking countries in South America. I also hope to teach at a University and inspire a passion for chemistry and all of its applications in future generations.
How has the Stamps Leadership Scholarship helped you reach these goals?
The Stamps Leadership Scholarship has already helped me to meet these goals. By attending Mercer, I was able to start undergraduate research my freshman year and I will continue that research until I graduate. I will also be using my enrichment funds to travel to Spain this summer, to increase my fluency and immerse myself in the culture. This experience will be invaluable for me and my future goals. I definitely could not have participated in this program without the Stamps Leadership Scholarship
Read the press release announcing Kaydren's Barry Goldwater award here:
https://news.mercer.edu/articles/2015/sophomore-earns-goldwater-scholarship.cfm#.VUtjRGRVikp