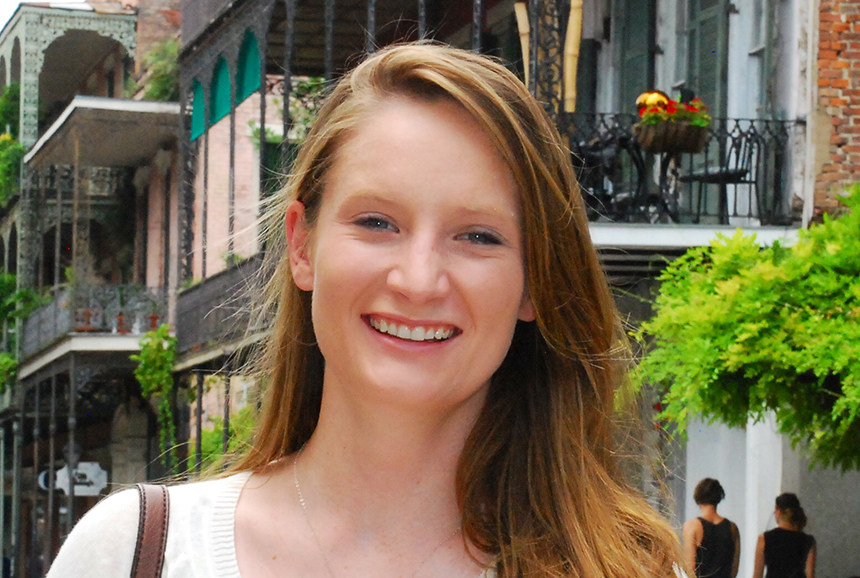 NSF Fellowship Recipient Ronnie Foreman (GT) Reaches for the Stars.
As an aspiring childhood actor, Stamps Scholar Veronica "Ronnie" Foreman starred in an educational movie made to get girls interested in the sciences. And it worked on one young woman.
The film inspired Foreman to become an astronaut, and after receiving a National Science Foundation (NSF) Graduate Research Fellowship earlier this year to study at the Massachusetts Institute of Technology, beginning in September, she is one step closer to this goal.
After she decided not to pursue acting as a career, Foreman shifted her attention to math and science courses and extra-curricular science teams, and flourished at Walt Whitman High School in Bethesda, Maryland. To further her interest in aerospace, she went to the United States Space Camp in Huntsville, Alabama, and was part of a competitive model rocket-building team, sponsored by Lockheed Martin, that placed in the national finals.
When it came time to apply to college, she knew that the Georgia Institute of Technology would provide the background in aerospace engineering needed to be an astronaut.
"When you look at Georgia Tech's track record, not only for astronauts, but for the caliber of the aerospace students and engineering education, you can't do better for a hands-on degree," said Foreman. "They don't teach students to be textbook problem solvers. They teach them to be engineers."
At Georgia Tech, she found a community in Alpha Omega Epsilon, a sorority for female engineers, and eventually became its president. She now serves as an Alumna Advisor to young women in her former chapter. The sorority's focus on professional development allowed her to act as a mentor for young women in the sciences. She was also involved with Sigma Gamma Tau, the aerospace engineering honor society for undergraduate students. These groups allowed her to work with other students in her field and develop her passion for STEM outreach.
Starting her freshman year, Foreman was heavily involved with undergraduate research, initially with the economics department. As a sophomore, she joined Georgia Tech's Aerospace Systems Design Lab (ASDL) and began working with a team of graduate students to assess possible improvements to the U.S. Army water fleet. Intrigued by the concept of systems engineering, she joined the Space Systems Design Lab (SSDL) the following year, where she co-authored two papers focused on the ways in which software can contribute to adverse behavior in military aviation systems. In her senior year, she continued to build on her interest in systems engineering and satellite design, and joined a team conducting a mission concept study for a cube-satellite that might one day go to Jupiter.
"The Georgia Tech system encourages students to take what they are passionate about inside the classroom and take it to the next step outside of class," said Foreman.
Foreman's economics research also inspired her to earn a minor in the subject. She was interested in economics because it allowed her to see how systems interacted both on a micro and macro scale. Through the department, she worked on an economic impact analysis of the Great Georgia Air Show, which combined her passion for aerospace with her budding love of economics.
Using her Stamps enrichment funding, Foreman had the opportunity to study abroad three times as an undergraduate. She first decided to study at Georgia Tech's satellite campus in Metz, France. Having grown up studying French, she was eager to perfect her language skills and live abroad.
"I loved the idea that not only was I living in a global world, but I could have a global education," said Foreman. "Georgia Tech allowed me to see that and the Stamps program enabled me to take advantage of those opportunities."
Following her time in France, she also studied at the London School of Economics during the summer of 2012, which allowed her to focus on economics and digital journalism, a passion that she had developed while helping to grow CNN's Lightyears Space and Science blog as an intern in 2011.
"I like the way that communication is shaping the technology we develop and that technology is shaping the way we communicate," said Foreman.
But her most unusual study abroad experience was a two week research expedition to Antarctica, through the University of Georgia, that required a full semester of preparation and research before she was ready to conduct her field studies. Her work in Antarctica examined how penguins could be used as models for bio-inspired submarine design. While this was an unconventional location, and an unconventional project, she was interested in taking risks.
"I often take advantage of 'out there' ideas, because they're exciting to me– and that's how you become an astronaut," said Foreman.
During her time as an undergraduate, she was also involved with Georgia Tech's Yellow Jacket Flying Club, through which she began earning her pilot's license, although she has yet to complete it. In her free time, she is a long distance runner and has completed more than a dozen half marathons, as well as the Atlanta marathon.
Since graduating in December 2014, she has returned to California for her second aerospace industry internship, where she focuses on reliability, an interest which came out of her undergraduate research focused on software safety.
With the NSF Fellowship, she will have the opportunity to expand her research in aerospace engineering and satellite systems, and eventually plans to complete her doctorate degree. As a member of the Technology and Policy Program and AeroAstro Department at MIT, she will earn two Master's degrees: one in Aerospace Engineering and another in Public Policy, and of course she still wants to someday travel to other planets.
"The Stamps Scholarship never felt like a reward for what I had done. It felt like an investment in what I was going to do," said Foreman. "That's what the NSF feels like to me. It's a challenge to do more and take the ideas and passions I have and really share them with others."