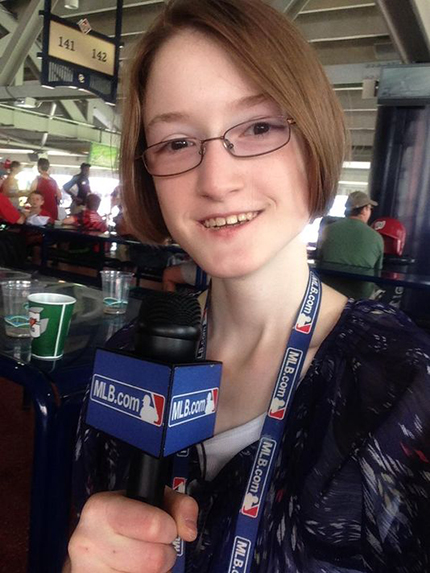 "I know what it's like to be different from everyone else around you, to overcome obstacles, to confront adversity."
That's the opening line in then- 14-year-old Megan Zahneis' essay for Major League Baseball. It's an essay about struggle, perseverance and passion. And, for Zahneis, it's the essay that landed her a job as the first-ever MLB youth correspondent.
Zahneis has since dropped the "youth" from her title, but she's still an MLB reporter. On July 14, she'll cover the All-Star Game from inside Great American Ball Park – her fifth All-Star Game overall, but the first in her city.
"I say 'dream job,' but I never could have dreamed of something like that happening," she said.
Zahneis, now 18, is a 2015 Lakota West High School graduate and one of about 50 people in the world diagnosed with Hereditary Sensory and Autonomic Neuropathy, type 2, a neurological disorder that prevents her from feeling pain, temperature and touch. She's deaf, relying on cochlear implants, and she doesn't have reflexes. She's had 19 surgeries, and just this summer, she got a hearing service dog, a 2-year-old lab named Odette.
Zahneis can't play sports, but baseball is so much more, she said. It's community and passion. It's a young player earning a starting spot, an older player fighting back after injury.
"It's about the people behind it. It's about what happens off the field," she said. "There's so many incredible stories within the game."
Zahneis is going to Miami University in the fall to study journalism. She'll keep writing for MLB when she can, and in four years, when she graduates, who knows?, she said. She wants to share her story about HSAN2. She wants to write a memoir. She'd love to be a columnist.
"If I can change one life for the better while I'm here, I'll die a happy person," she said.
Find more of Zahneis' work at mlb.com, or follow her on Twitter, @MeggieZahneis.
*******************************************************************
By: Hannah Sparling–This article originally posted by Cincinnati.com can be found here:
http://www.cincinnati.com/story/sports/2015-all-star-game/2015/07/12/all-star-game-stories/29974259/