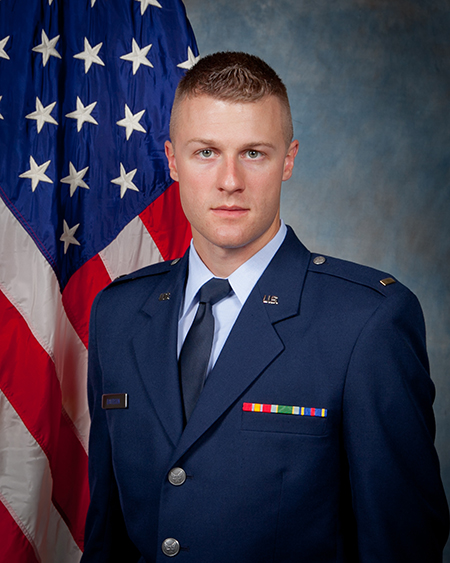 Tyler Davidson; From the Skies to the White House
Stamps Scholar and University of Florida alumni Tyler Davidson has never given up his childhood dream of being President. Now in training to be an Air Force Combat Systems Officer, he plans to devote the rest of his life to serving his country.
Growing up in Melbourne, Florida, Davidson went to Cocoa Beach Jr./Sr. High School. As his father was a pilot, he traveled extensively and developed what he describes as a sense of wanderlust from a young age. In high school, he participated in International Baccalaureate, a prestigious, global education program that prepared him for academic success and developed his interest in international issues. Outside of class, he ran cross-country and track and was a nationally ranked runner.
"With running, it's you against you. At the end of the day, it comes down to how much work you put in to reach the desired result you want," he said. "It instilled a sense of discipline in me that I think has carried over into all stages of my life."
Receiving the Stamps Scholarship at the University of Florida and making the cross-country team swayed his decision to attend the university to study political science and linguistics. He was inspired by the sense of pride at the university, particularly as a student athlete.
"I still remember the first time I put on my Gator jersey," he said. "It was one of the proudest moments I can remember: the feeling that you had worked so hard and become part of a community that was bigger than you. It's funny because it's the same thing I say about the Air Force, but more so."
He also began studying Arabic to make himself more versatile, as he already spoke Spanish. Through learning languages, he believes he could connect with more people around the world and learn more about their cultures. It also augmented the trips the Stamps Scholarship allowed him to take.
As an undergraduate, he traveled with other Stamps Scholars to South Africa and Peru and went on a sailing trip off the coast of Maine. In South Africa, he attended university classes, climbed Table Mountain, and visited townships. In Peru, he gave back by building stoves for rural populations, which was a humbling experience and also gave him a chance to bond with his fellow scholars.
"With the funds we were given, we were able to engage in the most holistic, most generous process possible when traveling somewhere," he said. "It made us really think about what we had learned and really pursue knowledge and experiences while we were there."
Outside of class, he was involved with the Honors Ambassadors. As the recruitment coordinator, he strived to inspire potential students to join the Honors Program, a community that heavily influenced his undergraduate experience. Besides getting to take smaller classes and work one-on-one with academic advisors, the program provided him with a group of cohorts who supported each other throughout college and beyond.
"The best part was the people I was around," he said. "Having friends who are there to challenge you and push you to be better is what you want in your life."
He was also involved with Gators of Tomorrow, a group that selects 25 rising leaders on campus every year and provides networking and service activities. He enjoyed the diversity within the organization and describes it as a "think tank" for other leadership groups on campus.
The majority of his time as an undergraduate was spent on internships. One of his most memorable experiences was interning for the FBI at the headquarters in D.C. He worked with the Director of Intelligence on language and live translation in the field and was able to develop his language skills. Back in Gainesville, he interned at a residential office focusing on counter-terrorism and counter-intelligence, which he says was an incredibly eye-opening experience. During his senior year, he interned for the Department of Defense focusing on foreign intelligence in Latin America.
"I got my first taste of what it was like to be part of government and the national defense community," he said "It really sparked a passion for considering the Military."
Since graduating in 2014, he joined the Air Force and completed Air Force Officer Training School at the top of his class. He learned military drills and procedures, leadership, public speaking and writing skills.
"They are looking for every aspect of what makes a leader truly a leader…" he said. "That experience brought out the best parts of me. It was the most challenging and most rewarding nine weeks of my life by far."
His goal is to follow in the steps of his father, grandfather, and great-grandfather and be a fourth generation Air Force Officer. He is currently in training to become a Combat Systems Officer, which involves a combination of being an electronic warfare officer, weapons systems officer, and navigator.
"I can't imagine not being in the air…" he said. "There's something about escaping gravity and flying in the air that's surreal and unlike anything else. Being paid to do it is the next best thing in the world."
When he finishes his training next year, he will be matched with an aircraft of his choosing and eventually go on his deployment.
"The reason I joined is because I felt like I had the skills, the tools, and the aptitude where I could serve my nation and be a great leader for my country," he said.
In the long term, he wants to continue in the Air Force and rise to the role of general and maybe, when he finally retires, run for President. For now, he wants to be involved with Special Operations in the Air Force because he will be able to see the differences he is making upfront and in real time.
He believes the connections he made with Stamps Scholars both at the University of Florida and around the country continue to inspire him to succeed.
"The Stamps Scholarship provided a great base for me," he said. "Making those connections and meeting those people and learning from them, that's what really set me up to keep an open mind, be a pursuer of knowledge, and be a pursuer of knowing people."