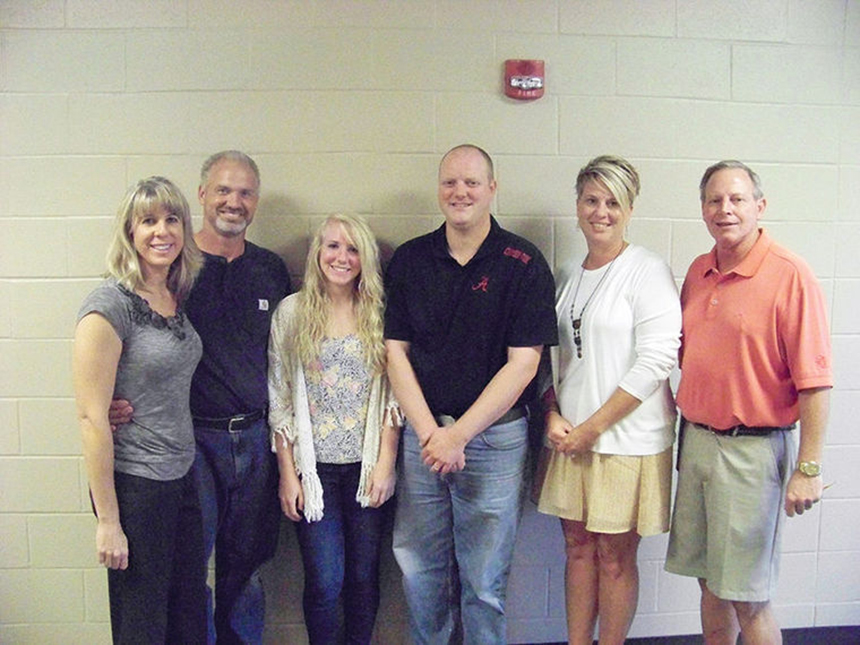 PARIS — When Kaitlin Block was thinking about colleges during her senior year at Paris High School, the University of Illinois in Champaign-Urbana was not really on her radar.
"I never planned on going to the U of I. Actually, my original plan was to go to Illinois State, and I had it all planned out," Block said. "I was already accepted, and I had sweatshirts and stuff, and then I got this email."
This email from the U of I informed Block that she had been awarded an interview for the Stamps Leadership Scholar Award Scholarship. This scholarship is a four-year, renewable scholarship that includes a $12,000 enrichment fund to support the recipients' activities. The scholarship is funded by the U of I and the Stamps Family Charitable Foundation.
And students do not really apply for the U of I's Stamps Scholarship; 40 students are chosen for the first round of interviews out of the all of the applications for the university itself. Then five to 10 of those students made it to the second round interviews, which was then narrowed down to five recipients.
"They found me," Block said. "I didn't even know it existed until I got an email."
To be singled out for this scholarship, Block and her mother Brett Block, chemistry teacher at PHS, believe that her leadership opportunities and essays made her stand out from the crowd.
During her years at PHS, Block took on leadership roles like being president of Key Club and Sub Debs, and the guidance department helped Block find these opportunities to be a leader.
"Everything at the high school helped me grow into a better leader and a better student and person throughout the years because as a freshman, I was really scared to do anything," Block said. "By senior year, I was like 'I can do anything!'"
But what made her really stand out were her essays, Block said officials from the U of I told her, though she admits that these essays were not proofread or spell checked.
PHS English teacher Jordan Stallings "is the reason why my essay writing style is the way it is," Block said. "I'm just myself in my writing, and I don't try to please anyone, and I think they liked how honest I was in the essays."
Now that she has received the Stamps Scholarship, Block will be given the chance to grow her leadership skills, meet new people and have financial support for educational activities.
As a Stamps Scholar, Block will get $12,000 to "enrich" her education, which she can use to start an organization on campus, go to conventions or study abroad, the option that Block is leaning toward. And if things work out so she can go, Block hopes to go to Australia.
"I can't imagine having the opportunity to go to Australia again, so I want to go for it," Block said.
Block will also have the chance to go to conventions to meet other Stamps Scholars, giving her a chance to network with professionals.
"It really just opens doors to people who would never think you'd get to meet," Block said, adding that the inventor of Instagram was at last year's conference and many people were able to get internships with him.
While Block will have to wait a little bit to take advantage of these opportunities, she has already experienced a trip for Stamps Scholars in July when she went on a boating trip at Outward Bound in Maine, designed to sharpen the scholars' leadership skills.
Block and nine other scholars lived on a small boat for a week, weathering the elements (especially the rain and lighting that hit their boat) and working together to overcome the obstacles that were put before them.
These scholars had to jump into the Atlantic Ocean at 5:30 a.m., row and navigate six to eight miles each day and complete a daily challenge.
"It was a crazy experience, but it was awesome. I'm glad I did it," Block said.
And not only did Block get the chance to improve on her leadership skills and learn more about herself, but she also got a lot of new friends out of the experience.
"By the end of the week, we were all like best friends. I feel like I've known them for years," Block said.
Block plans on majoring in social work with the hope of being a counselor, a degree that will give her a chance to have more hands-on experiences to have more interaction with people instead of focusing on research.
With all of these opportunities before her, Block is humble with the idea of what she will gain from what is to come.
"I just hope to be a well-rounded person at the end of it. I want to know about everything life has to offer, and I think this scholarship will help me because I'll get to travel; I'll get to meet people, and everyone that you ever meet changes your perspective on life a little," Block said. "I want to be able to see the world from every person's point of view because I think that makes you more understanding."
Block started her freshmen year of college this week, and she encourages high school students to be themselves since that is what lead her to this chance of a lifetime.
You can view the original article written by Kelly Nicholson for the Paris Beacon News here:
http://www.parisbeacon.com/feature_stories/article_b3087ed4-4b96-11e5-bd10-9359f711961f.html