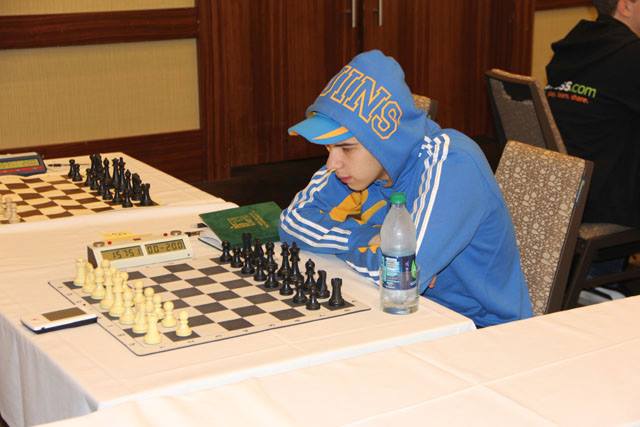 Featured below is a recent Q & A with Stamps Leadership Scholar Luke Harmon-Vellotti. He shares his passion for chess and how he integrates the game into his life at UCLA.
Where are you from and what high school did you attend?
I am from the wonderful city of Boise, Idaho. I attended two high schools there, Boise High School and the Treasure Valley Math and Science Center. I was fortunate to be allowed to essentially skip all four years of junior high and graduate high school at the age of fourteen.
How did the Stamps Scholarship influence your college decision process?
When I decided to apply for college at the same time as my older brother, Carl, my parents supported my decision as long as I was willing to put in the time to write all the essays. Carl and I applied to all of the same universities but we received different results. I was accepted into Stanford, but he was not. He was accepted in Johns Hopkins, but I was not. Fortunately, UCLA accepted both of us into the programs that we wanted. But since we would both pay expensive out-of-state tuition, we did not think we could choose to accept the offers. When I found out that I was selected as a Stamps Scholar, our acceptance was immediate. My family is very grateful for the guaranteed 4 years of tuition which has turned out to be an even greater amount since UCLA is raising the out-of-state tuition fee by almost 8% this year.
Why did you choose to attend UCLA?
I knew at the time that UCLA was the most applied to university in the world, but I did not really understand why until I visited and took a tour of the classes. I did know that I wanted to attend college in a big city to contrast my small town upbringing. The campus is beautiful and the people are warm and welcoming. In addition, the professors are approachable and engaging and the curriculum is world class. Once I received the Stamps scholarship and my brother was also accepted into the engineering school, the decision was made. I have been very happy with my experience here throughout, so it was the best decision of my life.
What is your field(s) of study, and what drew you to this field(s)?
I started out as an Applied Math major in the College of Letter and Science. But as soon as I arrived on campus, I started planning to add a Computer Science major as well. At that time two years ago, there was still room in those core classes so I was able to add them into my studies with the help of my Stamps advisor. I knew that I needed a high GPA and a lot of extra classes to make the jump into the engineering school. Fortunately, I was accepted into engineering while also retaining my position in the math program. It is a lot of work, but I really enjoy being busy. I had decided when I entered UCLA that I would learn as much as I could during my undergrad years. Now, all the computer science core classes are packed since it is essentially a given that the technology careers of the future will require extensive knowledge in this field.
You began college at the young age of 14. Tell us about your experience being surrounded by students who are older. Were you intimidated at first?
Since I had essentially skipped four years of school, I had become used to being around older students. My older brother's friends became my friends and my classmates fortunately just accepted me as a peer early on. I am not sure that anyone I have met at UCLA even knew I was younger unless they had heard my story. I usually just forget that I am younger and mix right in with my classmates. Unless I go to the campus doctor, it never comes up that I am a minor. The students at UCLA are very cool about everything, and there is a lot of diversity on campus. It is basically just a matter of how you carry yourself and the interactions that you have with others that really matters here. Plus, lots of the students are very smart and high achievers so it is not that unusual to find younger students here. I also think that my chess experiences helped me since I was always around adults who were my usual opponents when I competed in chess tournaments.
How would you describe the Stamps Scholars community at UCLA?
The Stamps Scholars community at UCLA is comprised of students and staff members who are very supportive of one another. It is the most collaborative team that I have ever worked with. Each member is always ready and willing to help anyone else in the group. We became an official university club last year so that we could expand our outreach opportunities to assist other campus groups. I have really appreciated my Honors advisor, Nol, who has allowed me to raise my unit cap each quarter so that I could take all of the necessary classes to double major. It can be very difficult to get all the classes you need here at UCLA, so this was extremely helpful. One quarter I even took 29 units through 7 classes!
What are your hobbies/passions?
Chess has been the single most important activity of my life and a centerpiece since I was four years old. My dad is a popular chess coach who owns a school in Boise, and he taught me and my brother how to play when we were very young. I was very competitive even at that time, so I really wanted to win my games and earn trophies and titles. My parents made the decision to travel to large urban cities where I could play the best players in the country. I almost immediately entered the adult section of every event because I loved the challenge. I won three national titles early on, and my first overall U.S. Championship title when I was thirteen. The following year, I was granted the coveted International Master title when I was fourteen, becoming one of the strongest youth players in the world. My rank and chess rating have earned me a position on the All-American Team for eight years in a row. But I also knew that I wanted to make a greater impact on the world than being a professional chess player. My parents made sure that my academics came first, so I sacrificed many chess opportunities which included playing around the world. I have no regrets about my decision since my academic path has been so fast-paced and exciting. I still want to achieve the final level in chess ranking which is the title of Grandmaster, but it may have to wait until I graduate from UCLA. I do still play actively in as many events as I can squeeze into my schedule so that I can keep my skills honed. I also train the chess team here at UCLA and offer free lessons on campus every week to prepare my team mates for collegiate events. Many chess parents of Los Angeles also contact me to train their children for competitive events, so I take on a selected few each year. It is very exciting for me to see chess provide those students the same great opportunities I had when I was younger.
Congratulations on your recent invitation into the inaugural league of City Fellows Consortium. What is the mission of the consortium, and what will you be doing?
The City Fellows Consortium is an innovation-centered private league for Los Angeles' top undergraduate engineering students who are selected from the region's elite universities. There are only thirteen of us this year! The Consortium focuses on building new ties for every Fellow into the local community, including ties to venture capitalists, government, early stage technology companies, and LA's top traditional technology enterprises. I think that their mission is to encourage all of us to start our own companies and use our talent for the common social good. We will also become familiar with pitching and have to submit and present an idea in an LA Pitchfest. I feel so fortunate to have this type of access during my undergraduate years.
How did you use your scholarship related enrichment funds? If you have not used them yet, how do you plan to use them?
I have not yet used my funds, but I am exploring several ways that would be exciting to spend them. I still spend much of my summers playing in high-level chess competitions, but I may travel abroad next year. I would like to combine the trip with a worthwhile project that may help me reach my other goals. I think that the Stamps Family Charitable Foundation funds should be used in part to offer a life-changing experience that furthers my understanding of the world around me. I am also considering ways that they could be used to enhance my career path. I am planning to apply for an internship soon so the generous funds may come in handy there as well!
In what ways has being a Stamps Leadership Scholar impacted your life?
I think that the Stamps Scholarship has had an impact on my life from the very first day it was awarded. It guided my college decision, and it has opened many doors of opportunities for me. Because of my scholarship status, I have been able to take those extra classes and double major. I have also been able to have the freedom of time to study without worry about finances. Additionally, I was recently honored to be a part of the new UCLA Optimist 4.0 campaign which highlights both undergrads and alumni with significant accomplishments or promise. The high visibility of the campaign brought me to the attention of March Capital Group, which included me into the City Fellowship. The initial connection to the Stamps Foundation was instrumental in all of these opportunities, and I have no doubt that my scholarship will continue to guide me in the future.
What has been your most memorable college experience?
I have been fortunate to have many great experiences here at UCLA. I have tried to make the most of each day on campus. But honestly, I think that my most memorable experience was attending the 2015 Stamps Convention earlier this year at Georgia Tech. It was really inspiring to meet all of the scholars from the other universities. They all have so much drive and passion for leading their respective communities toward improvements that will positively impact the lives of others. It was also great to meet Mr. and Mrs. Stamps. They are so approachable and down to earth. I really think that they are very hands on in providing guidance and opportunities for the students that they choose for their scholarship.
What do you plan to do after graduation?
I feel like my options are wide open at this point. I would like to combine my love of computer science and math with a career in medicine. I am already studying for the MCAT in my spare time. But I may be inspired to work for Google or create my own start up first. I have also prepared for the GRE and LSAT just in case. It's fun being a sixteen year old at this point with so many exciting opportunities.
What are your short and long-term goals, both professionally and not?
My short term goals include a working proficiency in Chinese. I started taking classes this quarter, and I plan to continue through this academic year. It is really fun and challenging for me to learn a new language, and I think it will be valuable no matter what career path I take. I am also seeking both research and field internships to start next quarter. My longer term goals include graduating at 18 with a B.S. in Computer Science and a B.S. in Applied Math. I am very interested in starting a company in the future with my brother, who is studying to be a bioengineer. I think our education and interests are compatible enough to join forces to create an idea or medical device that will impact those with the greatest need.
How has the Stamps Scholarship helped you reach these goals?
The Stamps Scholarship has put the path of my life on a totally different course than it might have been. I am from the small and geographically obscure city of Boise, Idaho where big dreams and plans are not usually able to be realized. The guaranteed four year tuition scholarship that was awarded to me has allowed me to truly consider what I want to do with my life. The move to Los Angeles to attend UCLA has helped me realize how much the world needs dreamers and planners who are willing and able to create and contribute ideas for the common good of all. I truly think that all of my many opportunities in the past few years have come from the Stamps Leadership Foundation.