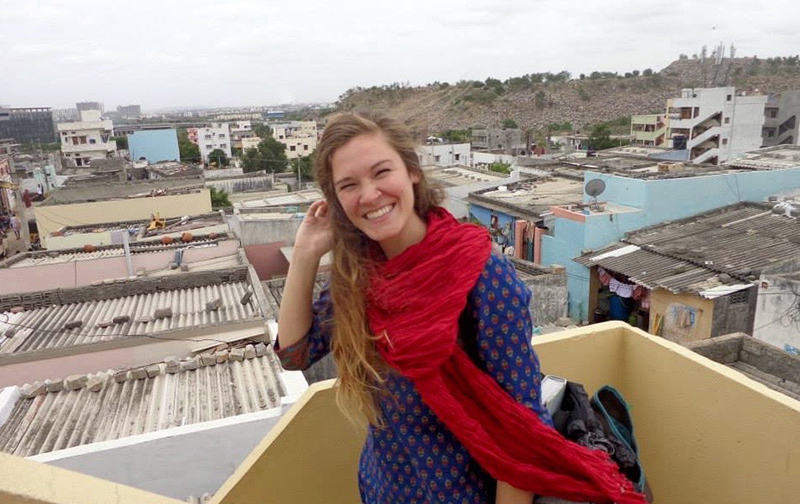 Bethany Dill is committed to social justice at Barry University and beyond.
In a recent Q&A, Bethany Dill describes life as a Stamps Scholar at Barry University and  shares how the scholarship has impacted her undergraduate experience.
Where are you from and what high school did you attend?
I'm from Canal Fulton, a small town south of Cleveland in northeast Ohio. My alma mater is Northwest High School.
How did the Stamps Scholarship influence your college decision process? Why did you choose to attend Barry?
The Stamps Scholarship didn't just influence my college decision; it ended the college search entirely. The prospect of joining a network of like-minded students, designing an enrichment experience, and graduating without debt—allowing me to pursue work I love even if it pays little—sounded too good to be true. But it was both good and true! I found Barry's deep commitment to social justice, which was evident from the start, compelling. I knew I could thrive in a place that cares so earnestly about the role of a university in seeking justice in the world. Barry is such a diverse school in a diverse place: Miami, Florida. At Barry, you can't see from only one perspective, which reinforces its social justice focus. You learn from the perspectives of your friends and professors from all over the world. You can't be removed from what is happening to other people, because you realize you are connected to those people.
What is your field of study, and what drew you to this field?
I'm studying Education. I was drawn to it by the efforts of many around the world who make education accessible for those who have been afraid even to hope for it, and the bravery of those who seek it for themselves against all odds. More than 62 million girls worldwide, for example, are denied the right to an education, though communities and economies benefit tremendously from educated girls and women (if you haven't, watch the moving documentary Girl Rising—with tissues!). Education has been so meaningful and empowering in my own life and I hope to advocate for educational opportunity for others.
What is your research topic for your honors thesis?
I'm focusing my thesis on the educational needs of Syrian refugees with post-traumatic stress disorder (PTSD) in Lebanon. Refugees experience many kinds and combinations of trauma, contributing to the complex barriers that keep 50 percent of Syrian refugees of school age out of school. Despite refugees' vulnerability to developing PTSD, it is often undiagnosed and untreated. I'm interviewing refugee rights, education, mental health, and human rights experts in order to develop and propose recommendations for academic strategies integrating psychosocial support for Syrian refugees in non-formal schools in Lebanon, which has taken in Syrian refugees since the beginning of the Syrian civil war and now hosts 1.4 million Syrian refugees. Because educational opportunity can cultivate a sense of normalcy for refugees and prevent a "lost generation," it's critical that the unique needs of refugee subgroups be addressed thoughtfully and strategically. Together, the flexibility of non-formal education and psychosocial support may help refugees to cope with stressors and make academic progress, fostering resilience as Syrian youths become active survivors and empowering them to contribute to their communities now and in the future. I hope that teachers and nonprofit organizations will be able to use my research to help refugees with PTSD access and stay in school.
How would you describe the Stamps Scholars community at Barry?
I am forever grateful for the Stamps Scholar community I have been a part of at Barry. Within our group, you're always supporting and supported; giving and receiving; believing in and being believed in; always serving as an example for someone else and at the same time, learning from someone older and wiser. I think we all have a sense that wherever we go and whatever we do, we know where we come from: we have a strength, a home, in these people.
What are your hobbies/passions?
Service is immensely important to me. The power people have to affect each other's lives is staggering, and it's beautiful when people harness that power for good. I think that all people have a deep need to live a life that is bigger than themselves. Another passion of mine is writing. Honest and openhearted writing can be a lovely and impactful form of service to others—good writing can change people's mindsets and lives. I'm not sure what role writing will play in my life, but I've dreamed of being a writer since I was five. I know a woman who used her love for writing to tell a man's true story about surviving the Rwandan genocide. I would be honored to help others tell their stories and see their experiences redeemed in some way by being heard. I especially admire the life and writing of Nicholas Kristof, a journalist who has focused on social justice topics most others overlook.
What have you been able to do because of the Stamps Scholarship that you otherwise couldn't have?
Because of the Stamps Scholarship, I have been able to focus much of my time and energy on service, at university and community levels and abroad. The summer before my freshman year at Barry, I interned with a nonprofit organization called Inca Link International in northwestern Perú, where I helped facilitate service trips for groups from the U.S. and Canada and volunteered in the organization's daycare for the children of parents who were landfill workers. During my time at Barry, I've been a reading tutor in the community, volunteered as a Resident Assistant, and have been a part of Habitat for Humanity, Barry's Honors Program Student Advisory Board, a Christian student organization called Pinky Promise, the Education Association of Barry, and other organizations. During my freshman year, I visited the Coalition of Immokalee Workers in Immoaklee, Florida to support its Anti-Slavery Campaign, which seeks to eliminate forced labor in supply chains.
I volunteered in Hyderabad, India for the summer of 2014 with Advocates for Babies in Crisis, an organization that upholds the dignity of orphaned infants and young children by supporting and resourcing local public and private orphanages and partnering with area doctors to provide the children with weekly medical care. I cared for infants and tutored older children in math and English. I also went hiking at Golconda Fort, the former capital of the medieval Qutb Shahi dynasty, and toured the breathtaking tombs of the Qutb Shahi rulers.
This past semester, other Barry Stamps Scholars and I participated in Dressember, a collaborative movement designed by the Dressember Foundation to honor women exploited for their womanhood. We took on the creative challenge of wearing a dress at school, home, or work for the 31 days of December, advocating for the inherent dignity of all women and the right to live a vibrant, autonomous life. Our participation raised money for human rights organizations. Femininity manifests itself in different ways, but our goal was to put this interpretation of femininity to use as a gesture of solidarity with other women.
How did you use your scholarship related enrichment funds?
In the spring of 2015, I interned with International Justice Mission (IJM), a Washington, D.C.-based human rights organization that partners with public justice systems in the developing world to protect the poor from everyday threats of violence, including bonded labor slavery, sex trafficking and sexual violence, property grabbing, police brutality, and citizenship rights abuse. Because, according to the United Nations, four billion people live outside the protection of the law, IJM works in nearly 20 field offices worldwide to provide safety for those who are vulnerable by rescuing victims of violence, restoring survivors to their communities, restraining criminals alongside local police, and representing survivors in court.
This past summer of 2015, I joined Human Rights Watch (HRW) as a Refugee Rights Program intern. While IJM operates like a lawyer, taking on individual cases, HRW acts as journalist in over 90 countries, investigating and reporting abuses in order to pressure those with power to respect rights and secure justice. HRW's Refugee Rights Program was busy this summer amid refugee crises in the Mediterranean and Andaman Seas, by which refugees continue to flee violent conflict in the Middle East and persecution in Southeast Asia. I drafted advocacy letters to governments, press releases, and articles for HRW's website; researched Hungary's recent and unfortunate legislation allowing for a border fence to keep out refugees; and participated in news release writing, refugee law, and human rights research workshops.
Each of my enrichment experiences deepened my understanding of human rights work, gave me practical field experience, and helped me enormously in deciding what steps to take next in life.
What advice would you give to potential Scholars on how to make the most of your enrichment experiences?
Be creative and don't be dissuaded from trying something no or few others have done in the past. And if you do decide to be a pioneer, be sure to develop a strong and thorough rationale. As I brainstormed ways to use my enrichment funds, I realized that I would probably never again be given funds to learn and serve wherever and however I want to. So I rented a room in a family's basement instead of renting a whole apartment and was able to make the funds last for a year's worth of experiences while doing independent studies with a Barry professor. It was out of the ordinary, and I would do it all over again.
In what ways has being a Stamps Leadership Scholar impacted your life?
Most of all, the Stamps' generosity has deeply influenced me. They could have done anything at all with their lives, and they've chosen to invest in ours. Moreover, they have extended their hearts to us. Who else can say that they know their scholarship donors personally but us? It's humbling and inspiring. Their sincerity has touched my life profoundly. My human rights enrichment experiences were striking illustrations for me of the power of advocacy on behalf of others. Having someone who sees, hears, and believes in you can make all the difference. The Stamps are living examples of this truth. In a sense, they are like our advocates, and this has changed our lives. I think we all hope that we will change someone else's in turn.
What has been your most memorable college experience?
During my time at International Justice Mission (IJM) in Washington, D.C., I attended a Senate Foreign Relations Committee hearing on ending modern day slavery (a unique opportunity!) at which IJM's founder testified about the importance of targeting the impunity of perpetrators. It was special to witness that event and beautiful to hear the plight of the enslaved shared with those who can affect such systemic change.
What do you plan to do after graduation?
Following graduation, I plan to attend graduate school to earn a Master's degree in Refugee Studies. The United Nations Refugee Agency has said this year that globally, one in every 122 people today is either a refugee, internally displaced, or seeking asylum. If this were the population of a country, it would be the world's 24th biggest. Solutions are murky and it's going to continue to take a lot of creative, compassionate, and persistent people to welcome and help those who have fled awful, almost unimaginable situations; and to address root causes of conflict in their home countries. After graduate school, I hope to become a human rights lawyer to amplify the voices of refugees and others who are also vulnerable and exploited.
What are your short and long-term goals, both professionally and not?
I'm a senior this year, so I hope to enjoy the last several months of this season of life. Soon, I'll look back on it nostalgically, but for now, I'm still here. I'll never be in this place again with all of the same dear friends and faculty, so I want to take it all in while I have it. And graduation is a goal of course, and graduate admission. In the next few years, I hope to earn my master's; undertake a teaching or research fellowship abroad; spend time in Geneva, Switzerland, the heart of much of the world's human rights work; and begin law school—I hope to attend a law school that places a particular emphasis on public interest law. I want to provide legal protection to people whose rights are abused, to communicate to them and others that they are worth more than mistreatment. Eventually, I'd like to be on the leadership team of a nonprofit organization, and I love school so much that I wouldn't be surprised if I go back for a PhD someday. Encompassing it all, though, whatever professional goals I do or don't meet, I hope that I will use the opportunities I have been afforded to benefit others, to let "even one life breathe easier," as Emerson wrote. That is the best kind of success.
Lastly, how has the Stamps Scholarship helped you reach these goals?
The Stamps Scholarship has given me the chance to pursue what I might only have dreamed of doing otherwise. Mr. and Mrs. Stamps like to tell us, "We have no requirements, but one request: that you would let us see the world through your eyes." This reminds me of something John Steinbeck wrote in East of Eden: "And now that you don't have to be perfect, you can be good." The Stamps want us to care about more than having an impressive GPA or place in our graduating class. While those things can be great, their greatest hope for us is to care about the world and our place in it.