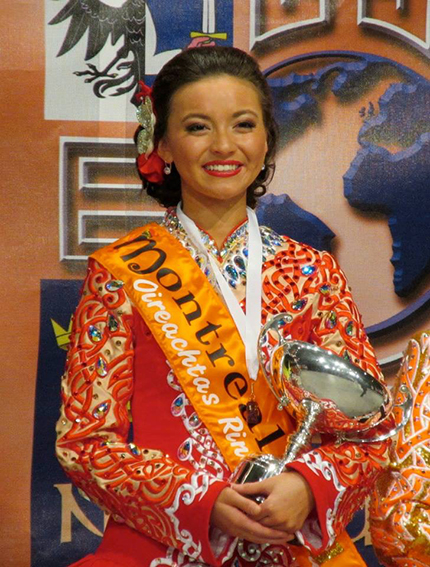 From Irish Dance to Global Health, Bridget Oei Sees Science Everywhere.
From a young age, Bridget Oei was encouraged to see the science in everything around her, whether that was the physics behind Irish dance, one of her life passions, or thinking of ways to harness the energy of pedestrian traffic. As an environmental science major at the University of Connecticut, Oei strives to use her biomedical research experience in the field of global health.
"They (my parents) really instilled in me a passion and a dedication to the scientific method inside and outside of the classroom, identifying problems, observing things around me, and noticing how I can solve those issues…" she said.
Oei grew up in Hebron, Connecticut and was homeschooled by her parents, who are engineers. After witnessing the hustle of Grand Central Station during a trip to New York when she was 13, she was inspired to make a floor tile that could store and use the energy created by pedestrians.
While a student at East Catholic High School, she continued this research. She focused on how a pvdf piezoelectric device could harness wind energy from the lungs to provide power for cardiac pacemakers and other biological implant devices. In the end, what inspired her to study environmental science was not her experiments, but her dancing. Since she was three, she has taken dance lessons, often with her three siblings, as a way to connect with their Irish heritage.
"Through all my training, whether in Irish step-dancing or classical ballet, I really gained a sense of my body and movement, and I learned to have an appreciation for movement…" she said. "I think that's really what interested me: that there's so much energy circulating out in the world. I thought, how can we use that and not waste it?"
She was drawn to the University of Connecticut because of the chance to start her career path towards medicine at a large research institution.
"The campus was big enough for me so that it would challenge me, but close enough to home that I didn't feel too uncomfortable…" said she. "I think the Stamps Scholarship was what opened a few doors for me and helped me understand I would have great opportunities there."
Oei knew the Stamps Scholarship would provide her the support to expand on her coursework. For summer 2015, she was rewarded a Holster research grant through the University's Honors Program which allowed her to continue her high school research. She worked in a biomedical lab with her mentor Dr. Ki Chon who oversaw her research to make a more efficient device to power pacemakers.
Her involvement in research as well as the University's Honors Program inspired her to become a speaker for the University of Connecticut Foundation and share with alumni what the University has to offer. "Most people think basketball when they think of UConn, but the school is so much more than that," she said.
In addition, she dances and choreographs for the UConn Dance Company and surfs during school breaks. In April 2015, she competed for the sixth time at the World Irish Dancing Championships and placed fifth in her age group. She is also the first place New England Irish Dance champion, a title she has maintained for the past four years.
"It's been a long journey learning how to cope in a competitive environment," she said. "I love the energy and the adrenaline that comes with competing."
This January, she traveled to Lima, Peru with the support of the Stamps Scholarship enrichment fund. Through Medlife, she worked at a medical clinic where she provided care to about 3,000 patients, shadowed a doctor, and built a staircase to increase accessibility.
"I felt that going to a different country and doing medical work outside of my comfort zone was really something that would allow me to determine if it was what I wanted to do or not…" she said.
"There is definitely more to do there. It doesn't end with this clinic trip. It was a call of action to go back there or do what I can here to provide for better healthcare. "
While environmental science is not the most common major for pre-med students, she realized in Peru that there was a connection between environmental factors, including a lack of access to clean water, and health concerns.
"What motivated me to continue with it (environmental science) is that I think there is a great amount of information and things I can learn by understanding the environment, and I saw that even in Peru," she said. "I can understand human health better if I understand the environment where the patients I will provide healthcare for live."
After finishing college, she plans to go medical school and focus in dermatology because she said skin health is closely connected to the environment and differences in climates and seasons. She said that the chance to meet other Stamps Scholars and continue her research with the support of the Stamps Scholarship has already shaped her college experience.
"(I've had the chance) to meet other students with like minds and similar goals, but interesting viewpoints," she said. "It opened me up to a whole new network… and the opportunity to pursue research and study abroad has really encouraged me to take college by the reins."