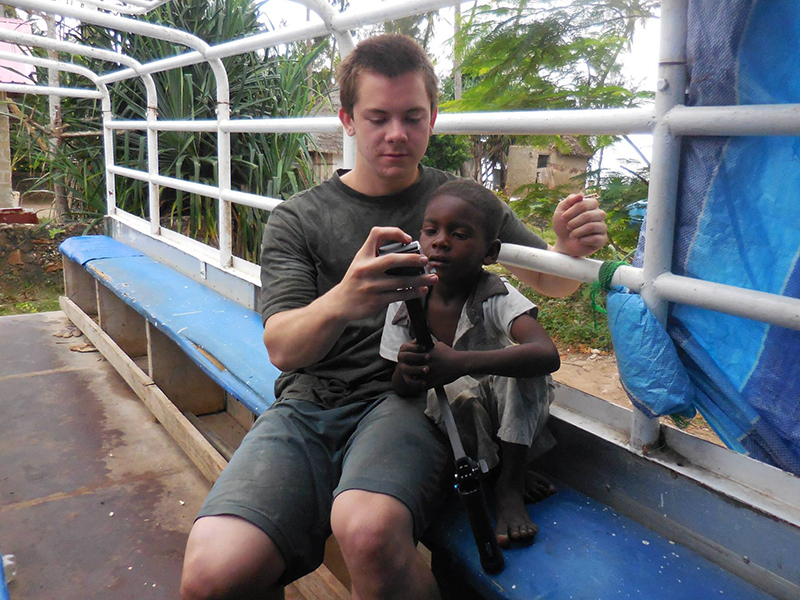 Devon Shuman Inspires a Lifetime of Learning Around the World.
As an English education and creative writing double major at Miami University, Stamps Scholar Devon Shuman wants to inspire a culture of reading, both close to home and around the world.
Growing up in Newburyport, Massachusetts, Shuman was encouraged to explore different worlds through literature. He read Stephen King novels as an escape into a mysterious and unfamiliar New England. While a student at Triton High School, he was inspired by his English teachers who were able to get students interested in reading and decided he wanted to pursue education. He also developed a second love for hockey.
Shuman was drawn to Miami University for its strong education school, as well as its hockey team. It was the financial support of the Stamps Scholarship that pushed him towards the University. He said that he knew he belonged at Miami when his family visited for Parent's Weekend his freshman year.
"I saw them and realized I had entered a new chapter in my life, which was an eye-opening moment," he said.
He said that his fellow Stamps Scholars helped him feel comfortable as a freshman. "In the past couple of years we have been trying to make more of a Stamps family, so it's more than just a club."
At Miami, Shuman is a member of the Delta Chi fraternity and continues to play hockey for an intramural team. He is also a weekly columnist for The Miami Student, the University's newspaper. Currently, he writes about pop culture, a perk of which is getting to watch a lot of TV shows and movies. His goal is to continue growing as a writer and be an editor for the paper.
Shuman is also part of the University's Outdoor Club, for which he has traveled to places such as Virginia and Tennessee. The backpacking trips and other adventure opportunities are a way for him to take a break from school. "When you're out in the wilderness, which is much more simplistic, you can just enjoy the moment a little bit more," he said.
This past summer, Shuman traveled to Tanzania with the support of the Stamps enrichment fund. He spent two and a half weeks in Zanzibar embedded in a local community, where he worked on infrastructure projects, including building a school, and taught students English. While the students mainly spoke Swahili, all of their formal exams are in English. The most memorable part of the trip was when one of his students thanked him.
"A lot of the time when you do work like that, you feel like it's not really making a difference and the problem is too hard to really make a dent in it," he said. "When someone personally thanks you for what you are doing, it can help you realize that you actually are doing something."
At the end of his trip, he climbed Mount Kilimanjaro, which he said is one of the hardest things he has ever done. "Physically it's not too bad except maybe the altitude, but mentally, just hiking up a mountain for a week can be really challenging…" he said. "But then you get to the top, and it's absolutely beautiful up there. It's this huge moment of relief where you can pause and appreciate it after hiking up it for so long."
The trip inspired him to get more involved at Miami University, where he is currently a sophomore. "I think it's everybody's duty to at least do something that benefits the many and not just themselves," he said. "The feeling of just helping out is something that I want to pursue."
He wants to continue this passion for helping others by becoming a high school English teacher. He said high school is an exciting time for students, and he is interested in the growth they make from freshman to senior year. He said the opportunities the Stamps Scholarship provides, specifically his time in Tanzania, have cemented his decision to be a mentor for students.
"It was my first actual experience of teaching kids to read and write and confirmed that that's definitely what I want to do."