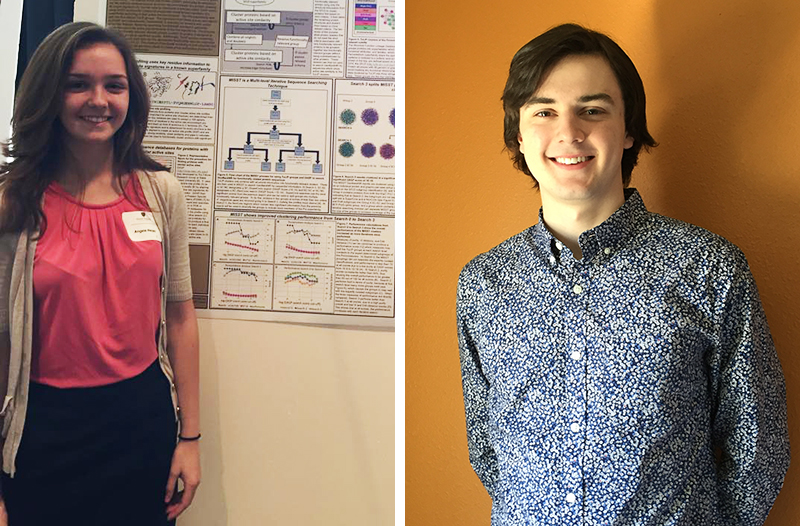 ATLANTA, GEORGIA – APRIL 5, 2016 – Wake Forest University Stamps Scholar Angela Harper and University of Illinois Stamps Scholar Elijah Karvelis have been awarded Barry Goldwater Scholarships. Two other Stamps Scholars – Jessica Joyce of the College of William and Mary and Sierra Lear of Tulane University – received Honorable Mentions. Named in honor of US Senator Barry Goldwater, the Scholarship encourages outstanding undergraduate sophomores and juniors to pursue careers in mathematics, the natural sciences, and engineering.
Harper, a Physics major, plans to earn a Ph.D. in physics to pursue an academic career that combines research with teaching.
Karvelis, a Chemical and Biomolecular Engineering major, intends to earn a Ph.D. and conduct research in biotechnology to advance health sciences.
Goldwater Trustees have awarded 252 scholarships from a field of 1,150 mathematics, science, and engineering students who were nominated by representatives of 415 colleges and universities nationwide.
So far in 2016, Stamps Scholars have won Churchill, Gates Cambridge, Fulbright, Marshall and Schwarzman awards in addition to the Goldwater Scholarships.
###
About Stamps Scholars and the Stamps Family Charitable Foundation
In 2006 Penny and Roe Stamps created merit scholarship programs for undergraduates at their alma maters – The University of Michigan and Georgia Tech. Since then, the Stamps Scholars community has grown into a nationwide network of colleges and universities with more than 1000 current and alumni Scholars. The Stamps Foundation awards multi-year scholarships to driven and talented student leaders to help them achieve their education and life goals.
Learn more at StampsFoundation.org.
Contact: Randy McDow (randy@stampsfoundation.org)