Trey Sides (GT) Brings an International Perspective to Renewable Energy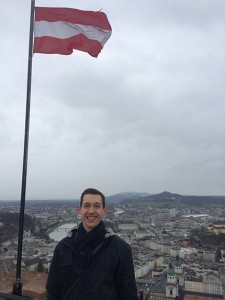 As a future student in the Harvard Business School, Trey Sides plans to use his chemical engineering degree from the Georgia Institute of Technology and international experience to bring the newest developments in renewable technology to a global market.
Growing up in Birmingham, Alabama, Sides said his parents knew he was going to become an engineer. He loved to buy various electronics and take them apart, pretending he was making a computer. At the Jefferson County International Baccalaureate School, he developed a passion for chemistry as part of Science Olympiad and math team.
He decided to go to Georgia Tech because of its strong chemical engineering program and central location in downtown Atlanta. He was not only drawn to the Institute's strong academic rigor, but also research opportunities in sustainable, renewable energy.
"It was kind of a natural fit for me. I'm really interested in chemical engineering from the perspective of global warming being one of the biggest challenges that we're facing…" he said. "I want to be able to find new applications for technologies and be developing the technologies that we are going to use in the future."
As an undergraduate, he worked in a research lab studying the water management of fuel cells, which are used in fuel-efficient cars. Often, fuel cells either produce too much water, which floods the cell, or not enough water, which dries the membrane.
He also looked at ways to store solar energy using reactors that created a high temperature chemical reaction. By putting a small amount of metal oxide powder into a thermogravimetric analyzer, he could look at changes in mass caused by a chemical reaction. One of the challenges was figuring out how this chemical system would work as an energy storage device, the main commercial application of his research.
"I had to figure out what is a different way to look at this and what other factors might get in the way here that might be affecting the chemical reaction," he said. "I was also thinking about the implications of what this might look like in an industrial setting rather just a tiny sample in a machine."
Sides said many of his most enriching learning experiences were outside of the classroom. He was involved with Engineers Without Borders and partnered with a community in rural Northern Uganda to implement a water supply program. He had the chance to go to Uganda to conduct health and land surveys as well as see the impact of his project in the community.
"You see so much potential for things that could be done and places to make an impact…" he said. "You have to remind yourself of the value of the project that you are there to do."
During his time at Georgia Tech, Sides traveled to five continents with the support of Stamps funding. After studying language and culture in Germany, he developed a passion for travel. The following summer, he returned to Germany to intern for a consulting firm in Frankfurt. His first project was working for a railway consortium and focused on implementing electronic ticketing procedures. He then worked for a car manufacturer looking at diagnostics and car electronics systems.
The next summer, he developed his research and development skills while interning at Frito-Lay. He looked at ways to optimize the way the company produces popcorn at manufacturing facilities. "I saw how to apply my chemical engineering skills to something that I wouldn't have really imagined using them in: the food industry," he said.
With the support of Stamps funding, he also traveled to Dubai to conduct a business case study on the real estate and construction industry with fellow Stamps Scholar Sid Sinha, met with local entrepreneurs in Argentina, and studied local culture and history in the Balkans.
He said "the cultural learning is a big benefit: learning how people see things through different cultural lenses. Sometimes, you are forced to shift your perspective and realize wow, this is what their culture is."
Currently, Sides has continued his passion for working internationally as a combined research and teaching Fulbright Scholar in Vienna, Austria. He is teaching over 200 high school students English while conducting research on renewable energy in a country that is a leader in recycling and other sustainable environmental efforts.
"I think there is a lot to be had with this sort of cross-cultural collaboration, especially in the technical fields, which can often be isolating," he said.
After finishing his program later this year, he will return to Atlanta to work as a BCG consultant, where he hopes to gain a general knowledge in a wide variety of industries.
"It's a chance to take these technical skills that I've learned over the past four years at Georgia Tech and that way of thinking, that mindset, but then move in a more business and application results oriented direction," he said.
He will then follow in the footsteps of Roe Stamps and complete his degree from Harvard Business School. He is not sure of his plan after he graduates, but his dream is to take the latest, innovative products to market and turn them into the new energy solutions to power our world.
"It's almost hard to think where I would be without the Stamps Scholarship," he said. "All of the travel that I was able to do, the exposure to the German language and the German culture, it all builds on each other. So many of those opportunities were funded by the Stamps Foundation."