Zack Faircloth Discusses His Path to Student Body President.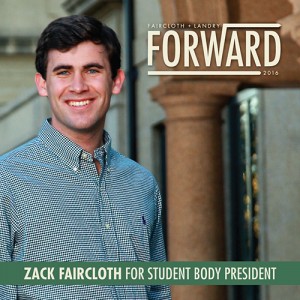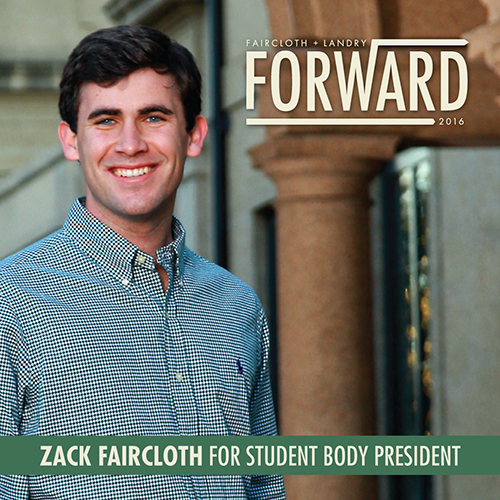 Zack Faircloth is an Ogden Honors College junior, double majoring in electrical engineering and political science at LSU. Currently, he serves as the LSU Student Body President and is a member of the Greek Leadership Institute (GLI).
Featured below is a recent Q&A with Zack, where he shares his student government campaign experience and offers advice to those interested in running for office:
Where are you from and what high school did you attend?
I'm from Pineville, Louisiana and attended Pineville High School.
How did the Stamps Scholarship influence your college decision process? Why did you choose to attend LSU?
The Stamps Scholarship was certainly one of the primary reasons I chose to attend LSU. I knew with the $14,000 of enrichment funds, I would be able to get the maximum experience during my time in college.
LSU was appealing because of the opportunities that a large flagship research university could offer me, and at the same time, I had access to the LSU Honors College, which offered a microcosm for additional resources and service, research, and study abroad opportunities. Never have I met so many people who are so invested in my success and the success of their students like Dr. Drew Arms and Dean Jonathan Earle of the LSU Ogden Honors College. I'd also be remiss if I did not mention that I love LSU football and Saturday nights in Death Valley.
What is your field(s) of study, and what drew you to this field(s)
Electrical Engineering and Political Science. I believe firmly in an interdisciplinary education. An engineering degree is a degree in problem solving, and I am passionate about solving difficult real world problems specifically in the area of government and higher education funding. The combination of Engineering and Political Science allows me to do just that.
How would you describe the Stamps Scholars community at LSU?
The Stamps Scholars at LSU are graduating their first scholar this year, but while we are a young group, I'm proud to say we are extremely close knit. I can go on and on about the LSU Stamps Scholars community because the group has been my family since I arrived at LSU. The Stamps Scholars group—now fourteen—talks regularly, travels abroad together, works on collaborative research projects, mentors the incoming freshman scholars, and even plays intramural kickball. Once each month, we attend Honors College events together to stay connected to the greater community. With ten incoming scholars, I am excited to see what the future holds for the Stamps Scholars at LSU.
What are your hobbies/passions?
When I am not studying at the coffee shop or working with my senior design team, I am typically in the Student Government office helping other student government members to tackle initiatives. I also really enjoy following Louisiana politics and working to make sure that students have an active voice in that arena.
In terms of hobbies, I love playing intramural sports. With my sister Camille now at LSU as well, we sign up for every co-rec sport that we can play and already have a football and softball championship under our belts. It keeps me grounded and close to the family.
How did you use your scholarship related enrichment funds?
I have used all of my enrichment funds. I lived in Granada, Spain for 5 weeks the summer following my freshman year. I traveled to Honduras as part of a service trip with Engineers Without Borders-LSU. I worked as a Congressional Intern for three months in Washington DC for Congressman Garret Graves of Louisiana last summer. All of those experiences have left a huge impact on who I am today, and I cannot imagine pursuing those experiences without the Stamps Scholarship.
You recently ran for Student Body President at LSU and won! Tell us a little about the campaign process. What was your platform and strategy?
Beginning in August, my running mate and I organized a group of dependable students to help execute all of the social media, graphics, candidate coordination, finances, etc. that come with the campaign season. We reached out to over 100 student organizations and visited nearly 50 of those to try to give as many students as possible a chance to be a part of our student government administration. From there, we held information sessions in November and December for over 500 students. Next, we populated the ticket with over 100 members to serve as senators and college council members.
The spring semester was spent reaching out and visiting student organizations to ask for their support. We introduced our social media accounts on February 14. Finally, the week preceding election day (March 7) was devoted to active campaigning when we brough push cards and other promotional items to campus to tell students about our platform.
Our platform was titled "Forward." My running mate and I have been involved in student government for years. As a result, we have helped to implement several successful initiatives and policies. "Forward" aimed to continue and expand existing successes while using our experiences to build on the weakness in student government.
What initiatives do you hope to implement at LSU next year as Student Body President? What are your goals for the year?
I want to break away from the traditional student government campaign initiatives that revolved around lighting and parking. We plan to finish the creation of a student bill of rights for our campus, to provide a safer means for students to get home after football games, to generate a safer and more opening campus climate, to increase access to free e-textbooks, and to be an unyielding voice at the Louisiana State Capitol.
We have set the bar really high for the upcoming year, but we plan to surround ourselves with people capable of living up to the high expectations.
What advice would you give to fellow Stamps Scholars who one day plan to run for a student government position?
Never be afraid to put yourself out there or discount an opportunity. Being the Student Body President at LSU was never once in my plan, but life works in mysterious ways.
Surround yourself with with the hard working, intelligent people. It makes the challenge so much more fulfilling when others are as invested as you are.
More than anything else though, start with the why. Know why you want to get involved—to help other students. You'll be so much more successful if you remember why you're invested.
In what ways has being a Stamps Leadership Scholar impacted your life?
Being a Stamps Leadership Scholar has given me the financial flexibility and confidence to reach beyond my pre-conceived notions of success. With the Stamps, I have been able to commit myself to so many opportunities that I may have never considered otherwise—including running for LSU Student Body President. It has given me an opportunity to always be a Stamps Scholar, and in doing so, always be a steward and a good return on investment for what the Stamps family has allotted to me.
What has been your most memorable college experience?
Every day, I try to have an experience that I'm going to carry with me for the rest of my life. That is part of the gift that the Stamps family has given me. My most memorable experience up to this point has been traveling to and living in Granada, Spain as a freshman, where I lived with a host mother that did not speak English. It's the one experience that I can always look back on and say "if I did that, I can handle whatever is next."
What do you plan to do after you graduate?
After graduating from LSU, I plan to attend law school and pursue a joint degree in Public Administration.