New Online Speaker Series Gives Stamps Scholars Exclusive Access to Leaders
ATLANTA, GEORGIA – APRIL 13, 2016 – "An important benefit of being a Stamps Scholar is the chance to learn from the careers and experiences of accomplished leaders," noted Roe Stamps, who founded the Stamps Scholarship Program along with his wife Penny in 2006. Now, Stamps Scholars have the chance to join exclusive, online discussion sessions with recognized experts in a wide variety of professions to learn about the qualities of leadership.
Modeled after Reddit's Ask Me Anything discussions, the Stamps Distinguished Leader Series (SDLS) sessions are Q & A-style interviews conducted via video conference and recorded for playback later. Scholars who join the live sessions will be able to ask the guest speakers questions via chat. Scholars who are not able to join live will receive a recording of the sessions.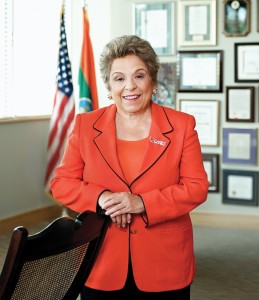 The first SDLS session – scheduled for Friday, April 29th at 12 noon EDT – features former University of Miami President and former US Secretary of Health and Human Services Donna Shalala. Other SDLS speakers already scheduled include:
May 13th Jane Olson, former Board Chair, Human Rights Watch
June 24th Nitin Nohria, Dean of the Harvard Business School
September 28th Tom Johnson, former President of CNN
About Stamps Scholars and the Stamps Family Charitable Foundation
In 2006 Penny and Roe Stamps created merit scholarship programs for undergraduates at their alma maters – The University of Michigan and Georgia Tech. Since then, the Stamps Scholars community has grown into a nationwide network of colleges and universities with more than 1000 current and alumni Scholars. The Stamps Foundation awards multi-year scholarships to driven and talented student leaders to help them achieve their education and life goals.
Learn more at StampsFoundation.org.
Contact: Randy McDow (randy@stampsfoundation.org)