A Family Connection to Curing Autism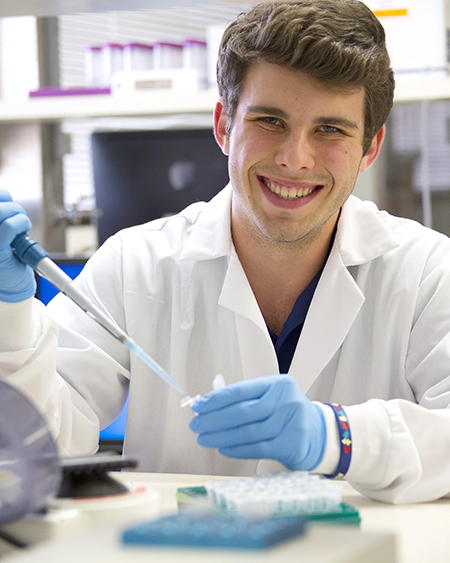 Having a brother with autism has influenced University of Mississippi Stamps Scholar Dylan Ritter to use his background in chemistry and biochemistry to find a cure for the neurodevelopmental disorder.
From a young age, Ritter, who is from Somerset, New Jersey, was passionate about helping his younger brother. While at Rutgers Preparatory School, he started Tend to a Friend, a nonprofit organization that provides supports to children with special needs and their families. He got his classmates involved in the program in order to bridge the gap between them and children with autism.
During high school, he was also encouraged by his teachers to pursue the sciences. He spent three summers in Cork, Ireland doing lab work at MSD Brinny pharmaceutical plant. After his junior year, he was put in charge of an environmental safety lab.
"It was a surreal experience being in a full-scale pharmaceutical lab and just seeing people at work," he said. "Being able to do that in high school made the lab aspect of science stick out to me."
For college, he wanted to expand outside of the Northeastern United States and decided to attend the University of Mississippi. He was not only drawn to the large public University's resources and research opportunities, but also the chance to get a more intimate college experience through its Honors College. He said he felt both the University and the Stamps Scholarship strived "to find someone with potential and to help them succeed."
While he knew no other students going into college, his Stamps cohorts became his first friends. Now a junior, he said the community has continued to inspire him to succeed.
"When you come to the Honors College at Ole Miss, everyone is very driven in different aspects," he said. 'The Stamps Foundation is another step above that with more scholars from a more diverse group of backgrounds with a wider range of interests who are dedicated to doing what they are interested in."
As an undergraduate, Ritter has dedicated his time to researching Chromosome 15q Duplication syndrome (Dup15q), the type of autism his brother has. He spent two summers at Texas A&M University in Dr. Scott Dindot's genetics lab developing a Dup15q mouse model. By altering the genome, they can make animals be born with certain types of autism and then experiment with a treatment they have found to relieve many physical autism symptoms.
To further his research, he was awarded an Autism Science Foundation grant, a prestigious award given to only five undergraduates annually. He said the grant combined with his Stamps enrichment funding has pushed his research and inspired him to focus his career in autism.
"Just being able to improve my brother's quality of life would be unimaginable…" he said. "Each of these little labs is always on the brink of a big discovery. It's just a matter of being there and being willing to put in the time and the effort."
He also supports his community in his extracurricular activities, including through his role as the President of the Delta Psi fraternity.
After graduating, he wants to continue his education and further develop his research. His goal is to have his own lab where he can focus on whatever he wants to study within autism research. He hopes that his work will help people like his brother by alleviating their autism symptoms, be that taking away their seizures, helping them start talking, or improving their coordination and motor skills.
"The Stamps program believed in me, and I was able to come through and demonstrate that I wasn't going to let them down, and they were right about believing in me," he said.