Designing the future of flight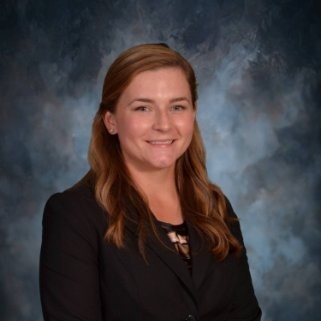 Growing up outside of Chicago, University of Illinois alumna Erin Ahern always knew that she wanted to also become an engineer. During her junior year of high school, she witnessed a night rocket launch that inspired her to get into aerospace engineering.
"In real world engineering situations, you have an opportunity to solve whatever problem is in front of you," she said. "I really like the idea of arriving at an answer to a question that is really troubling someone."
During her years at Hinsdale Central High School, her other passion was for golf, something she shared with her father and grandfather. "At first, I hated it, but once I figured it out and figured out the method, I realized it was a great game," she said.
When it came to her college choice, she also followed in her parents' footsteps. She decided to attend the University of Illinois, where her parents met, because of the University's strong engineering program. "Going through the Stamps interview process and figuring out what a Stamps Scholarship was is what really sealed the deal for me on Illinois," she said.
Besides academics, Ahern's main involvement as an undergraduate was playing on the University's Division One golf team. "(With golf), there is always something you can work on or always something you can improve upon," she said. "I like that constant quest to better yourself just for the sake of bettering yourself."
One of her biggest accomplishments was when the team placed fifth at the Women's Golf Big Ten Conference in 2014. Ahern also completed in the U.S. Women's Amateur and the U.S. Women's Amateur Public Links. As part of the golf team, she was involved with the Student Athlete Advisory Committee and the Athletic Board.
"That was a really great opportunity to pursue not only my own golf goals, but it also was a learning opportunity in terms of group dynamic and time management," she said.
The summer after her sophomore and junior years, she interned with Boeing. Her work included modeling the parts of the plane using 3D CAD software and doing drawing releases. She enjoyed seeing the preliminary stages of designing the plane during her first summer and then watching it be built the next year.
"I thought it would be a good experience to see how the work evolves and changes since it's hard in three months to get a the big picture of the total timeline of designing a new airplane," she said.
Since graduating in 2015, she has gone on to work as a structural design engineer at Boeing on the trailing edge of the wing of the 737 Max airplane. She wants to not only design, but also coordinate and interact with coworkers to bring people skills to an engineering role. Even though she admits she doesn't like flying, she said building airplanes is an incredible experience.
"The whole thought of it so cool: to design and engineer an airplane to make it safer and more efficient for the traveling public," she said.
She recently adopted a French bulldog who she is training to work as a therapy animal to go to nursing homes and hospitals. She remembered her grandfather's experience at a nursing home and wanted to create a more positive atmosphere. She also enjoys being outside and going hiking, biking, and kayaking in the Pacific Northwest as well as doing CrossFit.
Her goal is to go back to school and get either an MBA or another technical degree. In the long-term, she wants to make an impact and develop a sense of design and engineering intuition within aerospace engineering.
"The Stamps Scholarship took a lot of pressure off financially, which allowed me to make decisions and take courses based on what I wanted to do…it has pushed me to do something that is really interesting" she said.