Exploring healthcare through science and economics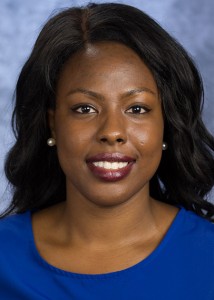 With a focus in women's health, University of Florida Stamps Scholar Deina Bossa will use her education in biology and economics to not only practice medicine, but also help make healthcare more accessible to low-income patients.
Bossa was born in Port-au-Prince, Haiti and immigrated to the United States when she was 8 years old. She lived in Auburn, Alabama and later moved to Gainesville, Florida. She said it was a difficult transition, especially teaching herself English after growing up speaking Haitian Creole and French. She said, "When I first moved to Auburn, Alabama, a lot of my classmates had never heard of Haiti before, so I had to show them where Haiti was on the world map." But by the time she was in fourth grade, one year after moving to Alabama, she was fluent in English.
She has always had a passion for biological sciences and known that she wanted to be a doctor. She became interested in economics in high school while doing a dual enrollment program at Santa Fe College. She said, "I found it fascinating that by using mathematical models, economics was able to predict a lot of the decisions that people made on a day to day basis."
She first was drawn to the University of Florida in high school when she participated in a summer research program. She worked in a lab with Dr. Danielle Treadwell in the Horticultural Sciences Department on the sunn hemp plant. She ultimately decided to attend the University of Florida to study biology and economics because she knew that the University would help her become a competitive applicant for medical school. While attending the University would mean she would be staying in Gainesville, she knew the Stamps Scholarship would provide her with a global education.
As an undergraduate, she traveled to South Africa, Mexico, and Peru, where she built water filtration systems for families who lacked access to clean drinking water. She also built stoves for families who otherwise cooked with open fires, thus reducing their risk of inhaling harmful smoke that caused lung diseases. Her favorite trip was to South Africa, where she wrote a research paper comparing its healthcare system to the United States'.
During her freshman year, she worked with Dr. Stratford May in a cancer research lab focused on leukemia. This was followed by research in the Department of Health Outcomes & Policy, where she focused on spending in the Medicaid program throughout the United States. She was able to combine her dual interests in healthcare and economics by focusing on insurance for low-income and disabled populations, including pregnant women.
She also was involved in the Multicultural Association of Pre-Health Students, through which students already in medical school at the University mentored her. Another organization she joined was the Black Women's Image Initiative. She was an advisory board member and planned an event on women's health in the African American community.
"People don't always have the highest expectations for black women in today's society," she said. "That's something I noticed after moving to the United States. I was one of few black students who excelled in school. So it was really important to me to be involved in something that was working towards improving the image of black women and talking about issues within the African American community."
She also gave back to her community volunteering at Shands Hospital where she worked in the emergency department, the operating room, and the neonatal intensive care unit (NICU) through the Baby Cuddler Program. She was there when parents were not able to spend 24 hours a day at their baby's bedside and nurses were unavailable to comfort a crying baby.
After her freshman year, she interned at Procter & Gamble in the Research & Development department working on Olay brand skincare products. It was important for her to spend time exploring career options other than medicine so she could be certain that it was the right field for her.
Her sophomore year, she was accepted into the University's Medical Honors Program through which she began medical school her senior year. After her first year of medical school, she participated in the Harvard Catalyst Visiting Research Internship Program at Harvard Medical School where she completed a research project on the neuroendocrine regulation of reproduction at Brigham and Women's Hospital. She returned to Harvard Medical School her second year of medical school to present her research at the New England Science Symposium.
Bossa is about to start her third year and will graduate in 2018. In her free time, she has begun blogging about her experiences in medical school. "These past few years have been growing experiences for me, not only professionally, but personally thinking about the kind of doctor I want to become and dealing with all the different stresses of medical school…" she said. "I want to encourage others, particularly premedical students who want to go to medical school, because the process of becoming a physician is very long and challenging."
While she is unsure exactly which area of medicine she will focus in, her plan is to practice medicine, either in obstetrics and gynecology or dermatology. She is also interested in healthcare administration and eventually getting an MBA to find solutions for providing healthcare for low-income patients while keeping hospitals profitable. She believes the Stamps Scholarship gave her the opportunities to be a competitive candidate in her field.
"I owe most of my accomplishments to the Stamps Scholarship," she said. "The scholarship has placed me on a trajectory towards success, and I am confident that it will continue to do so even as an alumna."