From Tumbling to Medical School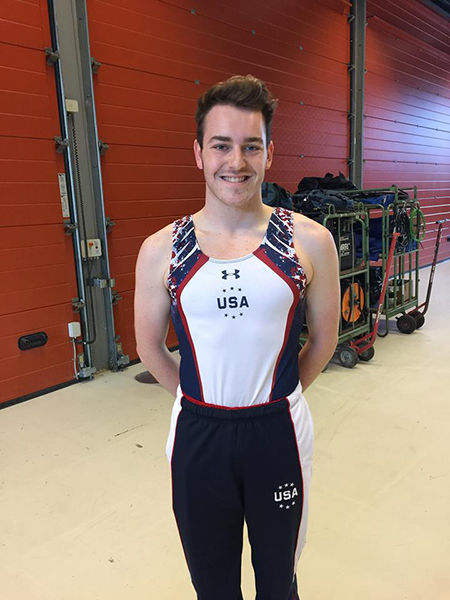 When he was two years old, Stamps Scholar Garret Waterstradt began gymnastics classes and developed a passion for the sport that led to a spot on Team USA at age 16. Now a kinesiology major at the University of Illinois, his goal is to use his background to become a sports medicine doctor.
"I really like the type of medicine it is, the type of care they provide," he said. "Going into a medical field, you have to really enjoy helping people, which I do."
Growing up in Paxton, Illinois, Waterstradt's gymnastic career began by accident. He went with a friend to a class and immediately fell in love. While it was not a popular activity, he found a community at Irish's Gymnastics.
"No one else really did it in my area, and it was something that I was really good at…" said Waterstradt. "There had to be some sort of initial talent factor, but a lot of it also was the coaches and my friends and family who helped motivate me and keep me going."
While he had always been passionate about the sciences, it was an injury his junior year at Paxton-Buckley-Loda High School that sparked his interest in sports medicine.
"There's a lot of trust that the physical therapist knows what they are doing and are going to help you recover," he said.
Waterstradt was so set on attending the University of Illinois that it was the only school he applied to. Besides being close to home, he was interested in the opportunities for undergraduate research. The Stamps Scholarship was an added benefit.
"I've gotten to know a lot of people through it, and I've made a lot of friends in the community…" he said. "I'm the first student within my college at my university to be in the program."
At the University of Illinois, he has continued to compete and also teach students gymnastics. He finished 12th overall in the double mini trampoline at the 2015 World Gymnastics Championship.
"Competing and training with the gym has influenced a lot of parts of my life," he said. "Competition itself is always really fun and nervous and scary."
Recently, he retired from gymnastics to focus on his new research assistant job at the Molecular Muscle Physiology Lab led by Professor Marni Boppart. Using mice models, he will look at the effect of exercising muscle tissue before it's implanted. He hopes to prove that pre-stretched muscles decrease physical therapy and rehabilitation time.
Using mice, he will cut of their Achilles tendons to see if the muscle underneath, which is normally used for walking, can take on more stressful tasks like jumping. He will also study a protein in the muscle to see if it affects growth.
"It's a relatively new field of study…" he said. "This lab is a dual kinesiology and molecular cellular biology lab. So it looks at the rehabilitative quality of this research, but it also looks at a lot of cellular life. I thought that was really interesting."
He is also a member of the executive board of the Manny L Jackson Illinois Academic and Enrichment Program, which provides support for underrepresented college students. With the Program, he mentors first generation and other student groups.
Through Stamps funding, Waterstradt continued his out of class research through a study abroad trip in Australia focused on global diversity and health. He traveled around the country and looked at differences in health and healthcare delivery in rural versus urban communities. Using this research, he explored ways of implemented Australia's universal healthcare system into the American system.
"We learned a lot about the aboriginals of Australia and how their culture works and how medicine had been given to them," he said. "A lot of that, we were able to translate to Native Americans in America and similarities and differences in those cultures."
After he graduates, Waterstradt plans to go to medical school and become either an orthopedic surgeon or a sports medicine doctor. His dream job would be working as a team physician for gymnasts, particularly his old team, Team USA.
"It (the Stamps Scholarship) has made me a much more diverse person…" he said. "It has let me to a lot of opportunities that I may not have been able to take. Overall, I think it has just been a really enriching part of my college experience."