Combining Science, Sports, and History to Teach Others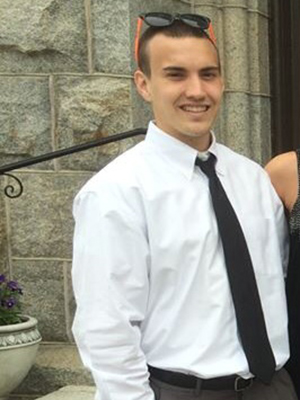 As a scientist and a lover of history, Elizabethtown College Stamps Scholar David Boretti wants to give back to his community by inspiring others in academics and sports.
Because his father was in the Army, Boretti grew up between Germany and Maryland and traveled extensively as a child. From a young age, he has been passionate about math and science. He also developed an interest in history because his mother studied it and it was always one of his favorite classes. During his time at Archbishop Spalding High School in Severn Maryland, he played soccer, basketball, track, and baseball. He decided to focus on soccer after joining a club team his senior year that won the state title.
He was drawn to Elizabethtown College because it was "the perfect combination of everything that I wanted." He wanted to go to a small school where he could form connections with his classmates. He was also excited to be part of the University's first class of Stamps Scholars. He said he bonded with his fellow scholars because "it was exciting to do something new and be the first ones to learn what opportunities we had."
The scholarship allowed him to pursue his dual passions for history and engineering as a double major in both departments. He said that while the sciences and the humanities are usually considered very different disciplines, he wanted to break down this stereotype. "I think a lot of people pick one or the other, not both," he said. "So I've always enjoyed that challenge because they require very different styles of learning."
One of the most important parts of his undergraduate experience was continuing to play soccer as a forward and back for the school's Division III team. His highlight was traveling to England and Ireland to compete against European teams. Every year, the team had a winning record, and his senior year, they made it to the championship game. Throughout his four years playing soccer, he gave back by coaching children in the local community and leading free clinics. During his senior year, he served as mentor for freshman players on the team to help them transition to college life.
He said he loved "just everything about it: the camaraderie, the way you get to know your teammates really well, and that you have this common cause on the field. For me, it's not something I have ever experienced doing anything else. Soccer and sports for me have always been that one special kind of connection that you develop with guys playing together for four years."
He continued his commitment to service as a tutor through the engineering department. He was also a member of the College's Honors Program and Follow the Lead, a leadership development program through which he went to lectures and seminars to learn leadership strategies and skills. He used part of his enrichment fund his senior year to take the Fundamental Elements exam, an engineering test that certifies professional engineers in-training.
Since graduating, he has started working at M&T Bank in its Management Development Program where he gets to work with senior management and travel the country for leadership and skills trainings. "It's a perfect combination of being with folks your own age in the program and also getting a lot of great real world experience," he said. "It's a little bit of everything, which is really interesting."
This job will allow him to go back to graduate school in a few years with full financial support. "I know that school is definitely something that I want to get back into," he said. "I really enjoy learning about different things, especially things that I'm interested in and that I'm passionate about." In the future, he could see himself becoming a professor, something inspired by his work as a tutor.
"The Stamps Scholarship has been one of the greatest blessings of my life," he said. "It enabled me to have an amazing undergraduate experience at Elizabethtown and has set me on a path of lifelong learning and giving back to the communities around me. I will be forever grateful to the Stamps Family and am extremely proud to call myself a Stamps Scholar."