Entering a Global Classroom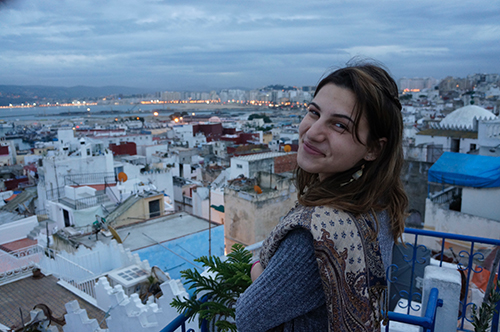 University of California, Berkeley (UC Berkeley) Stamps Scholar Dafna Bearson is using her scholarship to gain a valuable and unique global education that will build the foundation for her future career. She plans to major in economics with a focus in social purpose businesses.
Bearson grew up in Berkeley, California. Her passion for international business and economics began at Berkeley High School where she completed an International Baccalaureate program. She said, "I need a solid foundation in economics if I want to understand how to effectuate lasting change."
Bearson never assumed she would go to college in her hometown, but receiving the Stamps Scholarship at UC Berkeley made all the difference. She sought to buttress her academic studies with international learning experiences.
Bearson worked as a program assistant at the UC Berkeley Goldman School of Public Policy, where she planned visits for international business leaders and government officials. Her sophomore year, she was a residential assistant in a dorm with over 600 students. She said, "I loved having a job where it was my primary responsibility to ask my peers, 'what is your story?'"
This past year, with support from the Stamps Foundation, Bearson had the opportunity to design her own gap year abroad. She said, "My intention is to contextualize my education in the real world, to try on potential careers, and to pursue my passions."
She first traveled to Morocco to learn Arabic and intern for the Peabody-award winning nonprofit organization Round Earth Media. In Morocco's capital city, Rabat, she researched the country's new large-scale solar power project and the impact of recent legislation on migrant women in Morocco. She then moved to Marrakesh and volunteered for Amal Women's Training Center, a non-governmental organization that helps economically vulnerable women become self-sufficient through jobs in the organizations for-profit restaurant, academic classes, and outside internships. Bearson translated the Arabic cooking classes for tourists, worked in the restaurant, and directed social media campaigns.
"I see international social-purpose businesses as an untapped resource for good in the world," Bearson said. "Working at Amal allowed me to witness firsthand how this highly unique restaurant can simultaneously be profitable and be successful. Amal is Number 2 on TripAdvisor for restaurants in Marrakesh and provides socioeconomically disadvantaged women the tools, confidence, and connections necessary to achieve a higher standard of life for themselves and their families."
After five months in Morocco, Bearson traveled to Polycastro, Greece to volunteer at a refugee camp for those fleeing war and violence in Syria, Afghanistan, Iraq, and Iran. Bearson and her friends started a non-profit, For Nour, which aims to humanize the refugee crisis for people around the world through sharing stories and photographs. In less than a month, the project has raised significant funds to help families in the camp with medical, transport, and other needs. Additionally, Bearson distributes food and clothing to over 2,000 refugees at the camp, many of whom are very young children. She said, "I am inspired by the generosity and resilience of those I serve each day, despite the harsh conditions of the camp, the tragedies they have faced, and the uncertainty of their futures."
Recently, Bearson was awarded a US Department of State Critical Language Scholarship for a two-month, immersive Mandarin training in Changchun, China, beginning in June. She began her Mandarin study in high school. "It is thrilling to think about how many more people I can forge deep connections with once I am fluent," she said. "The Critical Language Scholarship will help me reach this goal and expand my network in China." She also sees it as a necessity if she wants to work with businesses in China.
In the fall, Bearson starts her junior year. Eventually, she plans to get an MBA. She said the support of the Stamps Scholarship gave her the courage to push herself beyond her comfort zone. She said, "Thanks to the Stamps Foundation, my life is forever transformed with new relationships and insights, language skills, and perhaps most importantly, the wisdom of people from all around the world."