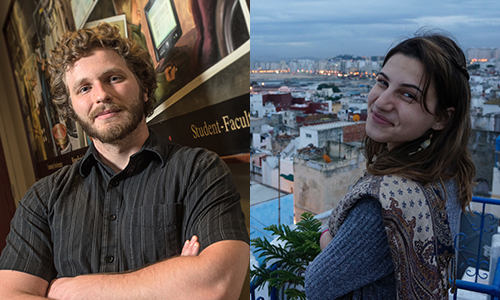 ATLANTA – July 13, 2016 – UC Berkeley junior Dafna Bearson and Elizabethtown College senior Tyler Butkus were recently selected to participate in the Critical Language Scholarship Program, a fully-funded overseas language and cultural immersion program for American undergraduate and graduate students. They are the first Stamps Scholars to receive this highly selective award.
Sponsored by the US Department of State, the Critical Language Scholarship Program (CLS) awards scholarships to roughly ten percent of its applicants each year. The scholarship is designed to promote the study of languages critical to US foreign relations, especially those with few speakers in the United States. CLS is an eight-week summer program that runs from mid-June to mid-August.
Bearson, an economics major at Berkeley, aspires to a career in international business or the Foreign Service. Through the CLS, she lives in Changchun, China, where she is enrolled in 5 hours of language class per day, provided an individual tutor, and participates in cultural activities and excursions. She hopes that achieving fluency in Mandarin will enable her to communicate effectively, more deeply understand, and connect with over one billion additional people. She seeks to be a voice for mutual understanding and cooperation between the US and China, whether through business collaboration or diplomatic relations.
Butkus is double majoring in chemistry and business administration with an entrepreneurship concentration at Elizabethtown College. The CLS program provides him the opportunity to live with a host family in Malang, Indonesia, study the official language for several hours every day at Univeristas Negeri Malang, and travel to important historic and cultural sites in the country. After graduation, he plans to return to Indonesia to pilot a social enterprise. Butkus has worked with organic and food waste recycling mechanisms and believes that Indonesia could be a great place to test, refine, and develop his systems.
"We could not be more proud of Dafna and Tyler," said Randy McDow, Executive Director of the Stamps Foundation. "We congratulate them for pursuing their goals, and Berkeley and Elizabethtown for guiding them along the way."
– More –
Stamps Scholars are among the recipients of other prestigious academic awards, including Rhodes, Fulbright, Goldwater, Marshall and National Science Foundation scholarships.
The Stamps Scholarship is a nationally prestigious, multi-year merit award that helps exceptional students become meaningful leaders throughout society. Stamps Scholarships are awarded at nearly 40 partner schools across the United States with more than 1,370 current and alumni Scholars.
###
About the Stamps Family Charitable Foundation & Stamps Scholars
In 2006 Penny and Roe Stamps created merit scholarships for undergraduates at their alma maters – The University of Michigan and Georgia Tech.  Since then, the Stamps Scholars community has grown into a national network of visionary colleges and universities that partner with the Stamps Foundation to award multi-year scholarships that help driven and talented student leaders achieve their education and life goals. The Stamps Family Charitable Foundation and partner schools evenly share the costs of the awards.
Learn more at http://StampsFoundation.org.
Contact:
Connelly Crowe
connelly@stampsfoundation.org
706-254-7011