Using Law to Make Changes in the Food Industry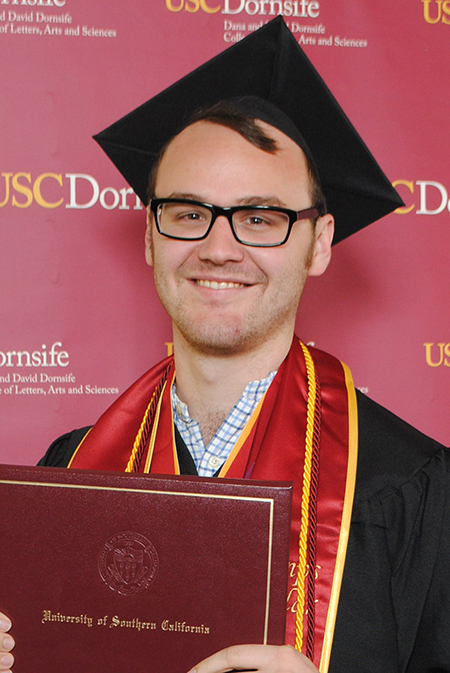 A law student at the University of California, Los Angeles, Jason Lawler is planning on using his degree to work in the food industry for a company he is passionate about. His degree in history from the University of Southern California inspired his passion for researching and writing.
Lawler grew up in Santa Rosa, California and went to Cardinal Newman High School. There, his teachers inspired his interest in history and the liberal arts. He also had a dual passion for music, playing guitar in the school band.
He wanted to stay in California for college and was drawn to USC's prestigious reputation and the Thematic Option, an interdisciplinary core curriculum that allowed freshman students to learn in small class discussions. He was also part of the first class of Stamps Scholars at the university, so he developed a strong bond with his fellow students and the following cohorts of Scholars.
"Stamps Scholars are a group of friends who are all very driven and motivated to be successful, and that's an exciting group to be a part of," he said.
He began as a film major and wanted to experiment as much as possible. He produced films and was the musical director for his friend's play and a web series.
"Everything I did in college was a test to see if it was for me, if it was what I wanted to do in life," he said.
He decided to study history after taking classes in the major and doing research on a 17th century agreement between Native Americans and British colonists. This praying town agreement forced Native Americans to adopt a Christian, European lifestyle. He was particularly interested in the aspects relating to cleanliness, health, and cultural clashes.
"Reading, writing, and researching being the only things you have to do just feels like cheating to me because it's just what I like to do," he said.
He said one of the biggest benefits of the Stamps Scholarship was the chance to travel as an undergraduate. His first trip abroad was to China through USC's business school to learn about international business practices and meet with business leaders. He said his most memorable college experience was using his scholarship enrichment fund to take an archeology class after his freshman year in Rome, Italy.
"You're scrubbing dirt, but at the same time, your mind is engaged, and it's very collegial and very enjoyable and physical," he said.
He also used his enrichment fund to travel to Hawaii to work on a nature conservation project and learn about native Hawaiian culture.
 One of his biggest involvements was SLAM! at USC, an arts mentorship program in which he trained college students to teach music classes. He connected these students with high schools that didn't have music programs or wanted supplementary arts activities. He was the president his junior year and wrote grants, trained students, and taught a rock band class.
"The impact was the most important thing…" he said. "You go to this middle school or high school, and the students have often never had access to an instrument before. It's very gratifying to be able to bring that opportunity to people who don't have it."
He graduated this past spring and will begin studying food law at UCLA in August. He has always had an interest in law and said he "became completely absorbed in all the issues in the food system" because it was an issue he cared about. He is excited to learn the practical and the experiential skills needed to be successful in the legal field.
After graduating, he plans on working as a lawyer probably in the food industry and more generally working on the legal counsel of a company he is passionate about.
"My approach to my undergraduate years was to be open and try to whittle down from this giant list of things I liked to do to something that I could focus on as my singular thing," he said. "As I was switching majors and changing my mind about these huge decisions like what I wanted to do with my life, it was very helpful to have this soft undercurrent that things were going to be okay because I had a scholarship that was very generous."