By Hannah Steinkopf-Frank
This summer, University of Miami sophomore David Grossman and University of Illinois graduate Catherine Kemp decided to spend their summer breaks bicycling across the United States. The two had different reasons for taking the journey, but both saw it as a form of personal growth and as a way to gain life experience.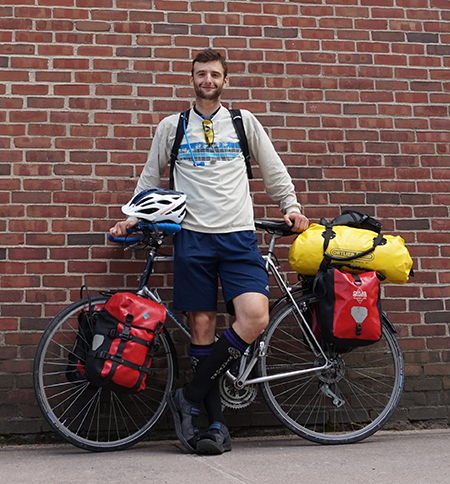 This journey has been a dream of Grossman's since high school. Growing up in the Northeast, he wanted a chance to gain new perspectives and explore other parts of the country. His goal was to meet locals and other travelers throughout the trip while biking with two close friends.
"It's a fantastic way to read, think, and explore part of this vast and diverse continent," said Grossman.
He said that biking allows him to experience the country more slowly. The trip was also a time for him to think, read, and learn outside of school. To prepare, he cycled 300 miles. He followed the Northern Tier bicycle route. He also took detours to visit other places including Chicago and Mount Rainier in Washington state. He mostly stayed in state and national parks, but also appreciated the many people who allowed him to pitch his tent on their lawns.
"It never fails to amaze me how welcoming and gracious others can be once you take the initiative and begin the conversation," he said. "The hospitality of strangers throughout the country can easily restore one's faith in humanity."
He started in Portsmouth, New Hampshire and traveled mostly through the northern part of the country. ​One of the highlights of the trip for Grossman was traveling through Glacier National Park where he hiked, swam in waterfalls, and enjoyed the view. "Glacier is surprisingly diverse and beautiful no matter where you go in the park," he said.
He ended in Olympic National Park along the Washington coast on August 8. "I enjoyed the physical challenge and appreciated having the time to discuss big ideas with friends," he said. "I also learned some of my limits and my values. For example, I realized that I can live happily with close to nothing but a tent and a stove. If I decide to risk it all, I know that I will always be able to support myself."
At the University of Miami, Grossman studies physics and is interested in exploring big ideas that have power across disciplines. He worked on the rocket for the Hybrid Motor Rocket competition and was on the leadership team. He also plays on the ultimate frisbee team. He could see himself working as an entrepreneur, at a startup, or in a position that searches for novel solutions to world problems.
Reflecting on the experience, Grossman said that the trip "has strengthened my 'can do' attitude and amplified my perspective of the circumstances facing people outside of bigger coastal cities. It has also inspired me to work at Google and improve their bicycling edition of Google Maps."
Read David's personal blog about his experience here.
________________________________________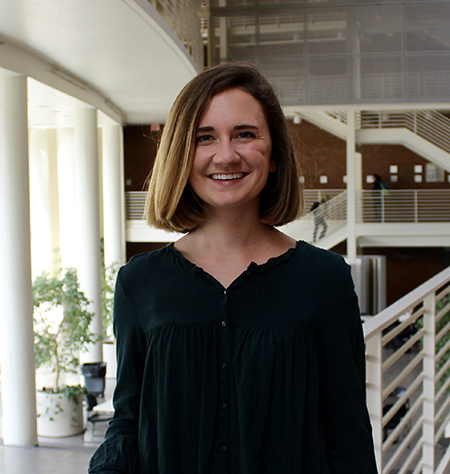 Catherine Kemp biked across the country for the second time. During her time at the University of Illinois, she was involved with Illini 4000, a student-run nonprofit that raises money for cancer research and patient support services. She lost her grandfather, a close friend, a high school teacher, and other loved ones to cancer, which encouraged her to become involved with Illini 4000. She saw the organization as a way to make a difference in the fight against cancer and said it taught her how to better support people with cancer. She served on the organization's Board of Directors.
The Illini 4000 does a yearly bike ride across the country from New York to San Francisco to raise money and awareness about cancer. Kemp participated in the first ride after her freshman year and now has done it for the second time as a ride leader. During the trip, riders participated in what they call the Portraits Project, for which they took photos and interviewed cancer survivors and caregivers about their experiences. In addition to giving these people a space to talk about their experiences, the stories are shared on a website that is meant to serve as a resource and foster a community for others affected by cancer.
As a ride leader of the 17 person team, she said she saw other riders becoming more comfortable talking to new people about the trip and their personal experiences with cancer. She said it was incredible to see how much stronger, both physically and mentally, her team became.
"It's really cool to know when our riders are pedaling up that mountain and struggling, that they think of that other person with cancer and think, 'What they're going through is so much worse than anything I have to go through right now,'" she said.
Growing up visiting national parks, she decided to study natural resources and environmental science in college because she was interested in addressing the human side of environmental issues and enacting positive social change through policy. She was also interested in the opportunity to do undergraduate research. She minored in Spanish and studied abroad in Granada, Spain during her junior year. She was the editor in chief of the Green Observer, an environmental magazine at the University of Illinois. She also interned at the Institute for Sustainability, Energy, and Environment at the University and worked to start a bike share program there as well.
Through Americorps, she now wants to work for an environmental nonprofit focused in outreach. She is interested in possibly using her Spanish skills to do conservation work in Latin America. In addition, she is exploring urban planning and could see herself working for a policy group advocating for environmental protection.
"The Illini 4000 has definitely been one of the most formative experiences of my college career," she said. "During the ride, I reached my physical and mental limits, and then pushed right past them. Serving on the Board of Directors and as the ride leader gave me invaluable leadership experience. I was very fortunate to connect with and learn from so many great people through this ride—my remarkable, compassionate teammates and the incredibly strong people we met during our journey."