Proving Science and Advocacy can Combat Climate Change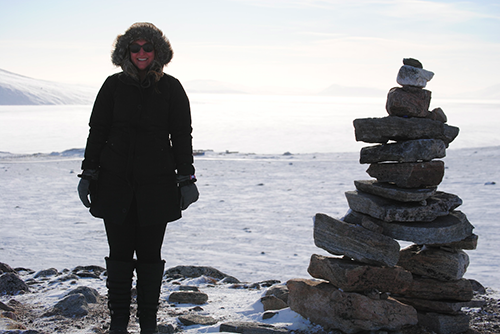 Dartmouth College Stamps Scholar Leehi Yona has already traveled to 14 countries to combine her passions for environmental research and advocacy to fight for climate policy reforms. She plans to continue this dual role as a Master of Environmental Science student at the Yale School of Forestry.
Yona was born in Tel Aviv, Israel, but grew up in Montreal, Canada. Her interest in environmental issues started at West Island College in Dollard-des-Ormeaux after taking an environmental biology class. "It changed my world," she said. "It taught me what climate change really was and made me realize how big of an issue it is."
She also became involved with the Green Coalition, a Montreal-based organization that works on environmental protection issues in the city. It was inspiring "seeing people who have doing this for their entire lives who have all this wisdom to impart and who see all the work that young people are doing and really believe in what we're doing," she said. She has gone on to serve on the organization's Board of Governors.

During her first year at Dartmouth, where she majored in environmental studies and biology, she took a graduate course with Dr. Ross Virginia, a world expert in polar biology who is also one of two Lead Scholars for the Fulbright Arctic Initiative. In Greenland with Dr. Virginia, she did data gathering and field and ecological research on soil carbon storage. She also developed an interest in the political aspects of climate change, as many of the communities she worked with had young populations.
She said that while many of the effects of climate change were felt most strongly in the Arctic, most of the decisions concerning the region were not made by people from there. "When you have the chance to get on the ground and see the ways people interact with each other and how different governments interact with each other, it's a totally different story," she said.
That year, she also went to her first United Nations Climate Conference in Doha, Qatar. In addition, she started Divest Dartmouth, which has grown to include more than 40 members passionate about helping the College go fossil-free. She saw it as a way for young people to become empowered because the group focused on moral responsibility and helped students make tangible changes in their community. She said that her involvement in this and Dartmouth's Jewish community made it her home. She was the sustainability coordinator for the College's Hillel program and also taught Hebrew at a Sunday school.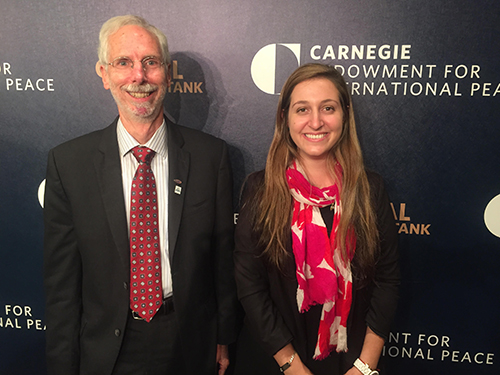 During her sophomore year, she was encouraged by Dr. Virginia to apply for the Stamps Scholarship at Dartmouth, which provides students funding for experiential learning opportunities. She was originally interested in exploring the Arctic Council, a coalition of eight countries, and particularly the transition of the chairmanship from Canada to the United States. She assumed she would go to conferences and examine how politicians were working with indigenous peoples and others who advocate for climate justice. Conversely, she saw that many of these decision makers were not interested in listening to these communities. Consequently, she decided to focus her research on how indigenous communities, young people, and women were working on climate change and how governments could further engage these groups.
For her project, she attended Arctic summits and United Nations environmental summits in Lima, Peru; Reykjavik, Iceland; and Bonn, Germany. She also traveled to Israel, a country on the forefront of climate change policy. One highlight was hearing President Barack Obama and Secretary of State John Kerry speak in Anchorage, Alaska on the issue of fossil fuels.
"I saw how this local thing I was involved with — which may have seemed kind of futile at times — was having this bigger impact…" she said. "As young people, if we really are the leaders of tomorrow, we should learn how we can we be the leaders of today."