Using Education Research to Help Students Grow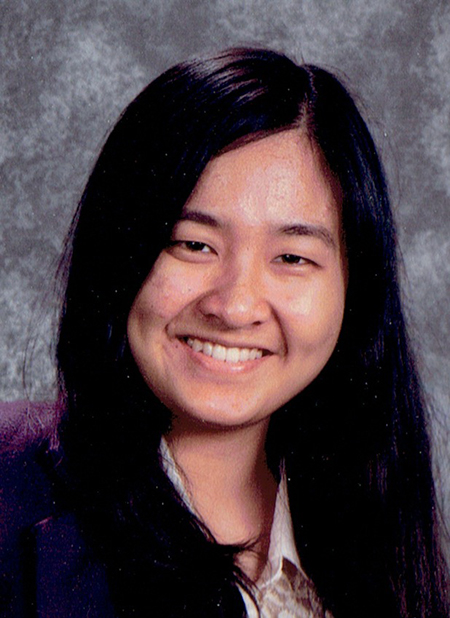 As a math teacher at Alliance Margaret M. Bloomfield High School, University of California, Los Angeles (UCLA) Stamps Scholar Sophie Chen strives to implement her research on teaching theories in the classroom.
Chen was born in Honolulu, Hawaii. In third grade, she moved to Chicago where she attended William Fremd High School. Her senior year, she moved to Los Angeles and attended Diamond Bar High School. She played flute in the school band and participated in Model United Nations. Her father encouraged her to get ahead in mathematics. She decided to become a high school teacher because it was a job that seemed fulfilling, particularly teaching math, a subject that many students struggle with.
"I feel high school is a window of opportunity because this is a time when kids are growing up…" she said. "It's cool for me to be able to be a part of their life during this time."
She was drawn to UCLA because she wanted to stay close to home. In addition, she had the chance to complete her undergraduate and graduate degrees in five years while working as a student teacher.
At college, she focused on her challenging math courses. While she had never struggled with school before, these classes prepared her for her future career.
"I was not doing this for the grade," she said. "I was doing it A) So I could be the best teacher I could be and this taught me what it felt like to be a student and to not get mad… and B) I was doing it just so I could know. I told myself, 'I'm learning this because I want to be an expert, even if it is just this one class.'"
Outside of class, she participated in a wide variety of activities including pit orchestra, salsa, and intermural sports including badminton. In her free time, she connected with friends through Bible study.
Her most memorable college experience was spending a summer at the University of Sussex in England, where she studied physics. She said, "It really opened my eyes to see the world." She also participated in backpacking trips with other Stamps Scholars from around the country, something she said helped push her limits.
Her junior year, she began taking graduate classes and working at a high school. Her classroom experiences influenced her thesis research on the growth mindset. She compared people who consider themselves born with their intelligence (a fixed mindset) and those who believe they develop their intelligence (a growth mindset). Her research explored how she could encourage a growth mindset in the classroom.
"This plays out in the math classroom a lot because the other kids think that they're not good at math because they were born without the math gene…" she said. "When they fail, the will internalize the failure. All of these things are harmful to the actual learning process of math."
Since graduating in 2014, she has started teaching ninth grade math, mostly to students from low-income families. She said it has been difficult working with students who largely do not have a strong academic background in math, but she implements her research in the classroom to encourage them. Her biggest accomplishment was seeing a significant increase in her students' standardized math scores over the course of a year. She said the most important thing she has learned is how to manage her class by building a relationship with students over time.
"Seeing them grow and learn is satisfying," she said. "I work really hard, but I feel my hard work isn't going to waste. I am investing in people and these kids who are the next generation. I never really have a dull day… It's so much more than just the math."
Her goal is to continue growing as an educator. She is interested in doing further education research while also teaching in the classroom.
"Because of the Stamps Scholarship, I was able to enjoy college without having to work and without having to worry about paying loans," she said. "It gave me more time and more resources to learn and do the best I could in college. Even now, as a working adult, it gives me resources like before to better myself."