From Public Policy to Political Journalism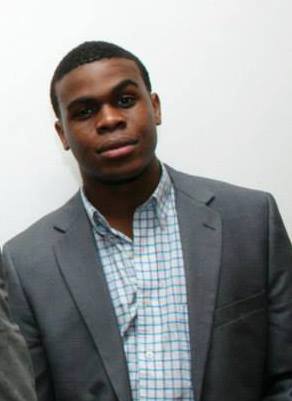 University of Chicago Stamps Scholar Osita Nwanevu plans to use his background in public policy to work as a journalist, reporting for national publications about political issues around the country.
Nwanevu grew up in Woodbridge, Virginia. He developed an interest in international issues and politics in middle school when he traveled to his parents' home country, Nigeria.
"That was the first time I had ever really seen any kind of real poverty in person," he said. "That got me really interested in getting involved in international affairs in high school." At C.D. Hylton Senior High School, he competed in Model United Nations. As a child, he had admired television journalists who had the chance to see the world, but he didn't pursue broadcast journalism until high school when he worked on the daily morning newscast.
When applying to college, he was drawn to the University of Chicago's small, reading-intensive classes and the chance to complete an undergraduate and masters degree in five years through the University's Harris School of Public Policy. The Stamps Scholarship made the prestigious school more accessible.
At the University, he continued Model UN and participated in three debate clubs. His interest in collegiate journalism began as the first executive producer for news of Maroon TV, the University's campus television station.
He switched to print and online journalism while working for the South Side Weekly, the only paper dedicated to solely covering the South Side of Chicago. He said that reporting on the area often focuses on negative stories about crime and poverty, but he saw potential in covering its diversity. "It's a very large yet very underserved area in terms of media coverage," he said. Nwanevu began working as one of the student-run publication's first politics editors and eventually served as the editor-in-chief.
"If you're in journalism, you are privileged in that you are writing something that goes out into the world and is affecting people," he said. "If you are very very lucky, you can actually achieve some sort of positive outcome."
One memorable story was reporting on a group of employers protesting outside of one of the first McDonald's owned by an African American. They said that the store was being disrespectful for sponsoring local radio stations that played what they considered to be offensive rap music. "I don't think there were ever more than five or so of them at a time, which made it odd for me to be there so conspicuously," he said. "But they went week after week, talking and passing out flyers. It was kind of inspiring, honestly."
He decided to focus his career in journalism after his first journalism internship, which was at the progressive publication In These Times. He contributed content and helped with copyediting and research. "I went there every day knowing that I would fact-check an article and learn about something I didn't know about from doing that…" he said. "That was what did it for me: just being involved with the journalistic process, taking on a topic, and learning something new."
His interest in political journalism grew at National Public Radio working a desk internship in Washington D.C. He said one of the most excited parts of his internship was reporting from the Supreme Court. "They had me go out to the Court to interview some activists and demonstrators," he said. "It was my first time really being 'in the field' in that way. I was incredibly nervous, but eventually I realized that I had a big badge around my neck that read NPR, so that helped a bit."
His next internship was at the Chicago Reader, an alternative publication, where he wrote event blurbs in the Reader's humorous style.
He was able to build on his research experience as an editorial intern at the online publication Slate, for which he wrote about the efforts against the Taliban in Pakistan, criminal justice reform, and college, among other topics. A highlight was writing a piece on age of candidacy laws in the United States. He argued that if you are 18, you should be able to run for any public office. "These laws were often decided on arbitrarily," he said. "It doesn't make sense that if you're 18, if you can pay your taxes, you can vote, you can join the military, but you can't necessarily run for office. You are not necessarily a full political citizen then."
His final undergraduate internship was at Harper's Magazine where he fact-checked the Index section and wrote for the Findings blog. "The Index required some of the most meticulous fact-checking and research work I've ever done," he said. "It's one of the most beloved magazine sections in existence, so there was a lot of pressure. But it was a lot of fun, too."
A highlight for Nwanevu was interviewing author Ta-Nehisi Coates about his book Between the World and Me. "He was being interviewed a lot last summer, but I think I was able to ask him about things that hadn't been explored," he said. "I wanted to be thorough. I wanted to look back at the arc of his career and tie things together. I saw the book as a starting point. "
Since graduating this spring, Nwanevu has started working as an editorial assistant at Slate, where he writes about politics and works on other longer form projects. He said, "It's a time for trying yourself out as writer." His goal is to create a space for himself in the world of political writing.
"College as it exists today is a gateway to numerous opportunities for a lot of people," he said. "And there are certain things you can only accomplish having had the experience of meeting people from across the country from different walks of life and living with them and growing with them. It's a beautiful thing. These sort of scholarships allow people to make college possible and make places like the University of Chicago more accessible to everybody."