The Stamps Scholarship assists in the education of students from around the country in their various academic and artistic pursuits. Many Stamps Scholars devote their studies toward excelling in their chosen arts. The Scholars included demonstrate the ability of Stamps Scholars to commit their time and energy toward refining their artistic skills alongside impressive academic interests. The tremendous artistic and academic accomplishments of these six Scholars are a testament to the emerging group of future artists being supported via the  Stamps Foundation.
Jill Young (Acting Major- UT Austin Class of 2020 from Santa Clarita, CA):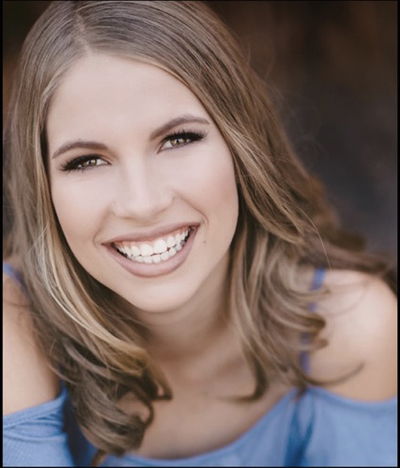 As a first year acting student, Jill Young has found numerous ways to immerse herself in the University of Texas Austin acting community. She is very passionate about comedy, and writes for and performs in a UT student television program called Longhorn Latenight—a weekly sketch comedy show similar in format to Saturday Night Live.  Jill was recently accepted into Gigglepants, which is UT's only short form improv troupe! She holds a chair position in Creative 40 Acres, which is an arts leadership cohort, and recently acted in a student-produced miniseries. Young says, "It's been a busy but very rewarding experience!"
Maria Vigil (Piano Performance and Pre-Health Major- Notre Dame Class of 2018 from Albuquerque, New Mexico):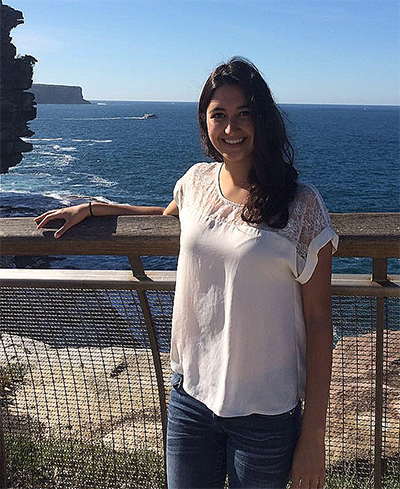 Maria Vigil is a junior at the University of Notre Dame, where she studies both piano performance and pre-health. Her musical involvement is varied, including various recital performances, appearances with the Notre Dame Symphony Orchestra, participation in concerto competitions, accompaniment for various choirs, and collaboration with other instrumentalists in chamber music settings. Beyond piano, Maria is also a vocalist and sings with the Notre Dame Folk Choir. She has been playing piano for the past sixteen years, and studying music for the past two years at Notre Dame has shaped the way she approaches performance on her instrument as well as how she approaches other creative aspects in her studies. Currently, Maria is preparing for a series of recital performances in collaboration with fellow instrumentalists.
Caitlin McCuskey (Visual Art Major, English and Environmental Studies Minors- Oberlin College Class of 2018 from Smithfield, UT):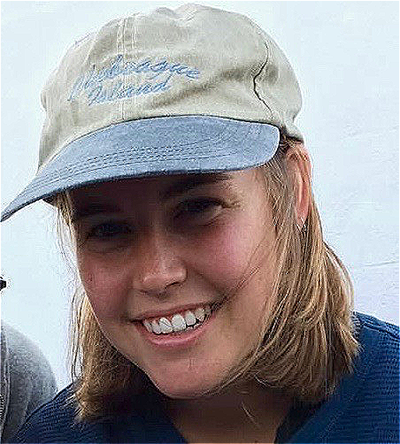 Caitlin McCuskey is a third year Visual Arts major with minors in English and Environmental studies at Oberlin College. She has learned a lot from studying across disciplines. McCuskey is interested in the intersections between nature and artifice, bringing organic bodies into contact with architectural forms. In her art she tends to bounce back and forth between mediums, generally: wire forms, clay sculptures, and ink drawings.  In tandem with Environmental studies, she finds herself depicting landscapes intertwining with architecture in an attempt create a cohesive space.  McCuskey's English background has helped her articulate, in both speech and writing ideas about her own work and other's art in a critique setting.
Mary Allison Lathem (Music (Vocal) and Communication Studies- Mercer University Class of 2017 from Covington, GA)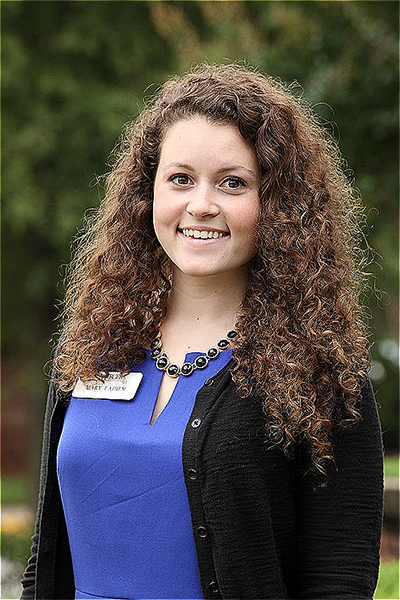 Mary Allison Lathem has been involved in musical theater and choral activities since elementary school, but had difficulties determining her major as a Stamps Scholar at Mercer University. After some coaxing from her voice professor, she auditioned and ended up being cast as the First Spirit in Mozart's The Magic Flute. Since then, being a Music student has given her many opportunities with two principle roles with the MU Opera since The Magic Flute – most recently playing Laurey Williams in a production of Rodgers and Hammerstein's Oklahoma! Additionally, her choir (the Mercer Singers) has been invited to perform a concert at New York City's Carnegie Hall in February. Aside from performance opportunities, the flexibility of her liberal arts degree has allowed her to try a variety of non-required subject areas within music, including composition lessons – with which she will premier three original art songs as part of my senior vocal recital next semester! Mary asserts, "Mercer's music school has been an incredible fit for me because the class sizes are small, the professors genuinely know and care about their students (and vice versa), and the music school is so tight knit that it feels like a family. Without the Stamps Scholarship, it's likely that I would never have found Mercer, but I can't imagine spending my undergraduate career anywhere else."
Logan Butler (Classical Trumpeter at the University of Miami Frost School of Music, Class of 2020)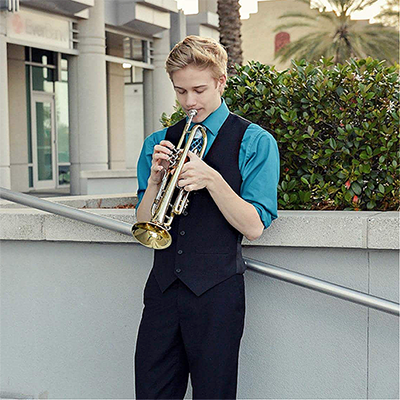 Since college has begun it's been nothing but consistent work for Freshman trumpeter Logan Butler, work that has helped to mold him into a better musician. Being a part of the Stamps Quintet at the University of Miami Frost School of Music, Logan has played for more events in his first semester of college so far than he ever bargained for. He played in a Frost Live event in the farmers market for a music outreach program. Additionally, Butler played for Phillip and Patricia Frost, Gloria Estefan, Dr Shelly Burg-the dean of the music school- and many other donors and patrons of the Frost School of Music. He has also played in one concert so far as a part of the Symphonic Winds, a wind instrumental group at the University of Miami. All of these accomplishments have come only in Logan's first semester at the Frost School of Music. Butler recounts, "I've had an amazing experience here so far and I look forward to what awaits in the future."
Kate Prendergast (Theatre and Psychology Majors- University of Mississippi Class of 2017 from Luling, LA)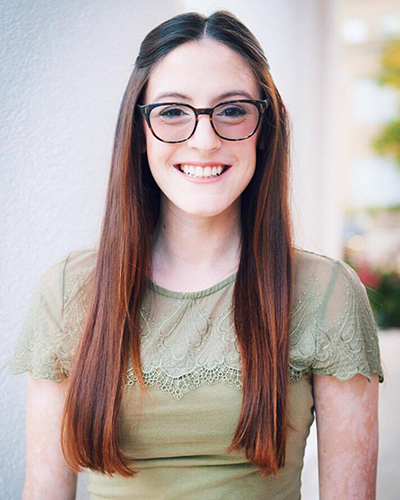 Kate Prendergast is a Theatre and Psychology major at the University of Mississippi. She has been heavily involved in Ole Miss Theatre's musical theatre productions. In her freshman year, she was cast in the dance ensemble of Hairspray, where she was selected to be the show's dance captain. In her sophomore year, she was again the dance captain and in the ensemble of The Mystery of Edwin Drood. Her most recent work was choreographing The Wedding Singer, the department's musical in her senior year based on the movie of the same title. She has worked in professional theatres in Tennessee and Louisiana during her summers, and is a member of the Alpha Psi Omega Theatre Honor Society.