Pursuing Fashion, Volunteering, and Business
By Hannah Steinkopf-Frank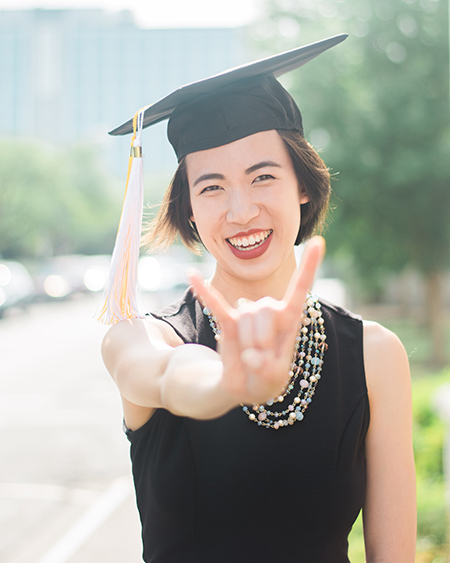 University of Texas, Austin alumna Tiffany Chan used her time in college to explore her wide range of interests. After creating her first clothing collection and dedicating her free time to community service, she completed a managing consulting internship.
Chan grew up in Austin, Texas and attended L.C. Anderson High School where she developed her passion for giving back as Key Club president and founded a chapter of Little Dresses for Africa, a nonprofit organization whose volunteers sew dresses made out of pillowcases for children. She also played oboe in band, marched in drumline, and served as band president her senior year.
She was drawn to the University of Texas's history and traditions as well as attending a school close to home. "The Stamps Scholarship made it that much easier to realize going to Texas was the right decision," she said. "The programs that I was involved in allowed me to have a smaller community while also having the resources of a large university."
While she entered with majors in chemical engineering and Plan II Honors, a liberal arts degree, she switched from engineering to textiles and apparel design because she enjoyed the classes and community.
"It was the creative outlet I was looking for," she said. "It was something I could see myself becoming invested in and becoming very passionate about. I think it is a beautiful form of expression."
During her freshman year, she played polo. She also co-founded the Chi Kappa Phi Service Society, which provides students the support to pursue volunteer opportunities. The organization currently has 50 active members pursuing a variety of service projects, including at a local elementary school.
"We want to connect people with what they are passionate about so that they develop a lifelong sense of philanthropy and give back when they can and are involved in these communities that they are particularly invested in," she said.
She further developed her interest in service as an intern at Everybody Wins! D.C. a nonprofit that promotes children's literacy. She said the experience taught her about the ins and outs of running a nonprofit. She also took classes at George Mason University through The Fund for American Studies' Institute on Philanthropy and Voluntary Service.
She grew her interest in fashion through her involvement in the University Fashion Group, which gave her the opportunity to work backstage at New York Fashion Week. In addition, she revived Spark Magazine, a student-run fashion publication. As the editor-in-chief, she managed the 150 person staff and helped produce a print publication each semester that combined the work of upcoming photographers and models with articles exploring fashion through a wide variety of lenses.
"I think it's an incredible opportunity for people to network, to build their portfolio, to develop their skillsets and to teach others," she said. 
During her sophomore year, she started serving as a School of Human Ecology Ambassador. She also interned at A Gilded Affair, a wedding planning business. It was a career she was considering pursing because she " loves planning things and loves designing things in terms of fashion, but also in terms of events, décor, and experiences." 
That summer, she studied abroad in Perugia, Italy where she took classes in fresco painting and digital photography through The Umbra Institute. During weekends, she traveled around Italy, and after her trip, she visited Austria, Germany, Switzerland, France, and England.
She further expanded her travel and design experiences as an intern at Vivian Luk Atelier in Hong Kong, where her parents are from. The designer focuses in custom evening and bridal wear, an area of fashion that she is interested in pursing.
"It is an influential atelier with high-end clients," she said. "I enjoyed just being a part of that process, seeing dresses from start to finish and seeing how she built this business on her own and what that looks like, the entrepreneurial side of that."
During her senior year, she focused on her capstone design project, a three-piece collection entitled "Vanguard" that combined materials like tulle and flowers with simple black tops.   
"It was really about strength and also femininity because I think sometimes in fashion, to evoke strength, there's an idea that we have to have all of these masculine features…but to say that is to say to be feminine is to be weak, and I don't agree with that," she said.
This past summer, she explored a new interest, management consulting, as a summer business analyst at McKinsey & Company. She was drawn to the fast-paced nature of the work and the problem solving involved as well as the passion and drive of her coworkers.
For her fifth year, she will be finishing her degrees by studying abroad at Queen Mary University of London. She was inspired to spend more time in London after she visited the city during her trip to Italy. She is currently planning on pursuing a career in management consulting while also combining her more creative interest in design.
"The Stamps Scholarship really has allowed me to pursue all of these interests, all of these things I was just able to go after and do," she said. "Having someone in your corner, having someone believe you makes a huge difference, and the scholarship has really just allowed me to meet incredible people, hear their stories, and then also see what I'm excited to do."