By Elizabeth Tammi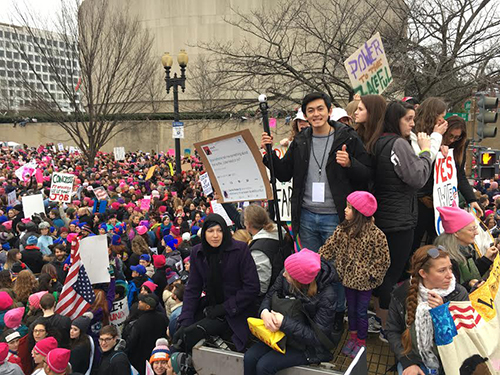 In January, University of Southern California senior Cameron Quon traveled to Washington DC to document the inauguration of Donald Trump and the Women's March. As part of USC's new virtual reality course, Quon and his classmates were invited to work alongside The New York Times and National Public Radio to produce unique 360 degree videos of the events.
"It's a new medium with lots of possibilities to help tell stories in new ways," Quon said.
Both the inauguration and the Women's March were marked by controversy, remaining at the center of mainstream media for days. With help from the editors of the NYT and NPR, Quon learned how to document both events objectively and fairly. During the Women's March, he was stationed in the National Mall, a location which allowed him to witness support and opposition for the gathering.
"Where the two masses intersected, there was a lot of yelling," Quon said. "People were getting really upset with each other. It was interesting to watch that and capture some of those arguments on video."
As this particular course addresses a different subject each semester, the trip to Washington DC came after just one semester of training in virtual reality. Last year, students had the opportunity to explore the effects of agriculture on the Californian drought, while current students are documenting Salton Sea alongside the Desert Sun newspaper. The group, called 'JOVRNALISM', has a trademarked app by the same title, in addition to a YouTube channel showing their videos.
"The Stamps program has helped me have really important experiences," Quon said. Using his enrichment funds, he filmed a documentary on a hospital in Kenya the summer after his freshman year. According to Quon, the experience helped him understand how he can merge journalism and video with medicine, in addition to understanding why he wants to become a physician. Though Quon is majoring in broadcast journalism, he's also double-majoring in biology on the pre-med track. He hopes to be a physician, but believes virtual reality can be applied to the medical field. "I feel like this is something I could pursue as a potential career," Quon said.