By Elizabeth Tammi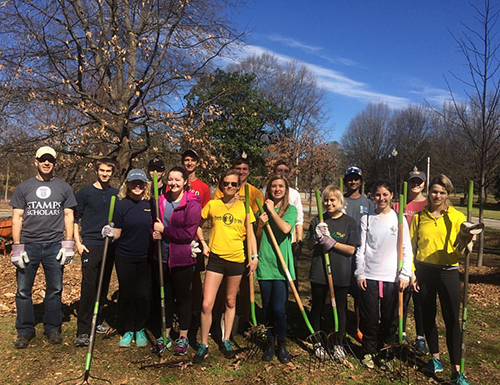 The upcoming weeks will be busy for Stamps Scholars nationwide. On March 25th, Scholars from partner schools across the country will participate in the second annual Stamps National Day of Service, an event that unites students under the mission of serving their local communities.
The idea for this initiative was born at the 2015 Stamps National Convention in Atlanta, GA, where a group of scholars discussed ways to amplify the Stamps Foundation's impact. Current Purdue University junior Claire Lee spearheaded the concept of the Stamps Day of Service.
"After leaving Atlanta, I was still really excited about the possibility of a day of service, an event to unite the almost 40 partner schools for a greater good," Lee said. She emailed the foundation's Vice-President Annie Stamps about her thoughts, and the idea grew into the a new annual tradition.
This is the event's second year, and the theme is CommUNITY: Uniting to Serve. "Each participating Stamps School has the opportunity to choose a cause that resonates with them, with encouragement to choose something they can continue to stay involved with and spend time giving back as a cohort," Lee said. This year's service projects will include volunteering at the local children's hospital in Ohio, restoring abandoned houses in Georgia, and planting saplings on the coast of Louisiana, among others. Last year, 21 partner schools participated and spent over 100 hours bettering their communities.
"My expectations for the day include a lot of excitement and camaraderie as each school unifies to impact their community in a slightly different way," Lee said.
######
About Stamps Scholars and the Stamps Family Charitable Foundation
In 2006 Penny and Roe Stamps created merit scholarship programs for undergraduates at their alma maters – The University of Michigan and Georgia Tech. The Stamps Scholars community has since grown into a nationwide network of colleges and universities of more than 1300 current Scholars and alumni. The Stamps Foundation awards multi-year scholarships to driven and talented student leaders to help them achieve their education and life goals.