Exploring Medicine Through Veterinary Science, Public Health, and Computer Science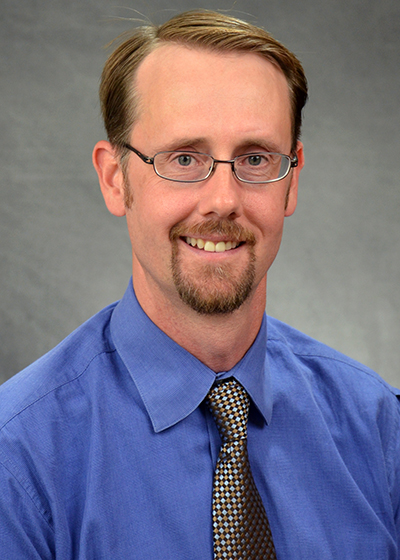 Virginia-Maryland College of Veterinary Medicine Stamps Alumnus Jeff Alexander's passion for healthcare began with veterinary medicine. Now a post-doctoral fellow at Virginia Commonwealth University in the Department of Psychiatry, he has expanded his interests to include research in psychiatric diseases.
Dr. Alexander is from Mechanicsville, Virginia and was inspired by his father, who was a chemist, to get into the sciences. He grew up on his family's farm and always had animals around him. Seeing his family's interactions with veterinarians inspired him to get into the field medical field.
"I've always had a natural curiosity about the world and also a knack for solving problems," he said.
He attended the Virginia Institute of Technology from 1990 to 1994 and majored in biochemistry, already knowing he wanted to go to veterinary school. After his senior year, he began veterinary school at Virginia-Maryland Regional College of Veterinary Medicine, which is on the campus of Virginia Tech.
He graduated in 1998 with his veterinary degree and practiced at Chenault Veterinary Service in Hanover, Virginia. He worked mostly with small animals, particularly house pets. He enjoyed interacting with clients, especially when he was able reduce their anxiety by educating them about their animals' illnesses. While working with individual pets, he became interested in exploring health on a wider scale, realizing that the majority of emerging human infectious diseases come from animals.
He went to Virginia Commonwealth University (VCU) from 2005 to 2009, where he worked in a molecular genetics laboratory and simultaneously completed a master's degree in public health. He said the experience balanced out his veterinary degree and was an entry back into academia. His research involved studying the role genetics plays in complex diseases such as schizophrenia and substance abuse disorders, which are serious public health concerns, even though they are not infectious in nature.
In 2009, he began his PhD in veterinary medical informatics at the Virginia-Maryland College of Veterinary Medicine (VMCVM) with the support of the Stamps Scholarship. The program focused on how to use computer programs to help solve public health problems, and he was drawn to it because it was "a combination of all the things I was interested in." His dissertation project focused on developing a computer system that used logic-based principles to help Public Health Laboratories report infectious disease outbreak data to authorities, such as The Centers for Disease Control (CDC) in Atlanta.
While completing his PhD, he was elected to represent the VMCVM graduate students to college administrators on several higher level committees. In addition, he was selected to serve on the committee to choose the graduate student who would serve on the Virginia Tech Board of Visitors.  For four semesters, he was the teaching assistant for the bacteriology class given to second year veterinary students. In this role, he helped instruct the labs and gave lectures concerning antimicrobial resistance and proper use of antibiotics.
The Stamps Scholarship aided him in continuing his education. "The funding and support I received was critical to make my graduate experience possible," he said. "I simply would not have been able to pursue my studies at VMCVM."
Since graduating with his PhD, he has moved back to Richmond, Virginia to work as a post-doctoral fellow at VCU at the Virginia Institute for Psychiatric and Behavioral Genetics, where he previously trained for his Master's degree. He is now using the computer skills he learned during his PhD to analyze the large amounts of genetic data gathered by the group in researching the genetic basis of psychiatric diseases. He said the breadth of his training allows him to pursue a variety of health issues, not limited veterinary medicine.
He is interested in staying in academia, both researching and teaching, because he enjoys the freedom in it. Even though Dr. Alexander is not working with individual animals, he says that he gets a sense of satisfaction by helping the population as a whole.