Using her MBA to Help Grow Small Businesses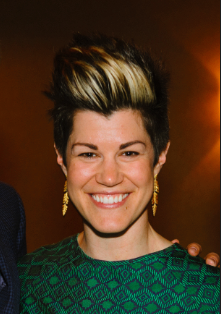 When she was 11, University of Virginia, Darden Stamps Scholar Kendal Carlson wanted an American Girl doll. After her mother told her she should pay for it herself, she sold wrapping paper. In addition to being able to buy her doll, she also won a national sales award. This entrepreneurial spirit has stuck with her. Now a recent MBA graduate of the Darden School of Business, her goal is to help build small companies.
Carlson grew up in Elk River, Minnesota and attended Elk River Area High School. While she had an interest in yoga and started her own jewelry business, she was encouraged by her parents to stretch herself.
"My interest in finance probably came from an approach to the world that I got from my parents," she said. "The question was always, 'Are you going to do it the easy way or are you going to challenge yourself?' And of course there is only one acceptable answer to that question."
At the University of Minnesota, she majored in finance and was involved in Alpha Kappa Psi, a business fraternity. After graduating, she spent a few years working in financial services, including trading stocks at UBS Securities as an equity trader and serving as the COO of Presagium, a quantitative hedge fund. She said that working on the trading floor helped her gain confidence, which she further developed as a leader at Presagium.
During this time, she also got a degree in fashion from the Fashion Institute of Technology in New York City because she wanting to expand her career possibilities. She enjoyed working with tangible products that related to human needs.
"Doing work for a company that makes something I'm interested in is a game changer for me," she said. "I understand it better. I have more creativity around it. I'm more excited to work every day."
To pursue her shifting career, she decided to go back to school for her MBA and was drawn to UVA's small class sizes and focus on the case method.
"Whether it's a quantitative topic or a qualitative topic, discussion is a major facilitator of my learning," she said. "It's really important to me. I wanted to join a program where I would have a really tight knit group… and also not just where I would hone my skills, but also be in an environment where I had to present them and discuss and adapt."
She said the Stamps Scholarship at Darden allowed her to focus on what she wanted to do and not worry about finding a job solely based on financial gain. She said, "I knew what I wanted to do going in and was able to do that immediately coming out, and now I have a job that's a little bit more risky, but it's exactly what I want to do."
While at Darden, she searched out paid consulting opportunities to build her network. She helped companies to find acquisition targets and built tools to help others understand the nature of their businesses so they could better manage themselves and grow to the next level.
"What I learned was that the technical skills are a good thing to get down…," she said. "But the parts of business that make a business person extremely capable and very successful aren't related to the technical stuff really. It comes down to how you think about problems and how you interact with people."
Since graduating, she has begun a private equity operating role at New Capital Partners, a fund based in Birmingham, Alabama. She works at a company called Firerock, which is in the high-end building supply industry. She serves as the president of Sourcebook, a subsidiary it is developing, and as vice president of product development.
"I get to build something… I get to do the work, build a plan, set the strategy, and execute the strategy," she said. "Basically, I get to build a company within a company."
Her goal is to eventual become a capital allocator and to be able to fund businesses she believes in. "Usually with small businesses, there are so many things to do and so many ways to think about– things that you can have an impact quickly..," she said. "You can come up with a good idea, and it's exciting, and you can try it."