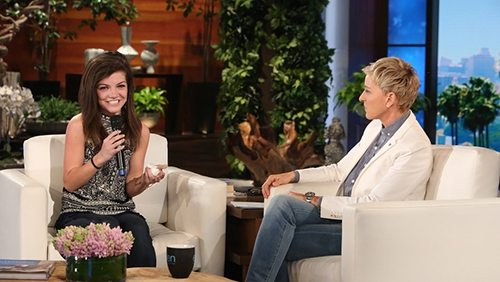 As a longtime fan of The Ellen Show, Georgia Tech student Keyes Gilmer got the surprise of a lifetime when Ellen DeGeneres called her up on stage during a live show. Gilmer is advocating for eating disorder awareness and supporting those who struggle with it. While on the show, Keyes shared that she hopes to attend law school after she completes her undergraduate degree. Surprising Gilmer again, Ellen presented her with a check for $10,000 to help with her law school tuition. 
We asked Keyes a few questions about her experience:
How did the opportunity to be on Ellen present itself?
Ellen's show came to Georgia Tech's campus to host a competition for students to compete for Super Bowl tickets. The only requirement was to come dressed as a cat with the biggest bowl possible. I'm fairly outgoing and not afraid of much, so I instantly decided to compete. I made it as a finalist, but unfortunately, was unable to compete at the last second due to time constraints. The next day, I decided to try my luck and wrote a letter to the staff explaining how much I love The Ellen Show and asked if they would consider giving me two tickets to see a taping of the show. Next thing I knew, I was being interviewed over Skype by a producer who wanted to fly me out to see the show the next day. I thought I was just getting a ticket to the show, but figured I would never get another opportunity like this, so I said yes. Next thing I knew, I was at the taping of the show and Ellen was calling my name.
What was it like to be on the show?
It still feels like a dream. The show truly surprised me, and as you can probably tell in the video clip, it takes me a few questions into the interview to settle down.  I am definitely not someone who cries in public, but it was overwhelming to sit beside Ellen DeGeneres while she read aloud the letter I wrote to her show. When I wrote that letter, I never imagined that I would one day be sitting next to Ellen while she read it to me. It was surreal.
What actions are you taking to support those who struggle with eating disorders?
I've always imagined my number one goal was to bring awareness to this horrible disorder that affects millions of people every day; and while this is still my goal, I've also come to learn a new purpose I hold for many people who saw me on the show and either have an eating disorder or have a loved one who does – I can give these people hope. Eating disorders are so dark and monotonous that recovery can seem impossible. But I guess in its own strange way, I offer a glimpse of the future five years down the road for these people. I live a full life–I attend the college of my dreams (go Jackets!), I have incredible friends, and I am truly happy. I have had so many people – including complete strangers – reach out to me since the airing of the show and tell me how much it means to them to see someone who could achieve recovery and go on to live a complete life. My life is not perfect by any means, and neither am I. In fact, I still struggle with my own eating disorder everyday.  But I've learned how to work towards a life worth living, and I want to pay this lesson forward by showing others they can do the same.
What have you been up to this summer?
I mentioned on The Ellen Show that I want to attend law school, and I am still sticking to it. Because of this, I am actually using my Stamps enrichment funds to hold a position as an unpaid intern with a law firm in Greenville, South Carolina. I absolutely love working with this firm and have so enjoyed the experience it provides me.