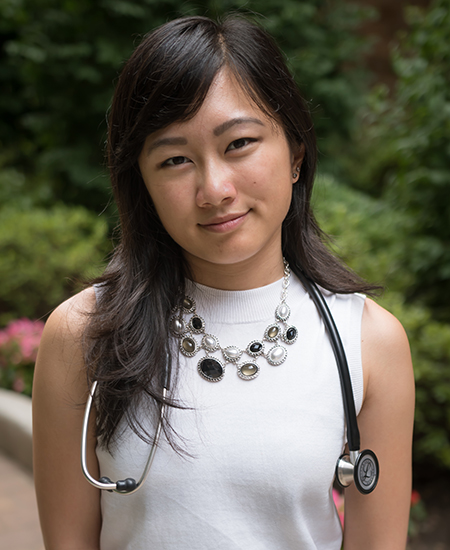 Providing Medical Care in Underserved Communities
By Hannah Steinkopf-Frank
University of California, Los Angeles Stamps Scholar Selena Zhou wants to use her medical degree from Icahn School of Medicine at Mount Sinai to become a physician and help low-income communities lacking strong doctors.
Zhou grew up in Alhambra, California, an immigrant-heavy area. At Alhambra High School, she had teachers and mentors who encouraged her to pursue the long path of medicine. She was interested in healthcare because she realized that was something missing from her community growing up.
"What I expect from physicians in America today is collaboration with patients and a certain degree of bedside manner, explaining things to you and consulting you," she said. "I didn't see that growing up, and I didn't even realized that was not the norm."
After graduating high school in 2010, she was drawn to UCLA because of the possibilities it provided for her future career in medicine. She was also part of the first class of Stamps Scholars at the University. She said her education helped her realize the power she could have in a community as a doctor.
"Going to UCLA, I saw a whole different side of medicine that people in communities like mine weren't getting," she said. "I really wanted to be a physician to correct for that and to provide a higher quality of care for people who don't receive that and don't know that they deserved that."
One of her biggest involvements was in research. She loved scientific discovery and learning something no one else had figured out before. She studied Trypanosoma brucei, the parasite that causes African sleeping sickness, a disease endemic in much of Sub-Saharan Africa. She focused on a protein complex that trafficked proteins to and from the flagella, without which the parasite was not motile and could not cause infection.
She also did community outreach as a mentor, tutoring students from elementary school to middle school, all in underserved communities. Without the programs, the students wouldn't have had "communities to come to to get help with their homework and to engage in educational activities," she said. "I wanted to help these kids work towards a better future."
She also volunteered at a free clinic that worked mostly with the homeless population. She described it as an eye-opening experience. She used her enrichment fund to study physics at the University of Sussex in England. The program allowed her to travel around Europe to six different countries while immersing herself in the culture.
After finishing her degree in 2014, she took a gap year and conducted stem cell research at Cedars-Sinai Medical Center. The project used induced pluripotent stem cells to create an in vitro model to study chondrogensis. She utilized this method to study skeletal dysplasias in hopes of finding a cure.
She was drawn to the Icahn School of Medicine at Mount Sinai because she felt that, in addition to having great medical education, it was supportive of the entire medical picture, from community outreach to public policy to global health. "They really encourage students to be well-rounded, teaching that being a great physician is more than just medical knowledge," she said.
She recently finished her first year of medical school and is doing research at Mount Sinai with heart failure patients, a field she is enjoying and is considering going into. She is helping enroll patients in national clinical trials to learn more about heart failure and innovations in the field. She is also analyzing data on blood pressure and different heart failure medication regiments. In addition, she is looking at the conditions in which patients expire with left ventricular assist devices, an advanced therapy for heart failure. "The research is trying to make improvements in the field and improvements in the way patients are taken care of," she said.
After finishing medical school, she wants to become a physician, possibly focusing in cardiology, because she enjoys working with people while also being at the forefront of healthcare. "As a physician, you can do so much to help someone live a much better life," she said.