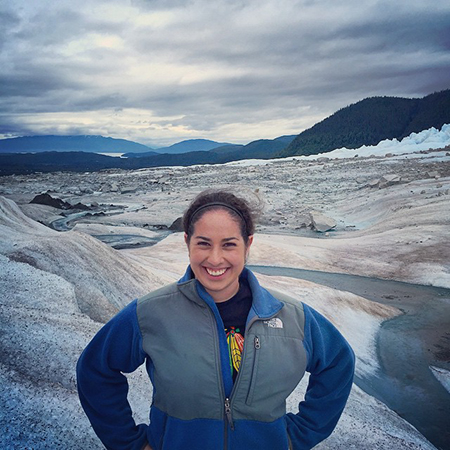 A Background in Business to Help Colleges Grow
By Hannah Steinkopf-Frank

University of Illinois Stamps Scholar Julia Weiss's college experience was so impactful that she now uses her background in business and marketing to help higher education institutions around the country more effectively manage their resources.
Her interest in Chinese, one of her college majors, began at New Trier High School in Winnetka, Illinois, where she played soccer and ran cross-country. After traveling to China after her sophomore year, she fell for the language and the culture and knew she wanted to continue studying it.
She was drawn to the University of Illinois, a school her brother attended, because of the rigorous academics and the breadth of opportunities that existed at the big school. As part of the first class of Stamps Scholars, she said the Scholarship was the deciding factor in her college decision process.
During her freshman year, she stayed in a living and learning community called LEADS that focused on leadership and service. She said it was a way to make the campus feel like home. After her freshman year, she decided to add majors in international business and marketing to give her a more well-rounded education.
During her time at the Illinois she was a part of the College of Liberal Arts and Sciences Office of Advancement's LAS Leaders. She was also a student representative for the Urbana Campus Alumni Advisory Board and devoted most of her time to Student Alumni Ambassadors, the student division of the alumni association. She served on the executive board for two years and said the organization focused her career path. It helped her learn how universities operate, and her senior year, she helped plan a welcoming event for freshman.
"It made me really enjoy higher educational as an industry," she said. "It defined my experience at the University of Illinois and made me a much more passionate Illini than I probably would have been otherwise."
She was also involved in Illinois Business Consulting, a student organization that consults for a wide range of companies, including nonprofits and Fortune 100s. She worked on internal projects as well as with small startups. She said, "It gave me a really good perspective into consulting and being a problem solver for another entity."
In addition, she was and continues to referee soccer games, something she started doing in high school. She said, "It's great getting to be outdoors and being connected to the game I love." She has refereed players ranging from 8-year-olds discovering soccer to teenagers trying to be recruited to college teams.
The summer after her junior year, she interned at Anheuser-Busch to explore a career in supply chain management. She worked in the procurement department with indirect materials. While she decided it was not the right career path, it was still an important learning experience because it was an enlightening first job in a corporate environment.  
Thanks to the Stamps Scholarship, she studied abroad three times. The spring of her sophomore year, she studied in Beijing, China on an intensive Mandarin program and interned at a law firm. She said this trip helped her become engrained in the culture and the challenge of only speaking Mandarin made her a more creative thinker. During her senior year, she studied abroad in Burkina Faso on a program focused on international development. The summer after graduating, she went to Curacao in the Caribbean with the University's Honors Program on a trip focused on marine biodiversity.
"This set off a new whirlwind of travel and made me eager and excited to experience new things and jump into situations in which I'm not comfortable," she said.
Since graduating, she has started working at Huron Consulting Group as a higher education consultant. She is in the enterprise systems group and works with universities and academic medical centers to review, revise, implement, and optimize administrative systems. She focuses on universities' financial systems and how they manage grants and other donations as well as daily operations. Currently, she is working with Vanderbilt University to implement new administrative systems and enjoys the large-scale project, getting to use new technology, and working with leaders across the institution.
"Higher education fascinates me as this combination of public good and private good," she said. "I think the role it plays in our society is extremely impactful."
Her goal is to stay in the higher education industry, but have a larger impact on student experiences. She is interesting in exploring the area of consulting that focuses on student life cycle and helping universities create a better environment for their students.
"The biggest impact the Stamps Scholarship had was providing the opportunities I wouldn't have otherwise experienced with the knowledge that doing those things made me the person I am today," she said. "It gave me the confidence to succeed in my industry, to develop my perspective on the world, and to develop my personality."