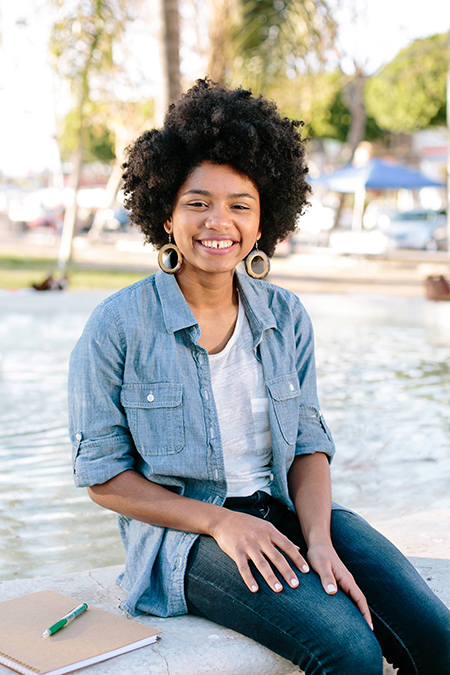 "Telling a story" Through Art and Activism
By Hannah Steinkopf-Frank

Building on her Stamps-funded documentary on her university's first female students of color, recent Dartmouth College graduate Dondei Dean plans to combine her passions for art and social justice.
Dean grew up in Los Angeles and took classes at the Otis College of Art and Design with a focus in drawing manga. "My teacher there told me, 'cartoons are just stylizations of real life, and if you don't learn how to draw from life, you will never be able to draw informed, realistic cartoons.' That launched me into taking more realistic art classes."
As a freshman at Dartmouth, she joined the Dartmouth Action Collective, which drafted a letter to the president stating what they wanted to see the administration change on campus. Dean was the person to hand the letter to President Philip Hanlon. "Whether it was racial justice or gender justice or advocating for queer folks, it was a good way to get introduced to Dartmouth, and I became aware of the privilege and power of being at this school," she said. She also noticed that with each class, the knowledge gained from protest work was "lost when they graduated, and I realized it had been that way for a long time. Trying to do activism at Dartmouth was like reinventing the wheel."
Dartmouth was an all male university until 1973, and the first women on campus dealt with harassment and other pushback, something that was especially felt by women of color. Dean was awarded a Stamps Scholarship to research this issue and to make a documentary in which she interviewed some of the first female graduates up to Dartmouth's current female students. "It's not a long history of women at this college, so it makes for a very rich conversation about the fight for gender parity. I wanted to debunk this myth that protest is taboo or that it's never happened here."
She decided to focus on women of color because she said they have been ignored in the historical record of American activism. "We often end up doing the bulk of the work, taking care of people in the aftermath and trying to keep things afloat. I wanted to focus on what is the backbone of the various social justice movements at Dartmouth."
She learned that her subjects had a diversity of college experiences and therefore, there is no singular narrative of activism on campus. "The project has more become a storytelling experience where I'm looking at their time at Dartmouth and how they were influenced by being women of color on campus. It's more well-rounded, and it becomes more personal."
These themes are present in Dean's other projects, which often explore the oppression she has experienced. "My art does touch on issues of racism and identity, and how do we confront harm in ways that aren't 'here's the perpetrator of the harm and here's the victim.' I want to do something that's broader and then explore how we each take responsibility for that. And I feel the important part is telling a story."
For example, she painted herself as Aunt Jemima based on an experience when she was in a production of "The Wizard of Oz" and another student told her she looked like the racist syrup mascot. She also created a performance art piece in which she put herself in a box with her hair coming out the top and a sign stated, "You can touch it just this once." She said her art " is therapeutic in a way, but I feel it leans towards more saying all the things I've wanted to say and holding up a mirror to people to get them to challenge the things I couldn't get them to challenge in the moment."
Dean has also played a leading role in building Dartmouth's art culture, curating the student gallery and organizing an art marathon, in which students painted for an entire weekend and their work was hung in the gallery. She said, "It was like a community art session."
She has also been involved with the Tucker Center for Religious and Spiritual Life, facilitating discussion with thoughtful students around "faith, spirituality, and justice and how these things happen in real life." This past spring break, through the center, she led an alternative break in D.C., exploring how these issues played out in the political and religious sphere.
This summer, she will be completing a residency at the Chautauqua Institute of Fine and Performing Arts in New York. "It will be interesting to get out of what we call the 'Dartmouth bubble' and have people from all over the country and all over the world responding to the ideas that I'm presenting."
In the fall, she will return to Dartmouth as a studio art intern. She is interested in possibly becoming a lawyer, first interning at a law firm focused in civil rights because "there is a big part of me that wants to do justice work in the world." She is also looking into teaching and completing a Fulbright Fellowship, something inspired by a study abroad trip to Spain after her freshman year. "I want to do something international because I feel the same issues present in the US are present abroad. It builds character to experience lifestyles and ways of thinking different from your own."  
While she explored a darker side of Dartmouth's history, her project has also been a way to build relationships with alumnae. "To be able to interview these women and hear their stories and take care of their stories has been so rewarding. I feel I've bonded with generations of Dartmouth women. I feel the connection is something that is so important as well as letting current and future students know that they have allies on campus and out in the world and that their Dartmouth experiences are unique, but there are ones that are kind of similar."