ATLANTA, GEORGIA-November 21, 2017 – Stamps Scholars Nate Bermel (U.S. Naval Academy), Camille Borders (Washington University in St. Louis), and Calvin Runnels (Georgia Institute of Technology) are 2018 Rhodes Scholars-elect, joining four Stamps Scholars who have previously received the scholarship.
The Rhodes Scholarship is an international, postgraduate award for students across disciplines to study at the University of Oxford. It is considered one of the world's most prestigious scholarships.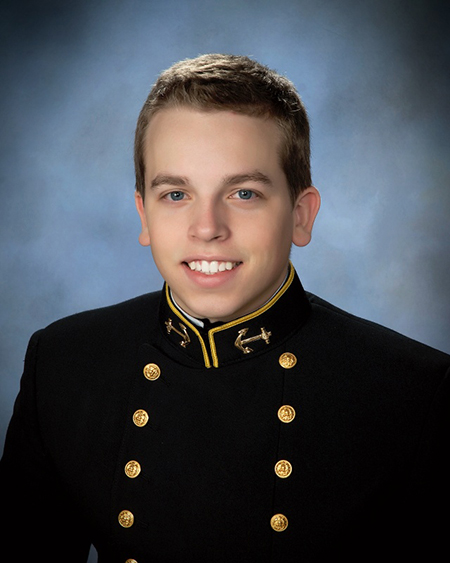 Nate Bermel from Chestnut Hill, Massachusetts, is majoring in quantitative economics and political science at the U.S. Naval Academy. He ranks first in the Academic Order of Merit and plays on the Academy's Club Lacrosse team. He interned at the Bureau of Energy Resources at the State Department, researching Syria and Iraq's oil markets for the department's counter-ISIL team. He also traveled to the Kwajalein Atoll to study climate change's effects on the Republic of the Marshall Islands. At Oxford, he will read for an M.P.P. in public policy.
"In May, I will commission as an officer in the U.S. Navy and be a member of the Naval aviation community," said Bermel. "I am so grateful to the Stamps family, not only for the incredible opportunities that have blossomed through the scholarship, but also for encouraging me to go on and make the biggest impact that I can."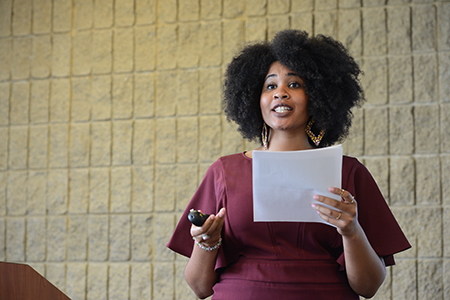 Camille Borders from Cincinnati, Ohio, is a history major at the Washington University in St. Louis. Her thesis explores the sexual lives of black women emerging from slavery. In the aftermath of Michael Brown's death, she founded Washington University Students in Solidarity to address racial profiling and police brutality. She is also a member of Washington University Slam Poetry. At Oxford, Camille will read for an M.Phil. in social and economic history.
Calvin Runnels from Baton Rouge, Louisiana, is pursuing a degree in biochemistry at Georgia Tech. His research involves developing protein crystallographic techniques and exploring the ribosome, which could provide insights into the origins of life. For his work in undergraduate mathematics, he was recognized as the highest rated teaching assistant. He also organizes rallies with the immigrant community, is leading the charge to increase access to gender-neutral bathrooms on campus, and co-chairs Georgia Tech's LGBT+ Action Committee. At Oxford, he will read for a D.Phil. in biochemistry.
"My ultimate goal is to be a scientist, an activist, and an educator," said Runnels. "I am so excited to see how the Rhodes Scholarship and Oxford will guide me along that path. I would also like to say that so many of my accomplishments and experiences that have contributed to the person I am today I owe to the Stamps Foundation, which has supported my undergraduate education, my research, study abroad, and more."
These scholars join a legacy of excellence. In addition to the four previous Rhodes Scholars from Georgia Tech, the University of Virginia, and Harvard Business School, Stamps Scholarship alumni include three Marshall Scholars, three Harry S. Truman Scholars, two Churchill Scholars, six Barry M. Goldwater Scholars, and three Schwarzman Scholars.
The Stamps Family Charitable Foundation supports scholarships to students at 40 partner universities and colleges across the country. Scholars are selected for their academic merit and leadership potential. Stamps Scholarships often cover tuition, room and board, and other expenses as well as enrichment funds used for internships, study abroad, research, and other educational and professional opportunities.
###
For more information, contact
Mr. Randy McDow
Executive Director
randy@stampsfoundation.org
678-399-3388