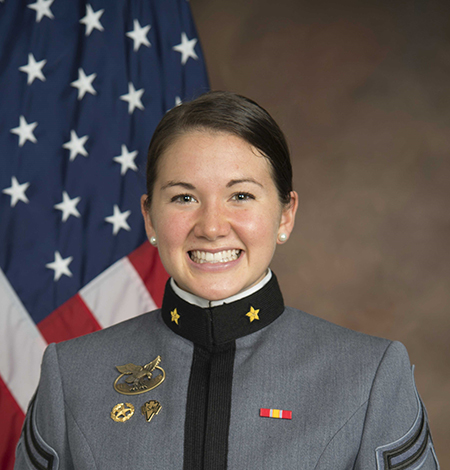 ATLANTA, GEORGIA-December 5, 2017 – Stamps Scholar Joy Schaeffer (U.S. Military Academy) won a 2018 Marshall Scholarship, joining three Stamps Scholars who have previously received the scholarship.
The Marshall Scholarship is an international, postgraduate award for students across disciplines to study at any British university. The award was created in honor of U.S. Secretary of State George C. Marshall and is considered one of the world's most prestigious scholarships.
Joy Schaeffer from Strongsville, Ohio, is majoring in international history and French while training to commission as an Army officer. She plans to write her senior thesis on Franco-American relations concerning Indochina during World War Two.
Currently, she is a Company Commander, sings alto in the West Point Glee Club, and is the leader of the Officer's Christian Fellowship Band. She is also an avid runner, having completed two marathons.
After graduating, she will study at King's College London and complete two master's degrees in international child studies and intelligence and international security. The Stamps Scholarship played an important role in her Marshall application.
"It was a result of Stamps funding that I spent this past summer working at a children's home in Thailand that provides shelter and education for children at risk of being trafficked. That trip sparked my interest in what the intelligence community can do to more effectively combat and prevent human trafficking."
Schaeffer joins a legacy of excellence. In addition to the three previous Marshall Scholars from the Georgia Institute of Technology, the U.S. Military Academy, and University of Georgia, Stamps Scholarship alumni include seven Rhodes Scholars, three Harry S. Truman Scholars, two Churchill Scholars, six Barry M. Goldwater Scholars, and three Schwarzman Scholars.
The Stamps Family Charitable Foundation supports scholarships to students at 40 partner universities and colleges across the country. Scholars are selected for their academic merit and leadership potential. Stamps Scholarships often cover tuition, room and board, and other expenses as well as enrichment funds used for internships, study abroad, research, and other educational and professional opportunities.
For more information, contact
Connelly Crowe
Director of Communications and Scholar Experience
Connelly@stampsfoundation.org