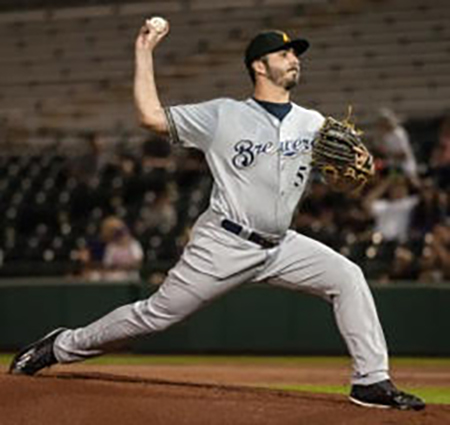 Helping Athletes Manage Their Wealth
By Hannah Steinkopf-Frank
Since retiring from professional baseball, University of Miami graduate Javier Salas is excited to use his background in accounting to educate athletes on making smart financial decisions.
Salas grew up in Coral Gables, Florida a "super legacy" of the university: His mom, dad and uncles all went there. Although Salas enjoyed a variety of athletic pursuits as a child, "being Latin and being from Miami, I think baseball is a natural choice for sports. My parents were both born in Cuba, and in Cuba, baseball is a huge sport."
He enjoyed pitching because "it's the only position when you're in complete control." For Salas, being able to play baseball at the university where he grew up was "a dream come true." During his four years on the Miami Hurricanes, his parents went to every game.
"They sacrificed so much for me growing up, and to give them the chance to watch me play at such a high level was something that I felt like was a great gift for them."
He was drawn to studying in the business school because he is a self-described "numbers nerd."
"You have to be very meticulous and disciplined, and that's something that I've always been good at."
This academic commitment was necessary during spring terms, when he was playing five games a week and traveling every other week for a series. He said that as an accounting major, "everything moves so fast and I found myself playing catch up a lot. But the University of Miami was the best place to be a student athlete because they do everything that they can to accommodate a busy schedule and to help student athletes succeed."
He said that his most memorable experience was during his senior year when he played a perfect game against Villanova University. It was only the 23rd perfect game since the NCAA began recording Division I baseball statistics in 1957. Salas's brother Jorge gave the play-by-play on the university's student radio station, which was only his second baseball broadcast ever.
"For my parents, they lived and died every time I went out there and played. The days that weren't so good, I think they felt it just as much as I did. Those bad days happen, but for them to be there for some of the great moments and also for them to be there to comfort me when it didn't go so great, it was a blessing either way."
For his accomplishments, Salas was inducted into the Iron Arrow Honor Society, the highest honor at the University of Miami.
"It's a really big honor that I got to be a part of that my senior year, and it's still something I play an active role in."
After graduating in 2014, he was prepared to take an accounting job at Ernst & Young, but was drafted to pitch for the Milwaukie Brewers. He played for about three years, making it to Double A and traveling the country.
"It was a dream come true. The life experience of playing professional baseball is something that I can carry with me in any walk of life."
Salas said it was an intense experience playing baseball every single day, and he suffered several injuries. He decided to retire this past August.
"I realized there's a life after baseball, so I've got to put that degree to use."
Through his professional sports career, he made useful contacts and is interviewing in the area of wealth management, possibly staying in his hometown of Miami or exploring a new part of the country.
"I really appreciate my accounting background, but while I was playing, I felt the need for financial advice to athletes, and that's something I want to continue. I want to help guys who were in my shoes and guys who I saw struggling with not being extremely financially literate and not understanding that this wealth that they just acquired needs to last them a long time. That's something that I'm passionate about."