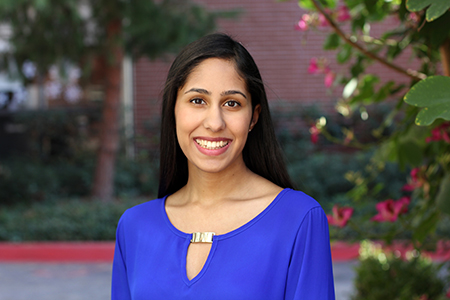 Using Journalism to Travel the World
By Hannah Steinkopf-Frank
As a broadcast journalism major at the University of Southern California, Stamps Scholar Sanika Bhargaw wants to work as a foreign correspondent, covering important stories around the world.
Growing up in Gurnee, Illinois, Bhargaw always knew she wanted to be a writer. At Stevenson High School, she was involved with National Honors Society, French National Honors Society, French club, and the school newspaper.
She realized her love of news and storytelling while taking journalism classes, where she had the opportunity to go out into her community and talk to people. "I liked being able to tell a story, whether it was fiction or not," she said. She remembers covering the hunger strikes in Guantanamo Bay, an issue she was passionate about. She interviewed a lawyer representing prisoners and a former head of Guantanamo's military tribunal who had since become an advocate for closing it. "Being able to do that from a suburb of Chicago for a high school newspaper was really amazing," she said. "Being able to tell a story that not a lot of people know about, that's something that really sticks out to me as the work that I want to do out in the world."
For college, she was drawn to USC's effort to be on the forefront of journalism and give students the opportunities to experiment with new forms of communication. She said, "It seemed when journalism students came out of USC, they had a really broad and deep experience with multiple different platforms and multiple different technologies."
Outside of the classroom, she spends most of her time working for the web team of the college newsroom and the television station, Annenberg TV News. She has worked as a reporter, news anchor, producer, and director. Although she still loves writing, she developed a passion for the visual element of journalism. She has helped cover stories including the 2015 San Bernardino shooting, the presidential election and inauguration, and the Women's March. "Getting breaking news experience is hard, especially in a high school or college setting and being able to do that has been very valuable," she said. Next semester, she will work as an executive producer, which comes with more responsibility.
She is also an ambassador for USC's Annenberg School of Communications. "A lot of it is talking about our experience in Annenberg and what the Annenberg experience is like," she said. "It's nice to be able to share that with other people and pay it forward in a way."
In 2015, she traveled with Annenberg to London, Paris, Rome, Istanbul, and Prague to visit news outlets including the BBC and the International New York Times. It has always been one of her goals to work abroad and she said this experience "was interesting because we got to talk to people at those organizations and see what media in Europe looked like."
In addition, she is part of the Ballroom and Latin Dance Team. Growing up, she studied Indian classical dance and had always wanted to learn ballroom. She said her most memorable college experience was hosting a student-run dance competition this past spring, which she spent a whole year organizing. For her, it was rewarding both to run and dance in the competition, and she is already planning next year's event.
In 2015, she interned with Enrou, a fashion and tech startup, and helped build its social media presence. She said, "Working at Enrou was a unique experience because I got to watch a small company grow and develop its brand." Last semester, she interned with NBC in Los Angeles writing for its website and working with the social media team. "With NBC, it was interesting to see how the digital and social content connected with the broadcast and where the television content and digital content intersected."
Last summer, with the support of the Stamps enrichment fund, she interned in Rio de Janeiro for the General Electric Communication team. She wrote and shared content in collaboration with its sponsorship of the 2016 Summer Olympics. She had the chance to see events, including the Opening Ceremony, and said it was exciting to witness so many cultures descend onto the city, expressing their national pride. "Experiencing working in a different country was really valuable because it is something I would like to do," she said. "I loved getting to adapt to a different work culture."
This summer, she is taking part in another Annenberg program, traveling to media companies in New York. She is most excited to visit ABC News, CNN, and Vice. She said, "It's really a once-in-a-lifetime opportunity to meet people who are hugely influential in the fields that I'm interested in and be able to speak to them one on one."
For her senior year, she will expand her work in the newsroom and train for Ballroom and Latin dance nationals with her partner. After graduating, she plans on reporting local news and eventually working on the network side and traveling abroad, reporting in regions that do not get as much coverage in international media. "I love traveling, and I love getting the experience of learning about a different culture," she said. "I would really like to apply that in my journalism career as well."
"The Stamps Scholarship is really what sealed my decision to come to USC in the first place," she said. "That in itself was one of the best decisions I have ever made because it gave me the opportunity to experience so much, not just at USC and in Los Angeles, but across the world."