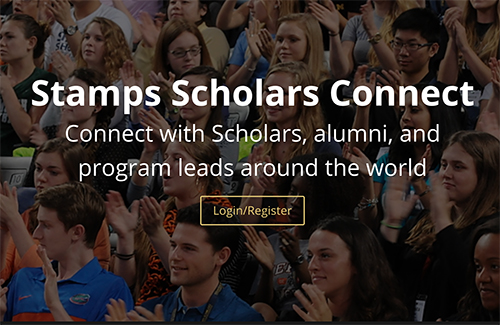 By Hannah Steinkopf-Frank
We are thrilled to launch Stamps Scholars Connect, a networking platform that allows Scholars, alumni, and program leads across the country to meet virtually.
The goal of Stamps Scholars Connect is to utilize the robust and diverse Stamps Foundation network to bring together peers searching for career and personal development, from job searching to events and conferences to maps of where current and graduated Scholars are located around the world.
"The new Stamps Connect site was designed to provide an all-encompassing resource for our Scholars and alumni looking to connect with and learn from one another," said Connelly Crowe, Stamps Foundation Director of Communications and Scholar Experience. "We hope the site will encourage both professional and social connections within the Stamps community."
After creating an account, you'll have access to comprehensive directories of Scholars and alumni from all our partner schools. Next, you can sign up for the Yearbook feature, which provides even more information on current and graduated Scholars, including a bio and photo. The Yearbook has searchable functions based on school, location, and profession, among other categories.
Have you moved recently, changed jobs, or switched majors? It's easy to update your information both in the directory and Yearbook. Contact information for program leads, the Stamps family, and the Stamps Foundation staff is also available.
Go to the Message Board if you have a specific question or comment you want to share with the Stamps network. You can also message other users directly and see who is online. This is a great way to build relationships with other Scholars and for alumni to mentor current students.
Are you traveling or interested in relocating? Interactive Google Maps for Scholars and alumni show where they are studying abroad, conducting research, completing graduate degrees, or working. Alumni are currently living in over 300 locations, working with more than 200 employers, and part of almost 90 graduate programs.
Alumni and Scholars can also connect through the Jobs board, which features positions at businesses around the world. Is your company hiring? Feel free to add a job posting to the board.
The Stamps Connect website provides resources for Stamps Scholars in all phases of their careers. University of Michigan alumnus Brandon Ciolli is currently working abroad in Japan teaching English. Ciolli, who studied evolutionary anthropology, signed up for Stamps Connect to learn more about potential work opportunities when he returns to the United States.
"The Stamps Connect website has helped alleviate some of those fears with its Jobs board," said Ciolli. "I really like the map feature showing where all the other Scholars are. It's so easy to lose track of the other Scholars who I got to know during college, and it's exciting to see where a lot of them are now."
If you're interested in becoming more involved with the Stamps Foundation, the Events page features Stamps-related conventions as well as other gatherings Stamps Scholars and alumni are attending. In addition, alumni can join one of the city-specific chapters. We currently have chapters in Ann Arbor, Atlanta, Boston, Chicago, Houston, Los Angeles, Miami, New York, Philadelphia, San Francisco, Seattle, and Washington DC.
There's lots more to unpack and explore on the Connect site, so please reach out with any questions you may have. We've designed the site with you in mind and appreciate any suggestions to make the site more functional and beneficial. We want to hear from you!
Stamps Scholars are making positive impacts around the world in nearly every industry. By strengthening the connections between Scholars and alumni across the globe, we believe the Connect site will help to broaden the incredible influence of the Stamps community.
Register today!