A Future Doctor who Gives Back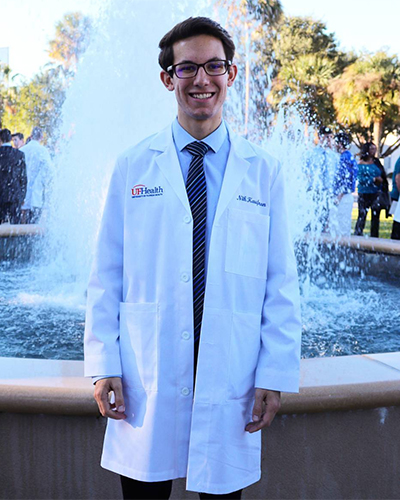 Whether it's climbing Machu Picchu or pursuing a medical degree, University of Florida (UF) Stamps alumnus and current medical student Nik Kaufman pushes himself to rise to the occasion. Once a doctor, Kaufman wants to give back through practicing medicine, researching, and teaching the next generation of healthcare professionals.
With funding from the National Institutes of Health, he is spending this summer studying non-traditional risk factors in the development of cardiovascular disease in women.
The personal medical connection
Kaufman was born in Fort Lauderdale, Florida. His interest in STEM fields began at the Institute for Mathematics and Computer Science. Although, it was when he was diagnosed with Crohn's disease in middle school that he realized the power of medicine and of having a supportive doctor.
"Just knowing that I could have the ability to make that kind of impact in someone's life with the skills I have — not only the knowledge and understanding of science and medicine, but also having the communication and people skills to work with someone to really change their life in such a great way — I was really drawn to that."
At Nova High School, he was involved with debate and took part in extemporaneous speaking.
"That made a huge impact not only in my education by me becoming more interested in politics and economics, but also in improving my ability to communicate."
He also tutored through the math and chemistry clubs and competed in piano at the state level.
A focus on research
Kaufman was drawn to the opportunity to conduct research at UF. He started in an engineering program, working in a biomedical engineering lab on magnetic nanoparticles that deliver DNA to cells. He said there has been a recent interest in the genetic component to many diseases, "and if you alter someone's DNA by delivering foreign DNA to them, you can cure diseases that previously were incurable."
During his sophomore year, he became involved with Chomp the Vote, an organization that encourages young people to register to vote. Within a year, the group registered a record-breaking 1,500 students. Unique advertising campaigns, such as an eccentric Ballot Boy superhero, were a useful tool in raising awareness about the power of political participation.
He worked in a gastroenterology lab studying Crohn's disease, looking at patient data to see if certain factors such as smoking or family history of Crohn's leads to more disease-related complications.
"What I realized in doing this project was how little I really knew about the disease. It was a great learning experience for me, and I realized I'm a lot more motivated to do work knowing that I'm helping people who have a direct connection with me."
He also volunteered at a physical therapy rehab clinic, where he worked hands on with stroke and cardiac arrest survivors.
"The experience of being able to encourage the same people multiple times a week and seeing them getting better and better each time until they were strong enough to leave the clinic was incredible."
Travels with Stamps Scholars
As part of the UF Stamps Scholars, he has had the opportunity to spend each summer traveling with his peers, starting before his freshman year with a trip to Mexico's Yucatan Peninsula, where he studied Spanish, tropical ecology, and anthropology. Through this experience, he bonded with peers and advanced his Spanish skills.
The next summer, they completed an Outward Bound trip, backpacking in Maine along the Appalachian Trail. This leadership building excursion was the start of his love for nature and spending time outdoors.
In summer 2016, he traveled to Cusco, Peru, where he studied Spanish and the Incas.
"I feel it's a really great experience for me because I probably wouldn't be studying these things if it weren't for the trips. It pushes me to expand my horizons."
He said the highlight of his undergraduate career was the four-day trek to Machu Picchu. "Getting to the top of those stairs and finally being at the ruins and being able to walk around was a pretty surreal experience and is something I'll never forget."
Last summer, he traveled to South Africa for three weeks to study in Cape Town and Pretoria, learning about history and politics. Based on his experiences, he wrote a paper comparing political instability in the U.S. and South Africa. He ended the trip with two weeks in Europe, backpacking with fellow Stamps Scholar Austin Young.
The balanced doctor
In his free time, Kaufman enjoys practicing piano, reading science fiction books, and being outside, hiking, playing Frisbee, and sailing.
Last fall, he began medical school at UF. He serves as the operations coordinator for the university's Equal Access Clinic, the largest student-run free clinic in the country. He is interested in cardiology and wants to work at a university-affiliated hospital so he can be a doctor, researcher, and teacher, what he describes as "a triple-edged sword."
"I've always loved a challenge, whether it be hiking the steps at Machu Picchu or learning an obscene amount of material to become a doctor. I want to be challenged to rise to the occasion to see what I can do and how far I can go."
*****
By Hannah Steinkopf-Frank