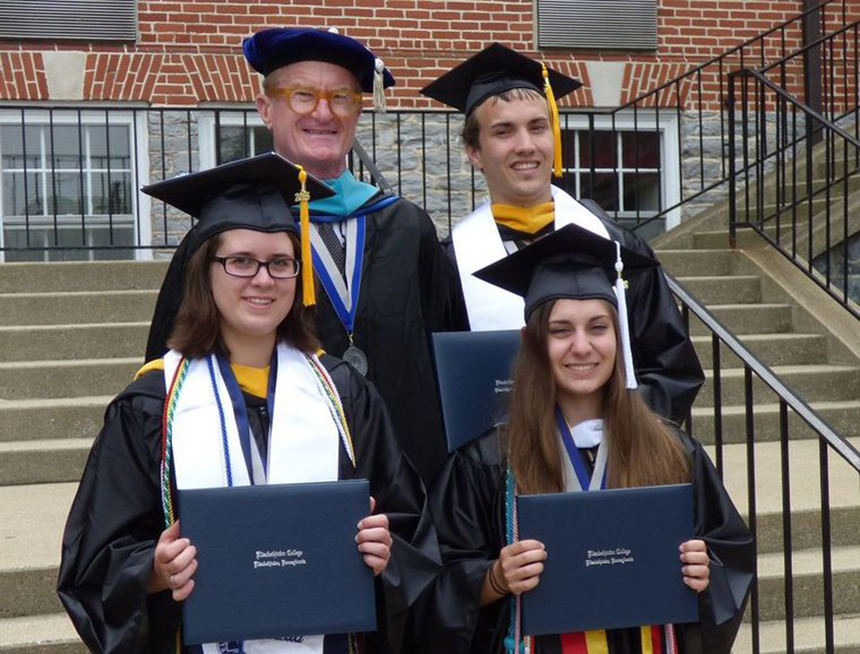 He wouldn't keep them long, E. Roe Stamps IV told the 511 students graduating Saturday from Elizabethtown College.
Stamps, a private investor and philanthropist, said he learned how to give a good commencement address from Donna Shalala.
Shalala, the former U.S. Secretary of Health and Human Services, now University of Miami president and a personal friend, taught him "you've got to be funny and you've got to be short," he said.
Stamps got a few laughs, and he was indeed brief, summing up his advice to students in four simple bullet points:
• Be prepared to work hard.
• Make good decisions and avoid bad ones. When Stamps was young, "I did a lot of things I would not want to discuss with you today," but the days when youthful mistakes can be swept under the rug and forgotten are over, he said.
• Be prepared to invest in yourself, educationally and financially.
• Protect your most valuable asset: your future.
Regarding his fourth point, Stamps described driving his daughter to college and telling her he'd happily trade places with her. Why? Because of the future stretching out ahead of her.
The same future is there for you, he told the Elizabethtown College Class of 2015: "your wonderful, your boundless, your endless future."
Stamps was able to see some of his own handiwork at Elizabethtown: The college graduated its first three Stamps Scholars on Saturday.
The Stamps Family Charitable Foundation supports the program, which offers merit-based scholarships, including funding for supplementary activities such as study abroad, research internships, and academic conferences.
It funds students at more than 40 colleges and universities.
Read the full article written by Tim Stuhldreher, staff writer for Lancaster Online:
http://m.lancasteronline.com/elizabethtown/news/graduate-from-elizabethtown-college/article_c7294eee-fbc7-11e4-98ed-67dea606208c.html?mode=jqm